Taking steps is important for our heart health. You doctor may have advised you to take steps and walk. But do you know how many steps you have taken today? It's not easy to count steps and your workout during your walk that's where walk tracking apps come in handy. We have picked top 10 walking apps that will count your steps and let you know how many more steps you have to take or that it's enough for a day! Check them out below and make sure you have taken the required steps for the day.
Best Walk Tracking Apps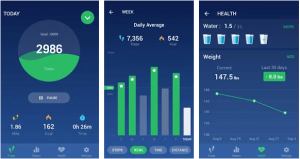 1. Pedometer – Step Counter Free & Calorie Tracker Android / Iphone

This is the best step counter and walk tracking app for android and iOS. Over 20 million people have trusted this app and give their appreciation for it. Not only this step counter app will count your steps but it will also sync your steps and calorie burn with MyFitnessPal and Fitbit. You can count your steps and calorie burn for 24/7 with it. It can be a great help in losing your weight as it will tell you your fitness plan and track your activities throughout the day. This walk tracking app will automatically count your steps and activity if your phone is with you. You only have to download walk app on your phone and it will start working. You can track your whole activity history and explore new challenges. With it's "me" feature you can track your weight, habits and more. You will get a daily fitness plan through its plan feature.
2. Walk With Map My Walk Android / Iphone

It has a rating of 4.5 that is enough to tell you how great and reliable this walk tracking app is! Start your fitness journey today with My Walk app and keep track of your fitness goals and health goals. You can track your runs through android wear devices and get audio and visual progress update in real-time. You can track your nutrients as you can sync it with MyFitnessPal and get all the information about calorie intake and burn. You can connect it with many devices to collect your data in one place. It log over hundreds of activities like gym, running, walking, cycling and many more. You can also find nearby places to run and look for your favorite paths and add new ones. You can get it is a premium subscription to unlock many cool features.
3. Walking App – Walking For Weight Loss Android / Iphone

We all know walking and taking steps is a great exercise to lose weight. With the help of this walk tracking app, you can make sure you are taking enough steps to keep your heart and body healthy. It is a professional walking app that is specially designed for weight loss. It provides 3 different level walking exercise for different goals, find the workout with is suitable for you. You will get a whole 3-month training plan which will vary from 3 to 7 days work out plan according to your ease. The intensity of exercises will increase step by step. It is the best walking app that will ensure you meet your steps goal for a day.
4. Google Fit: Health And Activity Tracking Android / Iphone

With 50 million downloads it is the best walk tracking app, it will encourage you to have a healthy lifestyle by making simple but effective changes in your routine. It's features' move minutes ' that will make you move more and sit less to keep us active and motivated. It will suggest you to take stairs instead of the elevator and take a walk when you are bored. It will automatically detect your activities like walking, running, cycling, and more if you wear google smartwatch. It will also record your heartbeat and heart rate sensors will also measure your speed, route, and pace. You can monitor your goals and get fitness tips that suit you. You can check your progress anytime.
5. Step Counter – Pedometer Free & Calorie Counter Android

If you wanna keep track of your daily steps and calorie but then this is the best walk tracking app for you. Its built-in sensors will take count of your steps that you have taken throughout the day and how many calories you have burnt. It's easy to use, start it with just a tap and start counting your daily steps. It is a free walk tracking app that saves powers as It doesn't use GPS. You can start, pause and reset it whenever you want. You will get your report in a graph format to make it more understanding. You can backup it's data to make sure you won't lose your progress and data. Its colorful themes will make it look more interesting.
6. Runkeeper – GPS Track Run Walk Android / Iphone

Keep track of your walks, runs, jogs and cycling with this amazing app for tracking walks and steps. Set your goals daily and compete with yourself to achieve them. Follow a plan that is specially made for you to keep you healthy and fit. Stay motivated by joining challenges and see your progress when you want.
7. Pedometer – Step Counter Free & Calorie Burner Android / Iphone

Track your workout plans and burn calories to lose weight. With an amazing app for tracking your walks like this one, you will get many features that will help you take more steps and track them to know your workouts and how many calories you have burnt.
8. GPS Sports Tracking App: running, walking, cycling Android

Taking daily steps and keep the tracks of your steps seems a big challenge but with this walk tracking app, you can get some help to get active and take more and more steps with their full track records and progress in your health workouts. It is a lightweight app that is just 10 MB in size so it is fart fast user-friendly app that you will simply love.
9. Step Tracker – Pedometer Free & Calorie Tracker Android / Iphone

It is an accurate and simple to use walk tracking app. Keep records of your daily steps taken and calorie burnt. You will get the records of your walking distance, duration, pace, health data and much more that will make you aware of your health situation. It is free to download walk tracking app and it's 100% private.
10. Endomondo – Running & Walking Android / Iphone

Set your fitness goal and achieve them with the help of this walk tracking app. It is an advanced app that will help you complete your daily steps and work out goals with a full detailed report of your activities and calorie burnt. You can also buy its premium subscription for more details.
Conclusion:

So these were the top 10 walk tracking apps for Android and ios that you will love and use them again and again.