Who doesn't like vehicle simulation games? We know we all do, it's always nice to ride your favorite vehicle around the city and go on your adventure. Although there are many vehicle games present online, such as car games, bike games, bus games, etc, but when it comes to having a thrilling experience truck games are the best.
Truck games are the most fun to play as you get to have many adventures from taking orders and shipping them to their destination, racing with other trucks and many more. So it's natural that you would wanna play the truck games on your PC after a long day or just have fun with your friends. Truck games are really popular among kids as well as adults.
To get the best experience while playing the truck games you need to have the best truck game for PC. But that's not as easy as it sounds. Because there are many truck games present online to download but only a few of them of good enough for you. We are here to save you from the trouble of going through every truck game and then finding the best truck game, as we have found the 7 best truck games for PC.
Truck Games For PC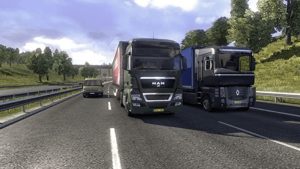 Euro Truck Simulator 2 is one of the best truck games for PC that you will find. It is developed by SCS Software which was released on the year 2012, it was a sequel to the 2008 game Euro Truck Simulator. Here players will be able to ride trucks throughout Europe. You can also but many more trucks and hire drivers for them so that you will own many great trucks and become rich by providing services with your truck as well as have fun riding the truck.

You will get to experience many places, such as villages, industrial areas, urban areas and many more when you will drive the truck in this game. The player can also choose the location where they wanna ride the truck with the help of city maps. Although at first, you will have to take the quick jobs like a driver and delivering the things across the city. The trucks are also customizable so you can drive the truck as you like.

You will find 71 cities in 12 different countries. However, it also provides MP3 features so you can enjoy your favorite music while driving the truck. Many top truck brands are also featured in the game. Overall you will have fun playing the game, so don't wait to try it out.
American Truck Simulator is also a popular truck game for PC that you need to know about. It is the sequel of Euro Truck Simulator 2, which we mentioned earlier. The game is one of the most rated truck games for PC so you will definitely find it good enough for you to play.

The game is a business based truck game where your goal is to make more and more money and gain enough experience point to become the best truck driver or empire owner. To do that you will have to race with time, that is, you will do the assigned task of delivering goods and that too within the given period of time. Not only this you will have to care about the safety of goods that you are carrying and make sure they have minimum or no damage.

When you have earned enough in-game money, then you can buy more trucks and build your own truck empire in the country. Many popular states of the USA are featured in the game along with a number of amazing trucks to choose from. So if you wanna explore America while driving the truck then this one is for you.
Scania Truck Driving Simulator is also a great game to play when it comes to the best PC truck games. The game is a test for your driving skills and you will definitely need to handle your trick carefully if you wanna drive out in this game. Avoiding Obstacles while reversing the trailer, parking etc are some of the common difficulty you will face in the game, apart from that you will also need to find the right path in a complex obstacle track.

So you need to think quickly and take action without blinking of an eye if you wanna survive the game. But your journey doesn't end here, go on and find out what this game has to offer, you won't be disappointed that's our promise.
Our next choice for the best truck game for PC is Spintires; MudRunner. This one is also a high rated game which features many great elements which makes the game one of the best. The best part is you can play with your friends as well, as the game features single-player as well as co-op players.

Get an experience of driving the truck in muddy areas with a map. and compass. And that's all you are gonna get in the game and rest will depend on you.
5. 18 wheels of Steel American Long Haul

18 Wheels is also a recommended game for those who are looking for the best truck games for PC. You have a chance to built the biggest truck empire in America and experience driving the best trucks of all the time. It's better and bigger and you will definitely love the adventure this game is gonna take you on.
If you are looking for a challenging game where you can show off your truck driving skills then, Truck and Trailers should be your first choice. Improve your skills and compete in more than 50 challenges to prove your driving skills. Its incredible graphics and detailed environment will definitely impress you.
It's one of the oldest truck game but still good enough to impress you. As the name says the game features Monster Truck and the madness associated with it. So try it out if that's what you are looking for.
Conclusion:

So these are the best truck games for PC to download and you can trust them for having the most fun. We hope you will like the games and find what you were looking for. People have liked these games and played them non-stop. So go ahead and choose the one you like most from our list, you won't be disappointed. Thank you for visiting our page and keep coming for more such reviews.