Video games are one of the best things that happened, no matter it's after a long day or you are just getting bored you always find it relaxing playing one. There are so many great games present on different types of gaming consoles. We have PlayStation, Steam, Nintendo and finally the Microsoft windows.
Lucky for us the video games are developed for everyone, regarding of their age! And everyone will find their favorite genre to play. There are no genres like action, adventure, survival, sports and so on. All the genres are great but in this article, we are talking about the sports genre. You will actually find almost every sport game from cricket to tennis.
In this article, we are gonna talk about the tennis games for PC. Although there are many tennis games present but not every game is best. And you won't find any "famous" tennis game, unlike the other genre video games. And that's why you need our article, to know which is the best tennis game to play. We have picked up the best 11 tennis games for PC which you can play and have a good time.
Tennis games for PC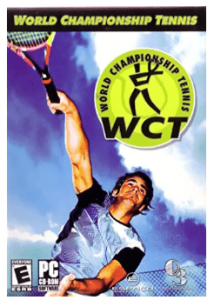 We are starting our list of best tennis games for PC with none other than Virtua Tennis 4! It is the 3rd sequel to the popular Saga's tennis game franchise, so you can keep your expectations high from this game. There are many popular games modes and several amazing features present in the game which makes it one of the best.

The game can be easily played in multiplayer mode up to 4 players. So now it's easy to call your friends and challenge them for a tennis game. The physics of the game is impressive and you will also like the techniques as well as the playing style. It has also got good graphics as well as amazing visuals and sound effects. Overall it would be nice to play this tennis game for PC.
Our second pick for the best tennis games for PC is AO International Tennis. It is the most authentic, community-focused tennis game. There are so many great things from stadiums to game physics. The game also features many amazing customization features which makes it one of the best tennis games.

You can also play against legendary tennis players and compete with them in the best way possible. It's a game where you need to have the true tennis skills and you will also get a chance to improve your tennis skills. You can also create your own court as well. Play career mode as well as play online mode.
Top Spin is a great tennis game for PC that you can play when you have the urge to play tennis. It's amazing that you enjoy the game without stepping out of your bed or couch! The game features many game modes such as singles, doubles, exhibition tournaments, career mode as well as quick matches.

The game also features a number of licensed players as well as fictional players. It's all about starting your career as an amateur and making your way in the tennis world with your hard work and improve your rank with every game. The game also supports multiplayer game mode in 2 vs. 2 players.

It also features various controls as well as swings. It's risk-mode also spice up things a little bit. Another additional and unique thing is character can express their positive and negative reactions as well.
4. First Person Tennis- The Real Tennis Simulator

First Person Tennis is also a popular tennis game for PC that you can play. The game can be played with a joypad or keyboard. It's the closest thing to tennis that can find online. It's not just about the mere swings, it's all about the skillful techniques as well as tactical.

The game features 13 different tournaments so you are gonna stick to the game for a long period of time. 4 camera modes as well as 3D male players are featured. You can play the game on 7 different surfaces which include clay, grass, synthetic and so many more. Its ranking system is also phenomenal. The best thing about the game is, this can be played in split-screen mode, so you can have the pleasure of playing against a real player. Online multiplayer mode is also available!
5. Tennis Elbow 2013

The game is a true tennis game which is created by the tennis lovers for true tennis fans! Use your finest skills and work hard to get through the game. Quick reflexes are the most important requirement to survive against talented opponents.

The game features 9 different court surfaces. That's not it, you will also able to play in 300 different tournaments. Moreover, 6 difficulty levels are also featured which makes this game challenging and interesting. Singles and doubles tournaments are also available. 7 camera mode is also present to ease your gameplay. It can be played online as well as in split-screen mode.
6. Full Ace Tennis Simulator

Our next choice for the best tennis game for PC is the Full Ace Tennis Simulator. The game features many technical aspects for the tennis game and it is made by featuring a detailed version of the game.

The game is best known for its amazing graphics and intuitive gameplay which makes it the best tennis as it gives you the best tennis experience. The game can be played online as well as offline. Another great feature is its amazing customization features

Which makes the players able to customize their characters.

Players have also appreciated the concept of the online player community where you can play online matches with one another. It also features controller support. Lastly, it's ball physics is also something you will like.
7. Super Tennis Blast

If you wanna play something fun as well as a classic tennis game then turn to Super Tennis Blast. Just like every best tennis game on this list, this one will too impress you and the best thing about it is you won't have to put so much effort in it. But that doesn't mean it is a child's play. It's easy to play with intuitive controls and stunning graphics.

The game features both singles and doubles as well as multiplayer modes. World Tour mode is also available for the game and you will definitely enjoy this one.
8. Smoots World Cup Tennis

If your goal is to play against the top tennis players then Smoots World Cup Tennis should be your best option. What you will find amusing in the game is its design as well as graphics that take your tennis experience to the next level. The game also known for its career path. Where you get to shape your career from a beginner to a professional player. Moreover, you will also like it's visual as well as sound effects. It may not be the most popular game but it's definitely worth a try!
9. Tennis Elbow Manager

Wanna play a bigger role in tennis? How about becoming a coach and managing tennis players? It sure sounds great and with this game, you get to play the role of a manager as well as a coach. It's something different but you will enjoy it!
10. Hot Shot Tennis

Hot Shot Tennis is also a good option for the best tennis game for PC! It's an animated game but it's not just for kids to play, adults will enjoy it as well. It's colorful as well as features amazing characters. Play the game and surprise yourself. We bet you will love it!
11. Tennis World Tour

It would be wrong to not include Tennis World Tour in our list of best tennis games for PC.  This one got popularity among the tennis game loves and it does a pretty good job at keeping you glued to your PC for hours. It was developed by Breakpoint Studio and released in 2018 for different platforms.

Although the game got a hype before it's release but didn't live up to the expectations of fans as it was released in a hurry. Even though the game didn't do it's best, it's still one of the top tennis games you will find online. You will enjoy the game for the little things like its career mode. Just give this game a shot when you are in the mood to play tennis. It has got good stadiums and popular players to choose and play as.
Conclusion:

So these are the best tennis games for PC that you needed to know about. These games should be your top priority while choosing one for yourself. We have chose them according to their rating as well as reviews. So go with these tennis games when in doubt! That was our article about the best tennis games for PC and we hope you found it helpful.