You have to admit that playing a sports video game is another level of satisfaction and fun. There are many sports video game lovers who love to play the games for hours without stopping. It doesn't matter if you just came from work or it's a Sunday afternoon, a good sports video game will always cheer you up.
Speaking of sports video games, football games has to be our favorite one, after all, who doesn't wanna win the trophy and score maximum goals right? Although gaming consoles at getting more popular these days but playing on the PC doesn't seem a bad idea either. And the best part would be you can play the football on PC anytime, anywhere of you have the PC on your side.
To enjoy the time playing your football game on PC, all you need is the best football game for PC! As you know there are many football games present online for PC which can confuse anyone while choosing the best game for themselves. But we are here to solve that trouble of yours. In this article, we have listed out the 7 best PC football games for you, so take a look and choose the best one for yourself.
Football Games For PC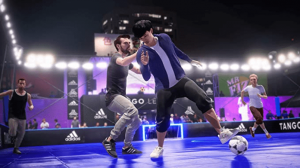 No other football game can compare with the FIFA 2020 when it comes to the best football game for PC. It's the 27th installment of the series which was released on 27th September 2019. It can be played in both single-player mode as well as multiplayer mode.

There are a number of new features added in the new series, which included the VOLTA football for the first time. It provides a variance on traditional 11v11 gameplay. This focused on small-sided street and futsal games. It also allows many options to play in 3v3, 4v4, and 5v5 along with futsal rules. The game will test your skills as a footballer and the entire focus will be on your skills rather than the tactical game planning.

You can also customize your players and choose their gender, dress, shoes, hats, etc. Be kick free mechanics, and the penalty is also a great feature. The ball physics is also accurate and impressive which enhances the gameplay. You will get to play in 17 locations which includes popular cities like Barcelona, Amsterdam, Berlin, Tokyo and many more. Lastly, the game features 88 legendary footballers along with the 15 new entries. Here you will also find the classic career mode where you can live the journey of a player. Overall the game deserves to be on number one and that's why you should play it ASAP.
Pro Evolution Soccer is another best football game for PC that you need to know about. It is developed by PES Productions Published by Konami. This is the 18th installment of the PES series and this one too has received positive reviews from the critics as well as the players.

The game features many licensed leagues as well as stadiums in the game which makes you believe you are actually playing in the stadium with other star footballers. Negotiations system and budget management is also seen in the game. And you will definitely like the new 11 skill traits which includes the edge turn, control loop, dipping shot, rising shot along with many more. These traits will surely take your gaming experience to the next level.

You can play the game in single-player mode as well in multiplayer mode. Everything else like the commentary, club partnership, team making and stadium as also impressive. You will enjoy the game and that's why it deserved the second spot on our list of best football game for PC.
Football Manager 2019 is another great PC football game, which made it to our list. This was launched in November 2018. It's a little different from the other game on the list. As the player will take the responsibility of the team management.

The manager will bring contracts for the players and manage their financial and social life. It featured many licensed leagues along with teams from 52 countries across the world. The game is good enough for you to play so give it a try sometimes.
4. Super Arcade Football

Our next pick for the best football game for PC is Super Arcade Football. It might look like a childish video game but once you start playing you will realize how intense it is. The game features fast action, modern take on the classic football genre.

You can play up to 4 players locally or try out the online playing mode where you can play against various players across the globe. It supports both cooperative as well as competitive playing mode. Overall it's a pure arcade game which is totally fun to play.
Lords of football are exclusively available for the PC only. It was released on 5th April 2013 and received good response. Here the player will have to handle a football club across many European countries. He will be responsible for training them as well as discipline the ones who are out of control.

The game features many aspects of the footballer and you will handle them all. But it isn't gonna be as easy as you think. Winning or losing the match will be your responsibility. Although the game doesn't feature the license leagues or players.
6. FIFA 18

FIFA 18 is also one of the best football game for PC that you need to know about. Just as its name suggests, it's the game from the FIFA series, so you won't have to doubt it's abilities to make you all involved in the game. It certainly lives up to the expectations so try it out.
It is also a fun football game for PC to play. It's all about winning and for that you can easily cheat using so many elements provided by the game. If you are looking for a time pass game then go for this one.
Conclusion:

So these are the best PC football games in our opinion. We have listed them out in our list because of their gun gameplay as well as popularity. Now we have done our part by introducing you to the best football games for PC, so it's your turn to choose one for yourself from the list.

Either play them against the computer or bring your buddies to play the game and show off your football skills. We hope you found what you were looking for, thanks for visiting our page.