Ever since PS4 was launched, the gaming console has never let us down when it comes to providing the best gaming experience. Which resulted in ps4 being the best gaming console ever made. Since the popularity of PS4 is rising, many game developing companies are making a number of ps4 games which are all you need if you are true games. You will find a large variety of games such as horror, action, fighting, sports, survival etc.
Although the genre is great but when it comes to survival game, there is no other game which can match the level of adrenaline rush which we get from surviving game! In a surviving game, you fight for your life, there are hundreds of hurdles, obstacles, and many villains present to bring you down but you have to keep going if you wanna win the game.
And the best part is, there are so many survival games present for ps4 which you will love to play. But at the same time, it becomes hard to choose the best survival game for yourself. And that's where we come to your help. We have gone through a number of survival games for ps4 and picked the best ones for you. We ha e picked 8 games which you need to know about and have to play (if you still haven't!). So let's take a look at the article and find out which are the best ps4 survival games.
PS4 Survival Games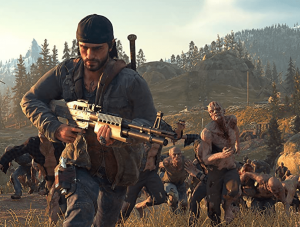 Days Gone is one of the most popular ps4 survival game which you need to play ASAP! The game was released in 2019, and it has received some good reviews. The game is set in a post-apocalyptic world 2 after a global pandemic. The story of the game is really amazing. Here the main character is Deacon St. John who is in search for his wife, who might be alive after all this.

It is an open-world game that is played in a third-person perspective. For your defense, you will your advance weapons, firearms and stealth against all the creatures or things which want to harm you during the game. The game can only be played in single-player mode, which might be a drawback for some of you. But even in the single-player game, you will love being on your own and surfing the odds. The gameplay and open world of this game is what is praised the most, so you might wanna try if you want to roam in a post-apocalyptic world full of unknown things.
Resident Evil is a popular name in the list of the survival genre games. Although it is mixed with the horror genre too, at least to some point. Although it's more action-oriented survival game than it's prequels Resident Evil 5 and 6. This one is the first game of the series which features a first-person view.

The story goes like this, you will be controlling the character of Ethan Winters, who is in search for his wife in the Baker house. There might be one or two things from which he needs to be safe from. There is a fungus known as Molded. To protect himself from all the things that are going on in the house, Ethan got handguns, shotguns, chainsaws, etc.

It's thrilling and it will definitely give you the adrenaline rush which you crave from a survival game. So go ahead and play this game, if you haven't played it yet.
The Last of Us is a classic survival game for ps4 which you will definitely love to play. The game is developed by Naughty Dog and published by Sony Computer Entertainment. The critics have appreciated this game for its amazing storyline as well as for the characters.

Here the gamer will control the character od Joel, who is a smuggler and assigned to save a teenage girl named Ellie. He has to escort her from the apocalyptic USA. This third-person perspective game features advanced weapons and stealth when it comes to defending themselves. The best part is the game features an online multiplayer mode which can be played by up to 8 players.

It's all about surviving the apocalyptic world and defending the girl so that both of you can get back to their homes alive! It's one of the best selling game and it's surely a fun game to play.
It's also a new entry in the best survival game for ps4 and you will experience a lot of great things in the journey of this game. The storyline follows a volcanic winter which is caused due to dimming of the Sun, eruptions of Krakatoa and Mount Tambora among other unknown factors. This caused the failure of crops and the death of millions.

The most interesting thing about the game is, it features three different scenarios with different storyline. Here the player has to do something in order to survive the harsh environmental issues. So go and find out what extraordinary steps you will have to take in order to survive.
Until Dawn is another best ps4 survival game which you will find worthy of playing. The game features 8 young adults who have to survive the Blackwood Mountain until dawn. The interesting thing about the game is, it is entirely based on your choices, meaning it features multiple endings and your survival depends upon the choices you make. Every move of yours in this game matter and can lead your life journey at a different path. It is surely something you wanna play as this interactive drama has already received some good reviews from the critics as well as the players across the globe.
Metal Gear Survive is also a survival game for ps4. The game revolves around the pandemic where an unknown virus can turn people into zombies. And the lead characters are trying to solve the mystery about the virus and save the world. This is a single-player and multiplayer game. And you will love both of them. The character of the game was well designed and you will also find some elements that will take you by surprise in the game. So if you haven't played the game yet, its time to try it out.
This ps4 survival game is also worth playing. Although the game received mixed responses from the critics but some people still loved it for its visuals, atmosphere, and gameplay. This single-player game features a third-person perspective. The game follows the character of Sebastian who is on a mission to rescue his daughter. The game features 3 difficult modes so you can choose the level of difficulty in the game. The plot of the game is unique and you will find yourself playing the game for hours.
We can't complete our list of best ps4 survival games without mentioning 7 Days to Die. This game features the world after the third world war, where everything destroyed and all you can see is a ruined environment which tests your survival skills. Here you will have to take care of your food, shelter and protect yourself from many things to survive.
Conclusion:

So these are the best survival games for ps4 that you can find right now. Although a couple of new survival games are gonna this year later (sequels of the above-mentioned games), on which you need to keep an eye on.

Alright then, here our article for best ps4 survival games end and he hopes you found something for you too. If you haven't played these games, then you should definitely try them out as they are totally fun to play. Thank you for visiting our page.