Who could think that we would be able to do fishing in our living room? If someone has said that a decade ago people would have laughed at him but thankfully we are in an era where we can enjoy every one of our hobby without moving out of room (virtually). With this thought, we are now presenting you the best ps4 fishing games that you can find.
We have listed the games which will get you everything you can look for in a fishing game, all them are different from each other so you will get a broader range of games go choose from. Let's start the list so that you can pick the best fishing game for ps4.
PS4 Fishing Games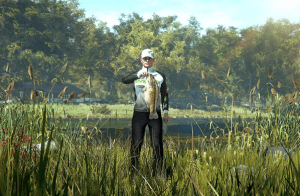 If you want the best fishing game for ps4 then Rapala Fishing Pro Series totally fill the criteria. You will find so many elements in this game that will definitely keep you glued to the screen. Fishing will be more fun than ever with this game as you will actually live the real experience of fishing.

To improve your rank as an angler you will have to work hard, climb rocks and earn more money. This will decide how good your performance is and what you can do in the game. The best thing about the game is it features 17 fish species, including Large Mouthed Bass and Northen Pike.

Another great thing about this game is, it features many tournaments and competitions across the country and you will see many amusing locations in North America! This ps4 fishing game will totally impress you and you will definitely get addicted to it!
Dovetail is a reputed name when it comes to best fishing games on ps4 and this one is certainly the best choice for the same. It's a fish simulation action-based game, which will definitely get you an adrenal rush during the gameplay. What you will like the most about this game is, it is so precise with features and it definitely gets you the best experience.

The game takes you to the beautiful lakes of Europe and you will have to become hard to become the top angler. This one demands perfection so take your time to improve your skills like, your tactics and improving your rod and line!

The fish will respond to even the lighter change in environment like temperature, time of day, weather conditions or even to the baits. The game is available in three languages, English, German, and French. Lastly, we can only say this is a must-play game for every fishing fan!
Well, the name says it all, this ps4 fishing game has been appreciated for its realistic features that make us feel like we actually are fishing. The game also allows you to play with your friends in its multiplayer mode and that's the most interesting feature of this game as you can enjoy the fishing fun with your friends too.

You will face many difficulties which will require you to find your fishing skills. You will find so many new things and locations around Canada and North America. Earn cash and spend them on new fishing equipment like roads and baits. You will definitely have fun in this ps4 fishing game.
There is no doubt that dovetail has given us so many games and they have certainly not failed us with fishing games too. In fishing sim world you will find a lot more than an average fishing game. Be it the environment or simulation, everything is just on point.

From beautiful locations around the rain-forest to some of the biggest fishes to catch, you will just love everything about this game. Test your fishing skills and find out how good of an angler you are with this ps4 fishing game.
The games take you to the farm life where you work in your farm to make some profit out of what you do and that includes many tasks like growing some crops, mining and taking steps to increase your livestock and meet some local town folk. While this game is not entirely based on fishing but it gives you a wide scope of it.

In your summer days, you will spend your days around the starter valley where you get to relax and do some fishing. You will find many species of fish like large mouth bass, salmon and trout. The fishing equipment also has a large variety of rods, baits which you can upgrade too.
6. The fisherman – Fishing Planet

It is developed by the maker of fishing planet and it has been recently released in 2019. This ps4 fishing game is perfect for today's generation. It doesn't matter if you like fishing in real life or not but you will definitely like fishing in this game because it's that good.

The game has surely raised the standard of fishing games with its many many great elements. It features a beautiful lake where you will have to take your boat which you will be riding. Get your rod out and show your fishing skills to catch some of the famous fishes. You will definitely gonna love the game and that's why it's in our list of best ps4 fishing game.
7. Russian Fishing 4

Russian Fishing 4 is the 4 installment of series and it has been released in 2018. The game is really engaging and it's definitely worth a try. You will love spending your day with this game discovering new locations and find your own perfect fishing spots.

The game features a unique simulation and physical environment which you will love. You go through different experiences with different locations and gain knowledge about fishing facts and techniques throughout the game.
It's an action role-playing genre game which features a broad spectrum of fishing. It actually has a mini-game that will give all sorts of things that you can expect in a full-fledged fishing game. Just follow the minimap to find the best locations for fishing.

Just bring out your rod and you will be ready to do some fishing. You have to complete several levels before you become the ultimate fishing master.
9. Yakuza 0

This Japanese ps4 fishing game is definitely among the best ones. You will play this game for its exclusive features and extreme fishing fun. The gameplay is super amazing with smooth controls which double the fun of any game.

Bring out the best rod you have and you ill be ready for fishing. Each fish you catch comes with a prize so that's even more fun.
Reel Fishing is definitely the best ps4 fishing game. They have mixed the fishing fun with some adventure where you go on a road trip and explore some hot sights for fishing like deep-sea sight or freshwater streams. Overall it's definitely gonna be super fun. And you will have so much to explore in this ps4 fishing game.
Conclusion:

So here we have listed the best ps4 fishing games and these are undoubtedly the closest games to fishing!