Golf is a very popular sport and we know many people like this game too. But it's not always seen with the young people, and this game can be seen played by only those businessmen folks rather than the young generation. But when any kind of game launches on gaming consoles such as PlayStation, it suddenly becomes interesting (even a game like golf).
That 's why we have bought you a list of best golf games for ps4 which you can play right in your living room and save yourself the trouble of finding the golf ball for hours! So let's start and find out the best golf game for you.
PS4 Golf Games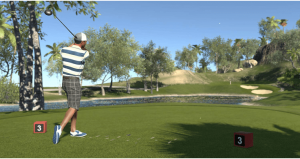 If you want a realistic experience of golf then the golf club 2 is one of the best ps4 golf game! The game developers have made this game by keeping the real environment in mind and they have provided us with luxuries golf courses and background is also something that will make you play this game more and more.

Everything about this golf game for ps4 is on point, Whether we talk about its animations and visual graphics or it's gameplay and physics. the game physics is accurate and other effects also ads a specific touch to this game. The game features a single-player career mode where you can for unlimited hours against the online opponents.

If we talk about gameplay than you will get an amazing experience when you start to play, all you will have to do is to take control of your joystick, aim and swing the golf stick! If you think you need a practice you can always go for training mode. Apart from this you can customize your golf course and player by adding small details.
This golf game for ps4 is the sequel to The Golf Club 2. So it's natural to expect more from this one if you have already played the golf club 2. And you will be pleased to know that this one has fulfilled every expectation of its fans. The unique features of this game are

You can create your own golf society!

If you wanna unlock the PGA tour you will have to complete web. com first.

There is a trophy room that will showcase all the trophies and achievements.

You can play in more than one environment.

Not to mention that the above features are just a few and you will experience a lot more than that. If you wanna master this game you will have to have better coordination. To make a perfect shot you will have to coordinate your move with wind direction and speed. The graphics and animations are also very impressive.

This game is designed specifically for the golf lovers and those wants every detail in the game. So it wouldn't be wrong to say that this is for sure one of the best ps4 golf game 2021.
The next ps4 golf game on our list is Everybody's Golf. And the reason we have placed in this list is because of its intuitive gameplay and impressive physics. The player will have certain qualities according to their ability to playing, for example, if you make some powerful shots you will become more powerful and if you make more accurate shots then your accuracy will be upgraded. Overall your powers and abilities as a golf player will be at your hand.

The game features some realistic gameplay which will give you an absolute realistic feeling while you play. Another great thing about this ps4 golf game is you can customize your player as well as buy some customizable products using the coins (you will earn more coins if you take part in various online tournaments and matches).

The developers have added some little additional details to make it more interesting like there are different kinds of holes which will make the game easy and difficult as well. So if you are looking for the best golf game for ps4, you can absolutely rely on this one.
Rory Mcilroy is best know for its realism and what you will live about this ps4 golf game is how beautifully it has been presented. It's the dream of every golf player to play on the courses like Bay Hill,  and with this game you can do that as it features some real courses and real golfers like Rory Mcilory and players can play as them too.

Another best feature of this game is that it actually brings the real fun of golf. And you can play this game with your friends offline and online, so that you will not miss out of challenges. There are some mini-games present in this game too.
Okay, so this game has taken the traditional golf game to the next level. This ps4 golf game is not just about getting the right shot and putting the ball in the hall instead you will be given the target where you have to destroy them. The more destruction you create the more you earn money and enhance your position in the game.

With many exciting levels and unique gameplay, Dangerous Golf is indeed one of the best golf game for ps4. And you will like this game if like destroying things.
If you wanna play a never-ending ps4 golf game then Infinite Minigolf is the best choice for you. Just as its name says, the game is gonna be infinite, where you can play as long as you want. Just make more and more golf courses and you will never be out of golf fun.

It's both challenging and fun to play. The features like multiple holes, long putts and collecting gems are a few to name and you will experience so many other great challenges too.
This might be the most fun golf game for ps4 where you will control giant robots. The human-size than golf bull will be fun too to play. This game features a total of 11 different robots which you can choose to play as. Just like any other thing in the game, the courses are different too, and they include the moon and Hawaii as the main golf courses in the game.
If you wanna play your favorite game with your other friends then Party Golf might be the best ps4 golf game for you.

The player can play the game 4 player mode and 8 player mode. This game will definitely surprise you it's unique elements so don't forget to try it out with your friends.
9. PQube 3D Minigolf

This golf game for ps4 has the best sites and courses and players actually love its unique location. So if you want to play golf at some different locations then it's the best game for that.
It's another installment of golf club series and this ps4 golf game 2020 is best known for its accurate physics and realistic gameplay.

You won't set disappoint from this game and this one is a must-play if you are a golf fan!
11. Golf with your friends
Our next pick for the best Golf Games for ps4 is Golf With Your Friends. The idea of game lies in the importance of your friends and golf! It's always nice to play with your friends no matter what the game is and that's why developers of this game have come up with n idea of golf game that can be played with up to 12 players. Yes you heard it right, not only you can play with your 12 friends but you can also expect a number of courses and additional content throughout the early access.

You can play against 11 players in online multiplayer mode and you will get 9 different theme courses to play on. Since it's not a regular golf game you can expect a few power-ups that will spice up things. You will also find three game modes, that is, tee off in classic, mini-golf, shoot for the pars in hoops.

This is not it, you can also create your own golf courses as its highly customized game. This ps4 golf game is simply a delight and you will just love to play it.
From the Everybody's Golf series the game has been popular and people have loved it too. There are a number of things present in the game which you will definitely love. For example, you will get a new modified version of 3 click shot. The golf swing power can be taken from the original character. The game also features a challenge mode where you will be competing against a number of players and taking part in various tournaments. The more you win the more features you will unlock. Its too an interesting ps4 golf game to play and you will definitely love it.
Next on our list is the famous Tiger Woods PGA Tour 14 which has become of the most popular Golf Game. The game features legends of the major mode which allows players to take part in tournaments from the 1870s to the present day. Career mode can also be found in the game along with a Quick tournament mode.

What's impressive in the game is its accurate physics and highly customizable features that allow you to customize the players. Players have also appreciated its playoff modes so you can actually rely on it for your golf time!!
We all know that Everybody's Golf is a famous series so you can't blame us for including a number of games from the series. The game has been highly appreciated by the players as well as critics thanks to its good graphics, amazing visuals and sound effects, and accurate physics.

Two new modes have been added to the game that is Slot Mode and Minna no Short Course. The game also support cross platforms play. Lastly, players can either enjoy the game against AI as well as play with their friends through its multiplayer mode!
ProStroke Golf is another popular golf game that you needed to know about. It's a little different game than others on the list as it supports offline game. And that's why we have decided to include the game in our list, because no matter where you are you can enjoy the game without a strong internet connection. The game features 8 licensed professional golfers and 16 fantasy courses. A number of playing mode are also available such as training mode, quick round option, tournament mode and career mode!
Conclusion:

So these are the 15 best ps4 golf games and we hope you would play these games and have fun!