For true games, there is nothing great than finding a perfect game of their favorite genre. While it's easy to find the best shooting game, fighting game or even racing game, but when it comes to finding the sports game then it becomes a little tougher!
But if you are a baseball lover then you are in the right place. Just like any other sports game, we don't have much variety of games present but we have enough baseball games for PC which you can consider. It's also true that we didn't get a new baseball PC game in the last few years but let's get started with what we have.
We have gone through a number of baseball PC games and we have picked up the 11 best baseball games for PC. So don't wait anymore and take look at our baseball PC games list and choose your favorite baseball game to play on your PC.
Baseball Games For PC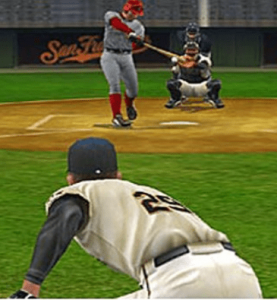 As you can guess by the name, MVP Baseball was released way back in 2005 but the reason we are starting our list with this one is that it's still popular among baseball video game lovers! This baseball PC game is published by Electronic Arts.

What has impressed the players of this game is their hotshot baseball leagues which include Major League Baseball, Minor League Baseball, and Major League Baseball Players Association license.

The game features over 30 leagues from MLB, popular stadiums, and most importantly over 1000 individual players! The game also features actual minor league players. If we talk about its different game modes than its features, exhibition mode, manager's mode, two different franchise modes, and baseball-themed practice games too.

To sum up, we can only say that this baseball PC game has everything that you can look for or even more, so if you wanna play the best baseball game for PC then this should be your first pick!
The second game on our top baseball PC games list would be none other than Super Mega Baseball 2! This game was released in 2018 and players have loved it for its realistic gameplay, cool graphics, and smooth controls.

This one is the second game in the series and it's full of great visuals, super exciting leagues, customization features, etc. The game has not left a single element that you can expect from a top baseball PC game! Custom league is just beyond what we can expect!

The game has been highly praised by critics for its amazing online multiplayer mode. So if you wanna challenge your friends or even play against the online players then Super Mega Baseball 2 is where you should go!
If you are a die-hard baseball fan then you would definitely like Major League Baseball 2k12. For starters, the commentary of this baseball PC game has been given by the trio of Steve Phillips, Gary Thorne, and John Kurk.

This baseball game for PC features a number of exciting modes such as The Perfect Game Challange, in this one player compete in a perfect game! Next game mode would be Major League Baseball Today Season Mode.

Lastly, it also features The Franchise Mode where players can play in different MLB seasons.

If we talk about some new features that have been added in the game, then it would be a realistic pitcher and better interactions. The pitches may increase or decrease for some players considering their strengths and weakness. The throwing system in this game is also very impressive. Overall it has improved AI, graphics, and lighting. We can only say that it's a fun game to play and it should be your top choice for a baseball PC game free.
It's the prequel of MVP Baseball 2004, and if you have already played the 2005 game then you might wanna try this one too. MVP features a number of impressive features such as the players will have full control of base-runners, sensitive pitchers, and a 120-year Dynasty Mode.

With this baseball PC game, Electronic Arts has revolutionized the baseball games and this one was too become everyone's favorite at the time of its release in that year. So if you're bored and couldn't find any latest baseball PC game to download then you might wanna try this one too.
High Heat Major League Baseball 2003 is a very cool baseball PC game to play. Here you will find a number of reasons to play the game. For starters, this one too features some of the exciting leagues and you would love to play it too.

The game is fine and it can be a good option if you have already played the above-mentioned baseball games for PC on our list. It might not be the most popular game but it surely is a fun baseball game and you never know you might have a great time playing this one.
Triple Play Baseball was the first game of this series which was released in 2001. Players can play the single-player mode where they can play a full season, home runs derby and playoffs.

Players will themselves choose their team and their transfer will too be in the players mode. Overall it's a nice baseball PC game to play.
MVP Baseball is also a great baseball PC game to play. It was released in 2003 and since then it has been baseball video game lover's one of the favorite baseball PC game to play. It was published by Electronic Arts as the successor to the triple play games.
Front Page Sports was only released for the Windows platform and it is one the best baseball PC game free download. Players love this game for it's look and feel of baseball then this game is for you. Play the full seasons and enjoy this realistic game on your computer.
The game was released way back in 1992 but it is considered as of the best baseball PC game it now. You can play in both the single-player and multiplayer mode. It may not be a detailed version but you will love the gameplay.
This 2009 game definitely deserves a place in our best baseball PC games list. It was published by 2k sports. There are a number of great features present in this game so you would love it for its simplicity too.
11. PureSim Baseball 2007

PureSim Baseball 2007 is only released for windows platform. The game features a text-based computer simulation. This game can also be played in both the single-player mode and multiplayer mode. There are a lot of fictional players and some real major league players present. Players can set up Leagues called associations which can be played by as many as 50 teams.
Conclusion:

So here our best baseball PC  games list ended. We hope you liked our article and it will help you to choose your favorite baseball game to play next!