We know the struggle of managing space when it comes to good video games on PC. But the thing is most of the games are too big in size and that results in memory problems in your PC. But don't you worry because there are some games present that are less than 1 GB in size and they are equally entertaining and fun to play like any other game.
We have picked the best PC games under 1 GB for you. Take a look at the top 10 PC games under 1 GB.
PC Games Under 1 Gb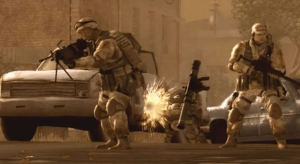 Prince of Persian is one of the best video game under 1 GB. Given its size, the game has lots of cool features and the gameplay is also very smooth and controls are great too. It's an action-adventure genre game and it is mainly focused on the Iranian prince and his various incarnations.

The series has 3 games and all of them are unique and filled with numerous jaw-dropping elements. The storyline is amazing and characters are well written. There are lots of features which you would like during the gameplay, for example, you can rewind the time (even when you die!). Overall it's the best 1 GB game for PC.
Project I.G.I, that is, I'm Going In is also a very cool game and it comes in the category of best pc games under 1 GB. It's a first-person shooting game that is very popular, although it was released way back in the 90s, but it's still winning hearts.

The game is just 229 MB in size and it is filled with wonderful elements tag makes it one of the best. You will get many missions that you will have to complete. Its gameplay is very impressive too. Overall it's a great game that you will like to play and that is why we have placed 2nd in our best pc games list.
If we talk about the game that is everyone's favorite and you can never get bored of, then it would be none other than grand theft auto 3. We all love the GTA series but this one also comes in the best pc games under 1GB category.

As you you know this is an action-adventure crime-based game that features lots of cars, weapons, and of course challenging missions that you would love to play. Everything in this game from graphics to gameplay is just on point.
Half-life is a first-person shooter game that has its own merits. The storyline will follow the character of Gordon Freeman, a physicist and he is currently battling alien invasion. The game has everything from battles, combat, puzzles and even a good storyline too which makes it one of the best pc games under 1 GB.

It was released in 1998 and it was a commercial and critical success. Its physics-based gameplay has won everyone's heart during that time and it's still considered as one of the best games for pc.
Its bard to believe that a game like call of duty is on the pc games under 1 GB list but it's true, as with call of duty2 you will have so much fun playing without worrying about the space of your computer.

 It's a first-person shooter game that offers so much for a game under 1 GB. But you will definitely like it's storyline and of course the gameplay. Play with cool guns and don't miss a chance to kill off your enemy before they kill you!
Although the size of the game is 1 GB but still can have it on our pc games under 1 GB list right. As its name suggests, battlefield 2 is a war based game. It's the second installment of the series.

The story takes place in the early 21st century where you will witness a fictional war between all the strong countries like Russia, China, United States, European Union, etc. What's fun is that the game takes place in different fronts where different countries are invaded by other countries. It's surely a fun pc game under 1 GB.
Tekken is also a very popular game series and luckily they have given us a game that fits under 1gb game for pc. You know Tekken is a fighting based game that you will love to play when you want to show off your different fighting styles.

It's the 7th installment in the series and it has definitely lived up to the expectations we had from it. The gameplay is amazing with some fine graphics and smooth controls. If you love fighting based games then Tekken 6 is the perfect choice for you.
The next game in our best pc game under 1 GB list is 7 days to die, it is a survival game where you will have to fight off with zombies. Your only mission is to survive the zombie apocalypse and kill them with your gun. In between your survival, you will be given some different tasks which you will have to complete.

The graphics are really great and you will like controls. It's also a first-person shooting game where you will have to get the zombies and you will have to master your shooting skills for that!
I will escape is a classic survival horror game which you will definitely like if you want to bring some horror element in your life. Its also filled with some thrilling moments which will definitely raise your adrenaline level. And the great thing is, it falls under the category of 1 GB games for pc.

The game has to offer so much and you will love all the elements which this game has to offer. With some surprising and heart-wrenching elements, it's definitely a game that you should play if you like the horror genre game!
It's the game that we all have played at some point in our life. For the 90s kid, it's one the best game simply because the game can be played on any computer without causing any lags. The reason why this game was played smoothly by us, is that its size is less than 1gb game and its among the best pc game under 1 GB.

You can easily control the games and you will definitely get an uninterrupted experience!
Conclusion:

Here our list of best pc games under 1 GB ends and you will definitely like these games, so don't forget to give them a try!