Indian premier league was started a decade ago and it has managed to gain such a huge popularity. Sure we all love IPL and but our favorite cricket season lasts only for a couple of months!
But don't you worry because we have plenty of IPL cricket games that you can play on your Android device anytime and anywhere. For the IPL fans like you, we have picked up some of the best IPL. So simply read our article and find the best IPL cricket game for yourself!
IPL Cricket Games For Android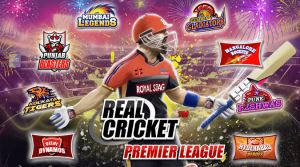 1. Real Cricket Premier League Android

The first ipl cricket game in our list is "real cricket premier league". This game will feature every element of ipl from auction to those amazing shots, you will find everything! In the auction, you can actually make your own team by selecting your favorite players.

To make this one more interesting, the developers have added a few historical scenarios that you can relive! You can play each of the previous seasons of ipl and make your own history!

You will enjoy the looks and design that this game has to offer. Customizing options are also available. The difficulty level has been raised so that you can get some challenging matches. So it's the best choice for an ipl game.
2. Chennai super kings battle of chepauk 2 Android

If your favorite ipl team is Chennai Super Kings then we have found the best ipl cricket game for you. In this game, you literally own CSK and control all the players of the team, of course, the player are the same as they are in the team!

The games are played in the historic stadium Chepauk, which now you will have to conquer too. The player will get a total of five modes to play and these are, Super Over, super matches, super multiplayer, super chase, and super slog.

You are definitely gonna have fun with this ipl game, so head to the play store and download it now because it's totally worth it!
3. Play IPL cricket game 2018 Android

This one is also a very popular ipl game that one can play when they want to feel the heat to ipl matches. The team are yours to control and their fate is in your hand. Either make them the champion of the league or let everyone down, that is totally up to you!

It a simple game, where you can choose your favorite team and resent them. You will get all the ipl teams to choose from. The graphics are stunning and controls are super smooth. Hit sixes and make the high score and beat the opponent team, only that should be your motto!
4. World Cricket IPL T20 live 2019 Android

World cricket IPL T20 live 2019 has just taken the ipl fun to the next level. You can play against all the team's but you will have to be the best one to beat every team and be the champion.

Apart from the ipl, you can play all the other leading cricket tournaments and become the champion in every field! What you will love the most is its gameplay and controls along with it's visual and audio effects.
5. Cricket League GCL: Cricket games Android

This game is developed on the lines of ipl format and that is why you will love this game! With this ipl cricket game, you will get an ultimate cricket experience!  You will get a 360° degree view that will make you believe that you actually are in a stadium.

Its animations are also great and you will see some of the best batting shots! You can play this game either against AI or with your Facebook friends on multiplayer mode. Its 3D graphics add an extra touch to its visual effects!
6. T20 Cricket Champions 3D Android

Get ready for the most intense ipl cricket game with T20 cricket champions 3D. There are many things that you will love about this and game and it will surely keep you hooked for hours.

It's realistic animations, 3D graphics and accurate ball physics is what makes this ipl game one of the best. The quick match and tournament modes are super fun too. Overall it's a fine ipl cricket game that you should play!
7. World Cricket Championship Lt Android

Although it's not a mere ipl cricket game but it's a kinda a whole package. World cricket championship will feature an amazing world premiere league, super fantasy cricket league, and world cricket championship.

The effects are so mind blowing that you can actually like you are in a stadium with thousands of other people! So can undoubtedly go for this cricket game to have some fun.
Conclusion:

Here our list of best ipl cricket games ends and we hope you would play and love these game.