Golf is considered a very prestigious game. In fact, some just call it 'rich' game because maintaining the lawn, is really expensive. You may be a big fan of golf but as our daily life doesn't give us much time to play this game that is why we picked the top 10 mini golf games for your android/ iOS smartphone that will be fun to play.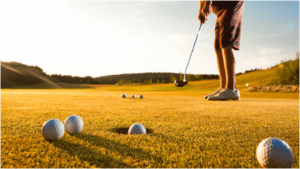 Best Mini Golf Games
1. Mini golf king – multiplayer game Android / Iphone

It is one of the top mini golf games that is just made for golf lovers around the world. Experience all the golf action and thrill right in your palm. You will get many features that make it the most interesting game to play, it is a multiplayer mini-golf game that will let you play with players from all around the world. If you love the golf courses and wanna play on ultimate and beautiful golf courses then this will the best golf game for you. You will get to experience many good and amazing golf courses. But your fun didn't stop at just a beautiful golf course, you will play to be on the top of the leader board by defeating other players and you will get to win many trophies to celebrate your victory.

You have to shoot your ball at the longest route to gain more gems, just drag and release the ball at your aim and if you are competitive enough you can shot the ball at your rivals ball to knock them out! Don't miss out this super fun mini golf game.
2. Minigolf 3D City stars arcade – multiplayer rival Android

It is an offline but a great mini golf game. You will be challenged by lots of players from all around the world. Your goal should be to become the number 1 golf player but for that, you have to master your golf skill with this amazing golf game. Give yourself a golf treat by this super fun golf game where you get to earn diamonds and buy cool stuff to enhance your golf game. Never be disappointed and have your best time with this mini golf game, you get to practice before the real game starts so you would be confident and give your best shot to win. Don't worry about losing the game progress because it comes with cloud save functions. If you think you can play and win any golf game then you should try out this game. It comes with lots of obstacles to make it more thrilling, some the obstacles are jumps, spinning bars, slopes, holes and loops. They are enough to keep the game interesting. Play online to challenge other players from all around the world and offline single-mode to beat your own scores.
Battle it out with the best mini golf game that you can find! You can invite your 6 friends to play this amazing mini golf game and show off your golf skills. Or you can play with other real players from all around the world but make sure you beat every one of them to become the best golf player and be on the top. It's super smooth gameplay and easy controls make it more fun so don't hesitate to play your favorite game and show everyone who is the boss. Okay to unlock more and more new levels and achieve progress along with this.
Welcome to one of the best mini golf game where you will experience the most fun tracks ever! If you don't like to play it in a traditional way or bored of regular golf courses then this golf game is only made for you. Experience 10 unique golf courses with over 100 holes. There are over 10 million players connected to it which will give you a tough competition to become the best golf player. Earn more points to unlock new courses. This golf game is a treat with its easy touch controls. Plus you will get everyday bonus.
5. Mini golf: Jurassic Android

Do you want to play golf with dinosaurs or all the unique creatures of the Jurassic period? From the idea of crazy golf, they have developed a mini-golf game that has a dinosaur theme. It is so much fun than you can imagine, the dinosaurs will come to life and will play with the golf ball or interact with the other objects. There are many fun golf courses that are fun to play on, explore different levels as you grow your golf skills. Encounter different creatures and plants when you hit the balls on a golf course, you will face many obstacles like a tunnel, tubes or even falling tracks. You can play this mini golf game in two modes, first is classic where you will be given unlimited shots and unlimited time to play and you can't fail any level. It is great if you wanna master your mini-golf skills. The second one is challenge mode, as its name says if you wanna more thrill in your game you can always switch go this game mode. You will be given a limited number of shots and you will fail you can't reach the goal.
6. Mini golf paradise sport world Android

This is one of the top mini golf games you can find. There are over 100 golf courses (you won't be bored!!) with a large number of holes so what are you waiting for? Play this mini golf game today and give yourself a golf treat. The tracks are amazing as ever, collect more and more stars to unlock new levels. To spice up the game they have also provided a feature of unlocking new balls and tracks and even you can customize your game. Test your golf skills and see if you are as good as you think you are! The gameplay is really easy as you just have to drag and hit the ball (like you do in a pool game), your shots won't be this easier with any other mini-golf game!

There are six amazing golf courses including Paradise sport world, pirates island and many more. But it won't be that easy to master this game as it has 90 levels to clear with obstacles like long jumps, huge gaps. Create your own track with 1000 items, mini-golf was never this fun.
7. Mini golf rivals – cartoon forest Android

It's always good to be around nature, that is why we are introducing you to this amazing mini-golf game that will give you the experience of playing golf in the middle of the forest. Sure it's a unique experience to play in a muddy, forestry are but we assure you it will be an amazing one. The forests will be in 3D and filled with lots of color and vibrant environment. You will be given 60 levels to accomplish in between them you will get a chance to unlock new items. Get the highest score to become the best golf player. If you think it's easy to get the ball in putt then you may wanna think twice, as it has many unique variations so shooting straight isn't gonna be the best choice! With is accurate and nice physics you will get a unique experience with every hole. Its obstacles are windmills, slopes, loops and bumps so it's always gonna be challenging task to get the ball in the put. Get daily rewards and much more in this mini golf game. It's touchscreen controls and swing mechanics are smooth as ever. You can play in on both smartphone and tablet.
8. Mini golf 3d classic Android / Iphone

It is a free mini-golf game with some exciting and simple to use interference and cool graphics. It includes many hole courses that will give you brand new challenge. It comes with two modes including a normal mode where you will be competing with other players form all around the world and fighting to get the highest score. Its practice mode will let you choose any hole and master your golf courses. Earn more coins that will unlock more ball colors. Become the champion of mini golf game by playing this game.
Your favorite mini golf game is back, it has gained popularity among golf lovers and now it is back with more exciting features. Play mini golf on four exciting types of courses. You can even play it on multiplayer mode and see if you are the best! It has already won everyone's heart with its super smooth game play and its physics accuracy.
10. Mini golf'oid free Android

It is a smiple yet super fun minigolf game. You can enjoy its easy gameplay and smooth control where you just have to touch the ball and see the magic shot but be careful of obstacle and traps. Create, play and share your own courses to have ultimate fun with the best mini golf game and become the master of this game.
Conclusion:

So these were the top mini golf games each offers a unique experience. Choose the one that suits you the best and have fun!