As a kid we must ha e played with big factor toys and I think we all love to play with big monster tractors. In this article, we have listed out the top tractors games for Android and iPhone in the present time. As you know there are hundreds of tractor games present bug only a few of them are best. To save your trouble of going through all the tractor games we have listed out the top 10 of them. So let's take a look at the article and find out which are the best tractor games.
Tractor Games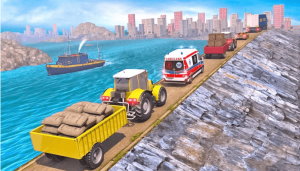 1. Real Tractor Driver – Farm Simulator Tractor Games Android

Have you ever thought of driving a tractor yourself? Well, your wish has just granted, with Real Tractor Driver you can drive your own tractor by yourself. It's basically a farm-based game where you will get to drive one of the best tractor and do all the farm activities and perform agriculture tasks.

You will play as a character who lives in the countryside and who is a farmer by profession like most of the people there. You will get to transfer crops, animals and irrigate the field. This one is the best tractor game and players will get to cultivate crops like sugarcane, cotton, wheat and so on.

The gameplay is realistic and sound effects are super amazing. It also features a user-friendly and intuitive interface. And most importantly players will get to choose between many tractors.
2. Drive Tractor Trolley Offroad cargo – free games Android

If you think you are an excellent driver and can drive a tractor in any terrain then Drive tractor-trolley is just the right choice for you. This tractor game android will definitely make you in love with this. It is based on a transporting service where you will be responsible to carry all the agricultural goods from the village to the city.

But the game comes in its own sets of difficulties where the time is one thing that is taken care of. As you know you will have to transfer all the goods but the condition is they will have to remain fresh so it's important that you transfer them on time. Another difficulty is, the agricultural good will be very high in amount so you will have to be careful.

The only responsibility of yours is to deliver the goods safe and secure and of course on time. It's an addictive tractor game and you will definitely enjoy it playing.
3. Rural Farm Tractor 3D simulator – Tractor games 3d Android

Rural farm tractor is another best tractor game which you would love to play. It's too based on transferring farm goods from one place to another. But they surely sets their difficulty level high as the terrains are not very smooth to drive on.

Thousands of people are currently playing this game and they all have loved this game for its uniqueness and fine gameplay. Players will have a smooth and easy controls over the tractors and they will get a good quality of sound and visual effects. Test your driving and parking skills with this tractor game.
4. Tractor Drive 3D: Offroad sim farming game Android

Tractor Drive 3D is undoubtedly one of the best tractor games for Android and iPhone. It has over 5 million downloads and it has received a high rating too. People have loved this tractor game for its unbelievable vehicles, interiors, howling and farming mechanism. As you will be handling your own farm you will get to do so much stuff with the tractor, like cultivation the crops by ploughing the soil and irrigating the field and so much more.

While cultivating the crop is a big part of the game, you will also have to take your crops to sell them in the city on your tractor and that's when your driving skills will come in handy. It's not at all an easy game and you will have to show your driving and parking skills.

You will like the turbo sound effects of this tractor game along with realistic and easy gameplay. We hope you will enjoy this transport simulation-based tractor game.
5. Tractor Farming Simulator Android

Another popular tractor game android and iPhone is Tractor Farming Simulator. This is popular because of its realistic tractor features which you won't find anywhere else. They show a number of features like realistic 3D farms, advance tractor physics.

Players will love the fact that how easy and smooth the controls are along with multiple camera view controls. It's a simple tractor game which is easy to understand and fun to play.
6. Real Tractor Farmer games: New farming games Android

If you want the best tractor games then real tractor farmer games are the one you should download. Here you will actually feel like you are doing some real farming as you will be able to do a lot of farm-related stuff like cultivating and harvesting the crops.

As the game features modern agriculture then you will have to deal with huge farming machinery along with your tractor. You will surely get some challenges in the game but hey who loves an easy game right! Download the tractor game and enjoy the rural life for a bit.
7. Tractor Thresher Simulator: farming games Android

Test your farming skills or learn some farming techniques with Tractor Thresher Simulator which is one of the leading tractor games for iPhone and Android. This tractor game is made for those who are a great admirer of rural life and they wanna live and experience the farming stuff.

The game features two modes, first one is farm guide where you will learn some farming methods and how to cultivate the best crop. Next one is farming simulation trails where your farming skills will be tested. Overall this tractor game is one of the best and you should definitely play it.
8. Tractor driver 3D: farming simulator Android / Iphone

As of now, we know how important tractor is for farming and tractor driver definitely proofs it by giving you a chance to learn about agriculture and engage in farming activities. This tractor game download features the best cargo physics so you would love it.

The game features the best village environment which is rich in cultivation and full of animals and people who are farmers by profession. You will definitely love the tractor game so download it now.
9. Real Tractor Trolley Cargo Farming simulation game Android

The next game in our beat tractor games list is real tractor-trolley where players will get to drive on terrains which are never meant for driving in the first place. And as if the terrains weren't difficult enough so they also feature heavy loads on your tractor which should be delivered safely and on time. Enjoy this amazing tractor game for android.
10. Real tractor Farming simulator Android

How about running a farm on your own, well real tractor farming have it all. This tractor game features big machines and you will have to perform all the farming tasks on your own.
Conclusion:

So, these are the best tractor games which you should play!