Bored? You know what's the best way to pass your time and not be bored? The answers would be having some of the best word games on your smartphone. It's always great to have a world game on your smartphone so that you can pass your time when you are getting bored when you are waiting for someone or just wanna test your word knowledge.
Sure there are plenty of word games for Android and iPhone but not all of them are worth playing and that is why we have rounded up the best word games to have on your smartphone!
Word Game Apps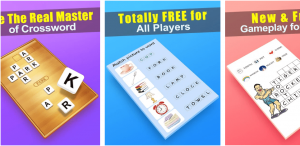 The first word game app on our list is word cross and we have placed it on number one because it is the best one. It's a creative way to play word cross puzzles and challenge your brain with it's challenging word puzzles. With word cross, you will get an all-new experience of word puzzle game.

It feels like you actually playing the word puzzle on the game board and that's what makes this game totally addictive and entertaining. The game looks fresh and clean with a user-friendly interface that makes you wanna play more and more. It is really easy yet super fun to play.

The game features over 2000 challenges and with each passing challenge, the next one becomes harder and harder. And if you get stuck somewhere the game features ask your friend so that you can get some help and it also features a "hint" feature that can help you. Overall it's a kinda game that you will get bored of and it won't be wrong to say that this one is one of the best word game for iPhone and Android.
2. Word connect – Word games puzzle Android / Iphone

Word connect is another exciting word game app that you will definitely love playing with. The game doesn't give you a chance to get bored with it, because it's that good. It's a fun way to test and improve your word knowledge. To give it a twist this word game offers you a fun gameplay.

You will be given lots of hidden words and to get the right word you will have to connect them with each other. It gets more and more challenging with each passing word! You will get rewards and points to get the right word and if you play this daily you will get a daily reward too.

This word game is suitable for every age group and anyone can play this game and have fun. Overall it's a great choice for a word game app!
Word connect has been played and loved by millions of its users and all they have agreed that it surely is the best word game for Android! Everything in this word has designed beautifully and intelligently. You will love the fact that this game actually challenge your brain's ability to recognize and get the new words.

The gameplay is super easy yet it can be hard to master. It will feature a board full of letters and in between some hidden words would be present. All you have to do is slide and drag your fingers to solve the puzzle. One can also say that this game will test your puzzle-solving ability too.

There are literally hundreds of puzzles present to challenge and test your vocabulary skills and knowledge. This game is supported by both tablet and smartphone. So you can rely on this word game for Android and iPhone to have fun with words.
Wanna get creative and play the most exciting word game 2021? Well, word swipe would be the best choice for that. If you think you are good at finding words then this word game app is the perfect choice to challenge your self and get to know if you are as good as you think!

With is easy and fun exercises you will surely enhance the word knowledge and your vocabulary. To find the hidden words you will have to search and swipe your fingers on the board. When you find a new word it instantly cleared to get you new sets of hidden word and that's how the word challenges keeps going.

They also provide some clues as the game gets harder and harder and there are thousands of levels present that will definitely improve your knowledge of new words!
It's a great word game that will keep you engaged for hours with its amazing gameplay. You will be giving our few incorrect words and the letters are misplaced and below that you will have to connect the letters in a correct order to make a word.

It wouldn't be wrong to call it an addictive game and it also features an easy and simple way to play this super amazing word game for Android. Its graphics are also simple and beautiful. The layout is just like the crossword-style to give you the awesome feel.

You will get more and more difficult challenge as you climb up the levels and you can easily play this game offline, anywhere and anytime.
6. Word collect – free word games Android / Iphone

Word collect is another best word game for android. It is a highly rated app with an overall rating of 4.9 out of 5. The main reason behind its huge popularity would be its variations of difficulty levels throughout the game and its intuitive gameplay.

You can connect the words in any direction and form the hidden word. To level up you will have to connect more and more words. With every achievement, you will some in-game coins and it keeps you motivated to play more and more and reach the higher levels.

The game will provide you more than 900 levels to play absolutely free. So next time you look for the best word game, word collect should be your first choice!
7. Word search Android

If you wanna play a slightly difficult game then word search would be your first choice for that! It is a powerful word game that has been placed number one in several countries. Over ten million people have downloaded this game worldwide and they have loved it and describe it as the best word game that they have ever played.

The reason behind its huge popularity would the fact that the game is available in fourteen different languages. Apart from that, you will find more than thirty categories of puzzles. There are lots of fun word puzzle that you can play with your friends and family.

The game can be played by all.the age groups as it provides a powerful brain teasers. It is also available in 3 different modes, topic, story and relax mode. So play according to your mood and be ready for never-ending word puzzle fun!
Word Cookies is a brand new word game for android where you can make new words and ran more and more points. It is a scrabble like game where you will have to join letters that are being presented in a cookie form and there are present on the baking pan where you can swipe the letters and make new words.

If you like different kinds of graphics then this word game app is a perfect choice. It's easy and looks delicious with all those cookies and stuff so you will enjoy playing with it. Keep your brain active with its new levels.
9. Word story – addictive word game Android / Iphone

If you don't like playing word games in the traditional way then word story would be a perfect fit for you. As you can get by its name the gameplay features a story where you will have to make new words.

A man has been framed and being prisoner and he desperately wants to go outside. And there is only one way to do that and that is you will have to break out of the cell. But for that, you will have to use your vocabulary and make new words to set him free!

There are thousands of levels present and they all are fun to play and you won't get bored for even a second. It's definitely an addictive word game that has been loved by more than 50 million people all around the world. You won't need any wifi or internet connection to play this game as you can play it offline. It's free, simple and interesting what more you can expect from the best word game for iPhone and Android.
If you want to play the most challenging word game then wordscape is the one you should play. It has every element that makes it the most challenging game ever. The game lets you improve your word knowledge via the challenges like word searching, anagram, and crosswords.

The game has the most beautiful background themes that will make your gameplay more fun and interesting. There are more than six thousand word puzzles present which will definitely keep you engaged for a long time!
You will definitely love word crush as this word game has the best features to make the word puzzles interesting. All you have to do is to find the hidden words on its beautiful board but remember all the words on a particular level are related to each other.

The words can be present as vertically, diagonally, horizontally or even backward so you will have to give it extra attention. It comes with five modes on the difficulty basis. This game has so much more to offer so don't wait to download and play this word game on your android smartphone or tablet.
12. Word search – a free game with infinite puzzles Android / Iphone

Word search is also one of the leading word game app. Its amazing features are what have landed it on our list of best word games. What's impressive about this word game app is, it is available in 14 languages and you can find the words in total eight directions.

Play at your pace, either with or without the timer whatever suits you the best. The game also features a real-time multiplayer mode where you can play with other players too.
13. Word Life – crossword puzzle Android / Iphone

Word life is another word game for android that you can consider when you wanna relax and just wanna have a good time-solving word puzzles. The word puzzles comes with stunning backgrounds that feature natural landscapes.

It's a learning word game app to where you can learn some facts about animals. It has also a total of three game modes to play.
Next word game app in our list is word charm. The game is as charming as its name says, it features very interesting designs and its a best way to kill the time.

Overall it's a fun word game that you can rely on!
Of you are looking for a unique word game then pictoword is where you can go. The game features different themes to choose from and you will get your word puzzles from these themes only! Its both funny and flexible word game.

They will show you two pictures from which you will have to guess the right word! It's really interesting and unique. and you can have a break from word searching games! Although you will need higher problem-solving skills to.master this game.
16. Word Puzzle music box Android

Word puzzle music box features so many amazing elements that have landed this game on our list of beat word games.

If you like winning awards for the word knowledge you possess then this one should be your best choice! There are lots of levels present that will definitely keep you engaged with the game for a really long time!
17. Word Find word connect free offline game Android

Word find is also a leading word game for android. You can play this game to enhance your word knowledge and have fun.

Its a completely offline game so that you can enjoy it even when you don't have full network coverage!

The game features two game modes that are traditional and cross model and they both re equally fun to play. The more you play the more will you win!!
18. Word search Android

Word search is equally good as any other word game apps. And you will also have fun with its easy and simple gameplay. Your progress will be saved so you will start where you have left.

The game also features a leaderboard which will help you understand where you stand among other players.
19. Word Nut: Word puzzle games and crosswords Android

Play the best word game which has more than a thousand levels and it guarantees you that you won't be bored with this word game.

To level up you will have to find every hidden word that is present in the present level. Its gonna be so much interesting.
Have fun with the best word game for android that you can find. Be ready to face the most difficult levels and prove your word knowledge via this game. There are many challenging chapters that you can choose from and play.

It wouldn't be wrong to say that this one is undoubtedly the beat word game with thousands of levels and tons of words.
Conclusion:

So these were the best word game that you can find. Download these games to play when you are traveling or there is no network on your phone. We hope you have liked our list of and you play these words games!