There are many people who love horse racing and the games related to it. You can never find the kind of thrill that offered by horse racing games in any other games. Whether you like to compete with other players and wanna be the best player in the world or you wanna play alone and fine your horse racing skills we have it all. Check out these best horse racing game and have fun playing them.
Best Horse Racing Games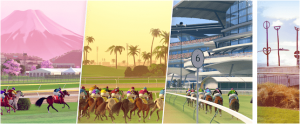 We are starting with the best horse racing game that has been downloaded by more than 10 million players and it is a highly rated horse racing game too with a rating of 4.4. Have you ever dreamt of owning a horse and participate in horse racing. Well, your dream has come true, find your favorite horse and own it and participate in horse racing and compete to show everyone your dominance in the racing world. The horse is realistic and the environment is immersive.

But the racing isn't gonna be that easy, prepare your stallion to dodge barriers and jump over the obstacles. The competition is gonna be fierce. The only thing you have to work on is your balance and speed and you will be able to ride your horse. Take care of your horse's stamina. It has 3D graphics and sound system. There are more than 60 challenges to compete and they release new challenges every now and then so that you will be engaged in the game.
2. Rival stars horse racing Android / Iphone

This horse racing game 2021 is gonna offer you so much more. If you really love horses then you must love training them and play with them, that's what this horse racing app is about. You will be able to breed and train horses. You have to manage a whole staple actually and then you will be able to race with them. Manage your own homestead ranch and face for the victory. Get the ultimate horse racing experience with this best horse racing game app.

It will be more than just winning the champion title where you have to maintain and keep the legacy of your family. Different races are available from paddock to winner circle, you will be racing on the famous horse racing tracks all over the world to earn yourself a prestige and climb the ladder board. Choose your own play style and become the best trainer, breeder, horse trainer, race manager, and jockey. Think you can do all this? It's never hurt to try and find out.

It has the amazing motion capture animation and immersive gameplay. You can customize your player's face, skills, helmet, and much more to photo finish.
3. Horse racing – derby quest horse racing riding games Android

Rule the racing track and become the world champion! That should be your motto when you will be playing this game. You will be racing for derby trophy cup and the crown of horse racing. But you think its gonna be that easy? The answer is no! You have to clear obstacles, clear barriers and sharpen your horse racing skills to become the champion.

The racing tracks are ultra-realistic, the graphics are stunning and it has amazing sound effects too. The gameplay and controls are smooth so what are you waiting for? Download this horse racing game and enjoy every bit of horse racing.
4. Virtual horse racing 3D Android / Iphone

Bring the thrill and thunder of horse racing in your smartphone and play this superb horse racing game 2020. It is the realistic 3D horse game with stunning virtual effects. It is exciting, easy and fun to play. You will be challenged at every moment. Its features include 3D graphics, virtual 3D sound effects, simple gameplay, turf track and many more. You can get the preview of your horse and jockey to make it easy to choose. Its slow-motion effects are amazing too.
5. Photo finish horse racing Android / Iphone

Get yourself a horse and fight to win the cup and crown of horse racing by defeating other players. You can hire a jockey but you have to train your horse to win races' most fierce races. This horse racing simulation is one of the best with lifelike animation, stellar graphics, and addictive gameplay. Play this horse racing game and become the sports King!
6. Horse racing simulator 3D Android

This horse racing game is all about making deals and betting on your favorite horse against all the odd and other horses. Choose yourself a winning horse and it will be kept in a stable until the racing day comes and show off your betting skills and win yourself a derby cup. You will be given a variety of horses to choose from and you can place bets and watch your horse to get to the finish lining in realistic animations. This game will provide you different camera views and smooth 3D graphics along with optimized gameplay.
7. iHorse racing: free horse racing game Android / Iphone

Be the manager of stable and horse trainer and train the race-winning horses! It is a big job to do but try yourself with this horse racing game. You will get free in-game diamonds and credits daily to enhance your game. Enjoy horse auction, stable management, horse training and gears, race entries and many more events that will give you a real horse racing experience!
8. Horse racing championship 2019: online jockey race Android

If you are looking for a challenging horse racing game then this would be your best choice. Fight with yourself to become a pro jockey and win races. Accept the challenges of top jockey and horse trainers and see if you can compete and win against them.

You will definitely love this challenging game so download the horse racing game now and have fun!
9. Cartoon horse riding – derby racing game for kids Android

It is one of the best horse racing games for kids. Get yourself a fun ride on your favorite horse and race with other players to get the first position on the horse race. Prepare and groom your cartoon horse before the race and make sure you win it!

It is an endless runner game so we are sure that you are gonna love it!
Last but not the least, enter in the world where you are in charge of your horses and stable. Breed your horses and train them to become the best!! You will be responsible for the fate of your horse in the racing so make sure you do everything you can to be best! It is almost the best horse racing games and it surely worth a try!
Conclusion:

So these were the best horse racing game, and they will make sure you get a thrill and fun of horse racing on your smartphone!!