Are you crazy about buses? Those hot and big buses we're everyone's childhood dream, we all have played with lots of big buses in our childhood. But it's won't look cool to play with bus toys now that is why there are some bus simulator presents bus games for your smartphone. Although not every bus game is fun to play that is why we have picked the best bus simulator games for you.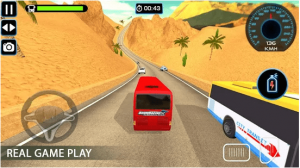 Best Bus Games Simulator
1. Mobile Bus Simulator Android

If you are looking for a bus game online then it would be your top pick. With dozens of cool features and great effects, it's already become the best bus game. What you need to do is transfer your passenger from one place to another in your city. And in between the route, you will have to follow traffic rules and be the best bus driver. Don't worry you won't have just one route sometimes you have to go to another city terminal, beautiful places and landscapes, and so many more places. But don't worry if your passages ask for a longer route, as the long route will simply means you will earn more money! Another great feature about this bus simulator game is that it lets you customize your bus with liveries, horns, bumper, belts and so much more. If you love those crazy and big headlights then this bus game will fulfill that. With realistic places, detailed bus vehicles, and wonderful interiors you will like you are actually driving the bus. You will also get a variety of buses like super high decker, double-decker and so much more with this bus game simulator.
2. Bus Simulator Indonesia Android

Not only you drive your dream vehicle but you will also get to explore the streets of Indonesia. With this bus simulator online game you will get to experience all the fun of a bus driver and that too in an authentic country like Indonesia which has a rich culture and best locations to explore. This bus simulator game is all about getting you an experience of Indonesian environment in a really fun and authentic way. You will get to design your own livery with very easy and smooth controls. If you love horns then you will definitely gonna stick to this bus game. It also has quality 3D graphics that will increase the joy of playing this bus game simulator. There is also a leader board present to evaluate your performance and let you know if you are the best bus driver. You can also design your own 3d model using vehicle mode system. They are releasing more and more new buses after a while so that you won't lose your interest. with 10 million downloads this is one of the best bus simulator game!
As the name says this bus game simulator was released in 2015 and since then It has managed to get 50 million downloads and with lots of positive response and appreciation from its users. This is your chance to become the best bus driver, you will get help like detailed maps that will help you to reach your destination, incredible vehicles that will grab everyone's attention and wonderful interior that will t you fall in love with. With lots of routes, you won't get tired and explore every cool location around the city. But is it enough? This bus game also offers a great deal when comes to its graphics and people animation that will feel like real ones. You will get to choose from 15 buses and every one of them has an open/close door button, it also has various weather conditions that will test your driving skills. Overall this is the best bus game simulator and you won't be disappointed.
4. Bus Simulator : Ultimate Android / Iphone

You are gonna love the bus game simulator that has the best feature that can be possible. Not only you will drive buses but you will have a bus company and you have to lead it to become the largest bus corporations. Another amazing thing about this bus game is you will be driving your buses through different countries like United States, Germany, Russia, Turkey, Italy, Spain, France, Netherlands, and Brazil  Brazil their beautiful location to explore. Don't you worry about getting lost in this country as it will provide you a detailed map to help you out with directions and to reach the desired locations. It will have 13 coach buses with 250 radio stations to make it more fun. If you wanna play an ultimate bus game this would be your best choice.
5. Bus Driver 3D: Hill Station Android

There is a certain joy in driving buses on those smooth roads but when it comes to a thrilling experience you wanna switch with hilly roads that will test your driving skill with every moment and every turn. If you wanna play a thrilling bus game then it is a highly recommended bus game simulator. This is an action-packed thrilling bus game where you have to overcome every obstacle and reach your destination within time. Experience a beautiful background with realistic changes in the weather and exploring amazing locations. Master your driving skills with smooth gameplay and great controls. With thrilling precision driving and great sound effects, it is one of the best bus game simulators.
6. Coach Bus Simulator Android

This bus game is really fun to play, it will let you take passengers from one city to another and you have to show them the cool places and epic landscapes. You will be driving in different scenarios and in different weather conditions. It has an open world map with amazing vehicles and incredible interior that will make you fall in love with them. This bus simulator game also let you customize your vehicles with all the complexities, you can write whatever you want on the sides of your bus. Do a manager's job by managing your bus company and hiring drivers who can run your buses through different cities and countries. Overall it is one of the best bus games online.
7. Bus Game Free – Top Simulator Games Android

This bus game is made for those who are crazy about driving and wants to show off their driving skills by completing every task that can be given to them. With one the best bus game online you can do lots of stuff like driving through crazy traffic and proving that nothing is impossible for you. Of course, you have to take passengers from one city to another safely. If you think it's easy to drive a bus then you may wanna think twice, with that much number of passenger you responsibility is big too. Try not to hit cars and avoid accidents and follow traffic rules to be the best bus driver. Everything is just better with this bus game simulator the gameplay, the controls, graphics, and amazing sound and visual effects. You get to drive through unusual and epic places like a beach or suburbs. We assure you this bus game won't disappoint you.
8. Bus Simulator 2019 – Free Android

It is a fun bus game to play when you are getting bored or miss driving. It has an open-world environment that makes it feel realistic and it also has detailed buses that are a treat. you won't find any other game that has a beautiful interior as it has. It is a challenging bus game that will keep you engaged in many missions and task that you have to complete to level up. And each level offers something new to make this game more interesting. Avoid all the damage and accidents to your bus else you will put your passenger at risk and they will scream so the safety of your passengers will be your first priority, make sure don't let them. You can also change the camera view to get a better experience. If you want to be challenged then you should definitely go for this bus game simulator.
9. Uphill Off Road Bus Driving Simulator – Bus Games Android

Buckle up your seat belts and ready for an adventurous ride around the hills. Hills are already hard to drive and a challenging task to complete. You have to be a really great driver to ace this bus game. If you think you can conquer any driving game then you should try this one and know if you are as good as you think you are. Ride coach bus and pick up passengers to drop them at their destination. You will be given a log of choices to choose your bus from. Listen to music while you are enjoying its marvelous places and wonderful environment. Take full control of steering wheel, acceleration and brakes (it's not as easy as you think). It is undoubtedly the best bus game to play.
10. Public Transport Simulator Android / Iphone

With over 10 million downloads it is one of the best bus games to play online. As you know the perfect bus game simulator comes with smooth gameplay, easy control, and a realistic environment and it has it all. With many vehicles to choose from it Offers exclusive races and ultimate fun as you fight to get a position at leaderboard.
11. Modern Bus Driver Game : New Bus Games 2019 Android

It is one of the best bus game to download. You will get to explore many exotic cities and all of them has a spectacular background that is just pleasant to our eyes. You will get to ride your bus in the city as well as in the hill areas so that you won't miss out any driving fun.
12. IDBS Bus Simulator Android

Experience Indonesian bus experiences with this top bus game simulator. We guarantee you that you will be stick to this bus game for hours once you have started, it had 3D graphics with mind blowing Indonesian locations.
13. Heavy Bus Simulator Android / Iphone

With this bus game simulator, you will be experiencing Brazil and it's stunning mountain roads and off-roads. The passengers have trusted you to give them a safe and fun ride and your goal is to drop them to their destination. It has accurate physics and realistic gameplay and you will experience the best artificial intelligence.
14. World Bus Driving Simulator Android

Feel free to explore and flaunt your driving skills with the best bus game. It will take you to many exotic cities where your Driving skills will be tested with different driving situations and locations. Take the dangerous road to bring the thrill in your gameplay.
15. Bus Hill Climbing Simulator Android

Hilly areas comes with a different level of difficulty when It comes to driving, with this bus game simulator you will be facing extreme weather conditions and extreme roads that will give you a tough time to complete your task.
16. Bus Simulator 17 Android

If you love buses and want to drive the best buses then this bus game is definitely made for you. With lots of detailed buses and the customizing feature, you are gonna love this game for sure. This bus game to play online is waiting for you to download it and play with the best buses possible.
17. Super High School Bus Driving Simulator 3D – 2019 Android / Iphone

This time, with this bus game you will have to drop students from their schools to home and vice verse. But with traffic and a dean who is strict about time it's not gonna be that easy. You will win awards and prizes. It is gonna be fun to play this bus game simulator.
18. Bus Racing Android

It is undoubtedly the best bus game that just involves racing on hill tracks become the best bus driver by mastering the skills of brakes, speed, and bus control. You don't wanna miss out the racing fun so go and download this bus game right now.
19. Coach Bus Driving Simulator 2018 Android

With 10 million downloads it has become one the best bus game to play. Not only it has a very realistic gameplay but you will fall in love with the detailed buses after all you are playing this game for them. It has challenging missions that will keep you hooked with it for hours.
20. Telolet Bus Driving 3D Android / Iphone

If you play a game for the graphics and realistic gameplay then this bus game would be your best choice to play. It has three authentic places in Indonesia: pantura, kampoeng, and cipali. You are definitely give love this bus game simulator.
Conclusion:

So these were our best picks for bus games to download and play. We hope you will enjoy!