Power ranger was the best action-adventure show back in our childhood. You can't simply deny the fact that we all have loved power rangers show at some point in our life. The magic, the superpower, the thrill was all worth the hype for superpowers.
If you are the kinda person who was just crazy about the power rangers then you would definitely like the power rangers game that is why we have bought you the list of best power rangers game that you simply can't resist playing.
Power Rangers Games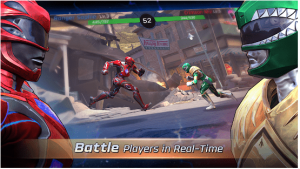 1. Power rangers: legacy wars Android / Iphone

Power rangers legacy wars is a kind of power ranger game that you wouldn't wanna miss out on. It has a fantastic story with lots of cool features that has the ability to keep you glued for hours! You will be thrilled to know that this power rangers game has managed to get itself more than 10 million downloads and that too with a really good rating.

The story includes Rita Repulsa that has managed to infect the Morphine grid and created virtual monsters and clones of rangers that fight for her! You have to build up your team of rangers too so that you can fight against her with full strength, for that you have to collect the best rangers and upgrade them so that they become the best warriors. You have to unlock all the rangers and make the best team.

You will be able to play in real-time against real players. What's more impressive is you can unlock different arenas from famous locations that have been shown in movies and TV shows. The graphics are just phenomenal and you would love the 3D models and animations.

Make a team with your friends and help each other fight against evil. Well, this power ranger game is addictive and you won't wanna leave it for hours.
Is there any better feeling than being a power ranger? I guess no, so here we are with the best power ranger game that lets you live a life as your favorite power ranger and you get to do all the thrilling, terrifying action stuff. Jump, run and attack your enemies and become a power ranger hero with all those superpowers.

There are over 50 different power rangers and each with unique powers and skills. Battle with minions and monsters and show off your powers. It is one the best power ranger endless running action game that doesn't leave you a scope of getting bore with it.

The controls and gameplay is super easy and intuitive, and of course who can neglect the stunning graphics of this game. So head out the play store and download power ranger game now!
3. Power rangers: all stars Android / Iphone

The name says it all, you won't find another power ranger game like this one that has so many rangers to choose from and it has the best storyline. You will be fighting the dead enemies and boy others are not that easy to tackle but again you are power ranger and you must have got some superpowers that you have to discover and use them against these disgusting enemies.

Join the epic battle with Megazord where all the power rangers have been sent to Corinth, which is the last inhabited city on the earth. There you will find professor Q, who opened some kind of portal to help the people to escape from the upcoming danger. To know the rest of the story you have got to download this free power ranger game and discover how you are gonna save the people and become the best power ranger.
4. Temple power ninja steel runner world Android

This is one is the best power ranger game if you are looking for an endless running game with power ninjas. You will just have to run fast no matter what the obstacles you face or in which circumstances you are in.

Proof yourself as the best runner and powerful ninja in this power ranger game where you can show your super running skills. this game has easy controls and intuitive gameplay so you don't have to worry about the experience you are gonna get through this game.
5. Legend hero super dino fight ranger ninja warrior Android

Have you ever imagined yourself saving the world? You can do that in this best power ranger game where you will face many super villains which will definitely give you a hard time but since you are a power ranger you can't satisfy from easy challenges, no?

So head out to this free power ranger game and become the warrior and world saver. Show off your combat skills and let everyone know who is the strongest power ranger. Be a leader and train rangers to become stronger and more powerful.
6. Hero dino fight battle ninja power samurai legacy Android

This power ranger game is all about fighting and winning. If you think you have all the fighting skills and can get any villain then try to test your skills in this game. With every level, you will face a stronger villain that will be harder to tackle and fight as the villains upgrade their powers at each level.

Participate in several competition and become the best warrior by unleashing your superpowers and fighting skills.
7. Super dino: hero kungfu fight ninja ranger legend Android

Last but not the least, super dino is undoubtedly the best power ranger game and my personal favorite. You will battle against every powerful villains and superheroes and that's what makes it the most challenging power danger game. This game won't give you a single reason to disappoint so don't wait to download this free power ranger game as it truly worth your time.
Conclusion:

So these are the 7 best power ranger games that will definitely keep you glued to your phone and bring thrill and action in your life. So download them now and test your fighting and strategic skills.