Hockey is one of the finest game we have a lot of nations are very enthusiastic about this game. Hockey has millions of fans who are crazy about this game. If you cannot play it on field for some reason you might wanna try hockey game on your smartphone. There are hundreds of hockey games are available but not all of them are satisfactory to play. We have picked the top 10 android/iOS hockey games for you.
Best Hockey Games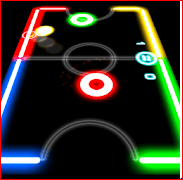 This hockey game is really easy to play yet it's super fun. Play against the computer opponents and master the game. There is a reason that this hockey game has managed to cross 100 million downloads. You can play it on two-player mode on the very same device.

Its quick play mode comes with four difficulty levels from easy to insane. It has three themes with colorful glow graphics. Goal against your opponent and win your trophy.
2. Ice hockey 3D Android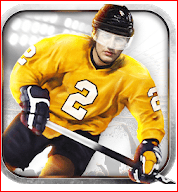 If you can't stand to lose and constantly wants to challenge at hockey then this hockey game would be your first choice. Ready to play this action-filled hockey and earn a reputation for yourself as a champion. You get to choose your team and lead them to finals. A lot of cool shots like poke checks or slap shot are available so that you can defeat your opponent players.

Its key features are:-

Customize your hockey player from a variety of 20+ uniforms.

Motivate your players and improve their skills in the dressing room.

It has realistic physics and stunning visual effects.

Smooth gameplay and easy controls.

It has different modes like quick play and champions mode

In champions mode, you get three challenges – Cup, tour and shoutout.

Download this hockey game now to have hours of hockey fun right in your palm.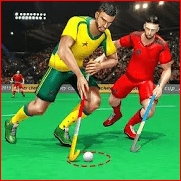 Be a professional hockey player by playing this hockey game. Live a journey from a beginner to a professional by playing hockey cup competition. Build your dream hockey team and fight against players all around the world. Show off your hockey skills by dodging, ball hitting accuracy and amazing shots. Try out this hockey game now and have fun.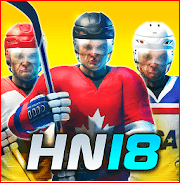 Experience the insane hockey action like you never have with hockey nations 18. This hockey game tests your hockey skills with not one or two but with seven hockey tournaments. Yes, you heard it right, and these 7 tournaments are:-

Rival series- there are a total of 50 challenges where you battle against some of the toughest rivals.

Win a gold!! – participate in winter games and win a gold medal for your team make them proud.

3 on 3 super series- compete with 6 elite club teams from USA, Canada, and Russia. Puck your team and lead them to victory and crowned as 3 ON 3 SUPER SERIES CHAMPION.

LIVE GAMES – climb the leaderboard by defeating the opponents in regular live games. By winning every game you will earn points eventually be on top of the leaderboard.

FACE-OFF.  Choose from 40 American teams, 27 Russian teams, 19 international teams of 2 all-star teams and battle it out on the ice.

PLAYOFFS. Choose a team and lead it against the opponent team to win a trophy.

OUTDOOR SERIES. It will be among the 6 teams and the winner will be crowned as an outdoor series champion.

It is a super fun hockey game with cool visuals and sound effects with accurate physics.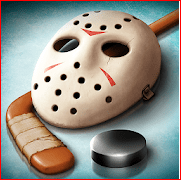 It is undoubtedly the best multiplayer hockey game. Try out this hockey game and we assure you, you will be playing it for hours.

It's an easy game to understand yet hard to master, and not forget super fun to plat.

Ther are 4 different arenas to play and each offer greater prizes. You can also unlock teams with unique powers and styles.

Faceoff different team's across the world in 1v1 multiplayer matches and best the rest to climb the leaderboard and win an exciting prize.

There are various tournaments to show the world that you are the best.
6. Air hockey challenge Android / Iphone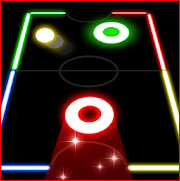 You must be familiar with the concept of air hockey. This air hockey challenges take it to the next level. Till now we have seen air hockey as a min game but this game presents it as a full-fledged intense game. This hockey game is supported by tablets and 16 languages.

This hockey game has various levels and stages with 4 difficulty stages ( from easy to very hard). It can be played offline and multiplayer mode.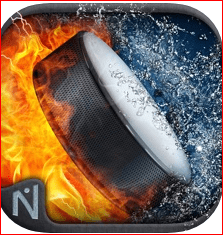 We know the value of hockey and what a special place it takes in your heart that is why we have come up with a hockey game that is specially designed to give you it's intense feel with its realistic features. Either go alone and play with players across the world or you can challenge your friend and let them know who is the hockey master.

Several tournaments are available for you to take participate in and make your way to the trophies by beating other teams. Play head to head battles or go for single-season challenges to be on the top of leaderboard make your team proud. Different modes are also available, and you can unlock different skills.
 8. NHL hockey target smash Android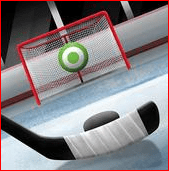 There is always time for the epic hockey games like NHL hockey target smash. You will open this app for few minutes and hours later you will find yourself in the exact same position and playing this game, yes this hockey game is that good. There are 30 teams to choose from along with 60 different uniform. The customization feature of this game is to the next level as you start with the jersey of player then you give him a number and of course a name ( which can be anything you want!).

Keep playing this hockey game to unlock new features and skills of players. There are different modes to play along with different achievements and leaderboard.
In this hockey game there are 14 national teams. Pick a team and then choose whether you wanna play World Championship Play or the exhibition mode.

Control both goalie and shooter to make sure your team gets go win. Take part in shooting contest. Work hard to get to the top position on the leaderboard.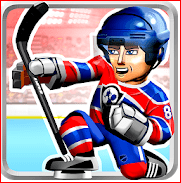 Fight for gold, silver or bronze medal with your own customized team. This hockey game has its game center and leader board. Try to win the daily trophy. Play with teams from all around the world. You also get to connect to Facebook and Twitter. Don't stop yourself to play this intense hockey game and show off your hockey skills.
Conclusion:
These were our top picks for hockey games. Do download these game and have fun with your favorite hockey game.