We know most of you would be a huge tennis fan but you don't get much opportunity to play tennis life because we all are too busy to go to court and play our favorite game but that doesn't mean you can't enjoy this tennis. As we know a large variety of games are present that include tennis games too.
But the problem with most ps4 tennis games is that not all of them are worth playing, and that is why people complain about not finding the best ps4 tennis games. To avoid this problem we have listed out the top 15 ps4 tennis games for you so that you can enjoy your favorite game to the fullest.
PS4 Tennis Games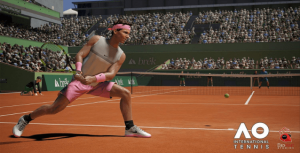 Since there are fewer tennis games present for this generation's gaming console, AO international tennis is no less than a blessing for tennis fans. It was released recently and it's one of the latest entries in top tennis games for ps4 and that is why we have placed it on our list. A large tennis loving community is playing this game and it features nice animations that give us really feels.

The controls of it seems like and you will definitely gonna love it's visual and sound effects. Either play this game against other players online or go with the single-mode against AI. It features a career mode where a player will have to struggle and work hard to be on the top position. Players can also customize the game by creating their own athletes, clothing, stadiums and so on. Overall it's a fun tennis game for ps4 and you would definitely like it!
Tennis World Tour is another popular ps4 tennis game. It was developed by breaking point and it was published in May 2018. The game received much hype from tennis lovers as they are eagerly waiting for a nice tennis game for ps4.

It is a single-player game and so players who want to play with their friends might be disappointed. The game isn't the best and it probably received an average review from critics. So you might wanna give it a try and decide if you like it or not!
Dream Match Tennis VR is a virtual reality ps4 tennis game and you are gonna need a PSVR if you want to enjoy it to the fullest. But it's worth that much effort. Its probably one of the most liked ps4 tennis game out of all and that is why we have placed it on our list.

It's a first-person perspective game so you will get a real feel out of this game! The developers have used accurate ball physics to give it a more realistic feel. If you like changing games then you are gonna love it because the opponent is really strong (AI) and you will need quite a time to master this game and win ultimately. So if you are looking for the best ps4 tennis game this might be it!
Racket fury is a take tennis game but it's so awesome they you will fall in love with it. And you know who is gonna be your opponent? Well the robots! The developer has literally placed a robot that will give a different feel than other pa4 tennis games.

It's easy to play and yet exciting enough to get addicted. Just like Dream Match Tennis, you will need a PSVR here too. The controls are super amazing and it even suits kids too. The which has this many great features surely deserves a try!
Its animations might give you feel that it only made for kids, but super Tennis Blast gives a tough competition to other ps4 tennis games! It's a serious tennis game with some really great features! For starters, it features a traditional scoring system. The opponents are tough to crack even on the lowest difficulty mode!

Customization options are also available for players where they get to opt different avatars and play with a friend in local multiplayer mode. The doubled mode is also available which requires 4 players and it's surely will give you double fun! The game has so much more including a variety of moves! This tennis game for ps4 is something you don't wanna miss out on!
Everybody's tennis was first released on ps2 but later it got available for ps4 too and it definitely deserves a shot from all the tennis player. Since we don't have many tennis games for ps4, it has surely made its mark among them and for good reasons. It's a super fun game which will wanna play for hours.

It is easy to play and beginners can't get an easy grip on this game. The controls are great and animations and visuals effects will impress you too. It also features a multiplayer mode where you can play doubles. You are gonna have fun with this amazing tennis game for ps4.
Timber Tennis: Versus is not the most serious tennis game for ps4 but it's a fun game to play and kids would like it too. The gameplay features many unique things, like how players can include powerups and special moves while they play a regular game like tennis.

The game features plenty of characters to unlock and some out of the world opponents to play against. While this may or may not give you a feel of real tennis game but it will definitely fun game to play!
Our next pick for the best ps4 tennis game is Top Spin 4. If you are one of those people who loves playing with real player and licensed player is the first thing you see in a tennis game then it should be your first choice! You will find a number of licensed players including players like Rafael Nadal, Novak Djokovic, Roger Federer, etc. It's only available in the single-player game so you can enjoy the game against AI.

Although the game received mixed reviews but it still makes a good option for a tennis game. Other than famous players, the game also features a good gameplay as well as smooth controls along with nice graphics. There are many reasons for us including the game on our list, so don't forget to try it out!
Grand Slam Tennis 2 is another amazing Tennis game that you should know about. The game is available in both single as well as multiplayer mode, so you can challenge your friends to beat you and you will get a chance to prove them your tennis skills.

The game physics is accurate and powerful where you will need to control each shot with the right analog stick. The game also features the popular career mode where players complete the journey of becoming the best player starting as a beginner! ESPN Classic mode is also available! It's also a fun game so you can choose the game to have the best experience of tennis.
Virtual Tennis 4 is another tennis ps4 game that you can rely on if you are a tennis fan. This arcade version game has become one of the most popular tennis game of its time. The player can play the game in a single mode against the computer or he/she can take participate in multiplayer game (2 or 4).

The game features a first-person viewpoint and he or she can easily move the player in the direction of the ball. The game has also appreciated for its decent visual and sound effects. Go ahead and download the game to experience the realistic gameplay.
Smash Court is another amazing tennis game that all the tennis lovers will find extremely amazing and interesting. You will surely stick to the game for a long period of time. The reason we are including the game in our list of best ps4 tennis games is because of the availability of many playable modes.

The most prominent game modes are Arcade mode and the in-depth pro tour mode (you will be creating the player yourself and try to become one of the best tennis players!). Other than these you will also find the Exhibition, Challenging, and Training mode. The game is also popular for different types of courts as well. The popular courts include are at the  Australian Open, U.S Open, etc.
AO Tennis is also one of the best Ps4 tennis game that you will find. The game released in the year 2018 which makes it one of the latest ps4 tennis games we have, which means you will get a number of advanced features. It is also the first officially licensed game of the Australian Open!

Player will enjoy the gameplay against the top tennis players and you will also get to play the role of top players like Rafael Nadal and Kerber! The game also features highly customized features which will allow you to choose the clothing and logos of your jersey!
If you are looking for the VR technology in tennis game then you should definitely try out Racket Fury! What makes the game one of the best is, the availability of different levels of difficulty. So you can easily play the game at your own pace.

It also features fun characters which makes it ideal for kids and they will definitely enjoy the game. The game is quite a good pass time for you or your kids.
People have loved it's sequel of Got Shots Tennis so it's natural that we include its sequel. The game's graphics is what has impressed the players and its something that you can look up to. The game also features different difficulty levels so you can play it at your pace. Characters can easily customized!
Tennis in the Face is one of the most interesting and fun tennis game for PS4 that you will find. The game uses lots of colors which makes it an ideal tennis game for children. The best part about the game is its storyline! Overall it's a decent tennis game to play. What are you waiting for? Go ahead and get the game!
Conclusion:

So these are the best among the few tennis game for ps4 we have. We know PS4 lacks some of the quality games in the tennis genre, these might give a little bit of tennis fun! We hope they give us more PS4 tennis games, but till then these are the best ps4 tennis games you can play.