Dinosaur may have extinct millions of years ago from our planet but they have still managed to make their mark when it comes to entertaining us. It's obvious that we are obsessed with these species and we don't leave a chance to explore our imagination when it comes to dinosaurs. Be it movies or video games, dinosaurs have successfully invaded every entertainment field and that is why the Jurassic world was a massive hit.
Today we are talking about the best ps4 dinosaur games. It's always great to play as giant creatures where we get to destroy everything or save the world as well. We have picked up the 10 best dinosaur ps4 game which we think are the must-play games if you like these giant reptiles, so head to the list and find your next ps4 dinosaur games.
PS4 Dinosaur Games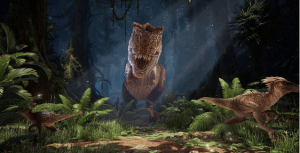 The first ps4 dinosaur game in our list is none other Primal Carnage: Extinction. It was released for PlayStation 4 in October 2015 and it was a big hit after its release. It's a first-person shooter game similar to that of third-person dinosaur gameplay.

The game has two aspects, at the first one, the player can play the role of an officer who has been sent by the mercenary team and given a task to kill the horrific prehistoric creatures and save the human civilization. Or the player can take control of the dinosaur and wipe out the human race from the earth.

The game is available for both the single-player mode and multiplayer mode. You. An choose any side between humans and dinosaurs. Each of them has their own specialization skills and you will be able to perform various attacks.  You will also able to unlock several features by winning trophies. You will be able to play as different dinosaurs species. Overall this dinosaur game for ps4 is absolute fun and you will undoubtedly enjoy it!
Jurassic World is the name which is no surprise when we talk about the dinosaurs. This game was released in 2018 and its the latest release of the Jurassic World game series. As expected, this game was also a hit and everyone has loved the game as much as they have loved the movie. The game starts where you build a dinosaur park on groups of five islands.

In this ps4 dinosaurs game, you will see up 40 species of dinosaurs. And the best thing is, you can modifier their genes to produce new species of dinosaur. It's only available for single player mode but you will definitely have fun. It's a sci-fi genre adventure-based game so you will have fun managing the security of the park while you great new dangerous species of dinosaurs.
Have you ever thought of going back in time and exploring the world before human? Well, you certainly can do that now with this ps4 dinosaur game where you will be playing as a time traveler who has come in a time where dinosaurs were present. But soon he realize that it's not that good of idea and now he is struggling to get back to the present world.

You will be provided with the ship from which you can escape the prehistoric era and you will have struggle against AI and stay alive. It's one of the best ps4 dinosaurs game 2021 and it's undoubtedly a must-play game for those who love to fight with dinosaurs!
ARK Park is also a popular ps4 dinosaurs game. It's a virtual reality-based game which has managed to gain enough popularity to be on the list of best ps4 dinosaurs game! It was released in 2018 and was appreciated by critics too.

In this game you will encounter hundreds of dinosaurs and you can collect dinosaurs eggs and raise your own dinosaurs! The game is full of mysterious things which you will find fascinating.
It's an action-adventure genre, lego based theme. This game is a mix of Jurassic world movies and lego video games so its gonna be double fun for those who like lego games and Jurassic world movies. This game comes in both single-player mode and multiplayer mode where you can play with your friends too.

Its gameplay features puzzles and 20 levels, all of them are developed beautifully and each carries a unique experience for the player. There are 20 dinosaurs and up to 100 characters go unlock. It's something that you will definitely enjoy.
6. Primal Carnage: Genesis

If you like dinosaurs game which has a specific storyline then this one would be the best choice! Primal Carnage: Genesis is the prequel of other primal carnage game. The game starts on an island where the dinosaurs have been bought back to life via genetic engineering.

The player has to survive the horrific invasion of dinosaurs and during this time he will encounter many many species of dinosaurs which he has to escape from. It's a single-player game so you can play this game against AI only.
7. Dino Crisis

Dino Crisis is another popular ps4 dinosaur game which is mixed with a little horror elements. But its super fun to play and own can easily get addicted to it. There is no doubt that dinosaurs are fast and dangerous as well and the only way to save yourself is to run and never turn.

As we have mentioned its also a horror survival game so your ultimate goal.is to survive and dot get eaten by the dinosaurs. But beware as they can get you scared by suddenly appearing on the screen.
Primal Rage is a well known ps4 dinosaur game which lets you play in the post-apocalyptic planet called "Urth". The best thing about this game is, all the giant dinosaurs are fighting with each other and you will take control of one of them.

It's a kind of fighting game between the most terrific creatures of earth. It's a 2-dimensional game that features amusing graphics and stunning sound and visual effects. So its gonna be a fun dinosaur game to play.
9. Dino Crisis 2

Dino Crisis 2 is an action-adventure survival game which features huge dinosaur which is after your life. Your fate is in your hand, you need some skills to kill these gigantic creatures.

The gameplay is amazingly developed where you will fight with many dinosaurs in order to survive. The game is full of amusing moments which will definitely get you addicted. The controls are smooth and you will wanna play it again and again. So it's not wrong to say this is one of the best ps4 dinosaurs game.
10. Carnivores: Dinosaur Hunter

The last game in our list of best ps4 dinosaurs game is Carnivores: Dinosaur hunter. Just like its name says you will be hunting these gigantic creatures. It's definitely gonna be a fun game to play and its something that you should not miss out on.
Conclusion:

So we have listed all the best ps4 dinosaurs games and we hope you will play them and have a good time. All of them are commercially and critically hit!