So you have got a thing for shooting? Well that's why you are here! As much as you love sniper games, we know you don't get much of a choice! Sure there are many shooting games which involved guns and other kinda weapons. But there is a thing about sniper games that makes you crazy for them, here you will be able to set your target and get to pull off those shots from a long distance that seems impossible!
We know like many other sniper games lover you are too struggling to find best sniper games for yourself but let me tell you, you are at the right place because we have liked the best sniper games for PC for you! We have gone through each one of them and then shortlisted our list of best PC sniper games!
Sniper Games For Pc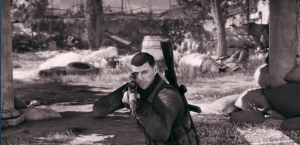 If you wanna play a realistic PC sniper game then Sniper Elite is the perfect choice for you. The game features stealth and sharpshooter skills in its gameplay. As a sniper game lover, you must know the importance of the gun's cam system, and that's where Sniper Elite marks its name. With its advanced cam system, you can scan the whole body of your target, be it his bones or body parts. What more you can check out the damage that your attack has caused the enemy's body!

The game features many of advance features than it's previous installment of the series, you have got improved AI which makes your enemy react instantly! The maps are improved too and they are larger and the game will give you a more open-world feel! Additionally, each mission can be played again and again.

Shoot from a mile away and get away with your mission this sniper game will definitely impress you!
You will find many sniper games for PC but the level of Insurgency is hard to match! The game has got everything that makes it one of the best sniper games for PC at this time. For starters, you will be impressed by its stunning graphics, sound effects and realistic animations that have stolen every gamer's heart at first sight.

Moreover, the game features only multiplayer mode but that's the best thing as you get to experience five different modes that require different skills from all its players. This first-person shooting game has also get a map that helps you to easily navigate. Get ready for the best experience ever with Insurgency!
Battlefield 5 is a reputed name when we talk about sniper games. For those who wanna try out different kinds of rifles in the game, Battlefield 5 does justice with them by providing a number of sniper rifles.

What you will love about this game is its bullet trajectory mechanism which makes you feel like you actually control the trigger of your gun. The game has also introduced a number of new battling mode including "firemen" and "grand operation" where each player will be playing with their own mission or objective in the war!

The game can be played by 64 players at a time and obviously they will be in a team, so teamwork is the key to win this game!
Call of Duty is all about a mission to kill the target and that is an arm dealer from Chernobyl. Your powers will lie on your rifle and your muscle memory so plan your actions intelligently. As your single move can affect the whole mission.

The fact that Call of Duty will give you an adrenal rush is what makes it one of the best sniper game of this time. The graphics and sound effects are pretty great. The game features lots of advanced elements from the previous games.
ARMA 3 is also a leading sniper game for PC and it gives a tough competition to other games on our list! This game gives you an as close as possible sniper experience. Just like real sniper you will not only have to aim at your target but you will have to control your breathing too. It's a challenging game that requires you to fully concentrate on your every shot and that's what makes it a true sniper game of all time.

The game also features a cool multiplayer mode from which you can take help from your friend to help you find a target and you can plan your next actions together.
The name is enough to grab your attention and make you wanna play it. Hitman is a  popular PC sniper game. The game offers you excitement at every point and you will wanna play this game till you complete your missions. But you will have to stay alert because one wrong move and your position will be gone.
The game had been out favorite since we can remember! Counter strike is a game that you just can't afford to miss because it's that good. The game has some experienced players so if you are new you are gonna face some hard time getting used to it. The game features one of the best multiplayer platform where you will be playing in a team.
Well, we don't really have to sell PUBG to you, because you must have played it at some point. But just in case you haven't tried it yet, the game is all about killing the people before they kill you. For that, you will need to use your muscle memory and aim at your target and shoot at them! Its gonna be super fun.
Sniper offers you an open world environment where you get to show off your shooting skills and become the best sniper. The game also offers side missions to its players. Just focus on your target and execute your attack to survive in this game.
Hitman 2 definitely deserves a place at our best sniper games for pc. The game features all the improved elements from its prequel. Play the character of an ICA officer and travel to the whole world to kill your different targets! There are a total of eight missions which will keep you engaged for a long time.
Conclusion

Well here our best sniper games for PC list has come to an end. And these free sniper games for PC to download is waiting for you to set an aim and shoot your target. We hope these sniper games will satisfy the sniper lover in you!