With digitalization, people are into chatting more than ever and with growing texting the need for sticker is popularized. It's more than an emoji where you can express your feelings and make your conversation fun and interesting.
There are hundreds of thousands of stickers available but still we found it less. What if we tell you can create your own stickers and customize it your own unique touch? Yes, you heard it right, with the help of sticker apps we can now create our own stickers and share with our friends. Take a look at the list of best sticker apps for Android and iPhone and enjoy your chatting experience more than ever.
Best Sticker Maker Apps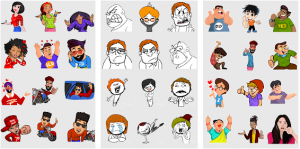 1. Diwali Stickers For WhatsApp ( WAStickerApps ) Android

Have you ever thought of converting your pictures into stickers? Well, you can do this with the help of this free sticker app for android. You can literally make stickers of any image in your gallery and above that, you can add text in it in any vernacular language. So that you can have a conversation with your family and friends through stickers in your regional languages.

You will also get to create handmade pencil stickers via this free sticker app. You will love the way it lets you explore your creativity as you can create a sticker of anything you can think of.

You will get unlimited sticker packs where you can keep all the stickers that have been made by you. As we have mentioned earlier you can make your own text stickers in many Indian languages like Hindi, Gujarati, Malayalam, Telugu Tamil, etc.

You will also get the stickers for different occasions like anniversary, birthdays, love stickers and many more including festive stickers such as Diwali and Halloween. So don't forget to try out this versatile sticker maker app for Android.
2. Sticker maker for WhatsApp! Iphone

This one is the best sticker maker app for iPhone and you can easily find it in the iOS store. You can easily make custom stickers using your photo gallery. Not only that but you can easily reshape it through rotating or resizing.

Share all the custom made stickers with your friends and you can add texts to them too. Its really easy and super fun sticker maker app, download it now and make your conversation interesting more interesting than ever.
3. Sticker maker by Xihan Qiao Android

It is another sticker maker app for iPhone and it's absolutely free to use and create sticker. It will just take a few seconds and of course your ability to create new and unique stickers.

Click a picture or simply choose from your photo gallery and then make it into a funny sticker through its other fascinating tools. Overall you will definitely love making stickers in this app.
4. Sticker studio- sticker maker for WhatsApp Android

It is almost the top sticker maker apps for Android with over 5 million downloads and a high rating of 4.5. It is really impressive that all of its users have loved this app and gave their recommendations for this sticker maker app.

With a basic function of making stickers of your photos, it is best known for adding small details to your stickers like adding outlines and drawing. You can also combine two stickers for more fun.
5. Stickit – photo sticker maker Android

This is one of the best sticker apps for Android and it demands your creativity! You think you are creative then test your skills and make the best stickers that will simply amaze people.

You will find many helpful tools to make your sticker making process easy and fun and you will get the best end product. Sure you can make stickers of your photo but what's unique about this app is it lets you cut out the parts out of your photo so that you can make its stickers. It's easy and it's super fun. So if you are looking for something extraordinary like that you should not miss out on this free sticker making apps.
6. Sticker maker by Vico and co. Android

It is another free sticker app for android that does it's stuff very effectively and efficiently. It is best knows for its sticker packs, as you can make a different pack for different people like one for your friends and another for your family and so on.

Making sticker packs is really easy as you have to first select the name for your fashion pack and then add stickers which you have made and then lastly publish the sticker pack. You can do all this stuff with ease so make sure you at least try it once.
7. Sticker maker for whatsapp Android

This sticker making apps is absolute fun to use and if you are a kind person who wanna be the most fun person then you should try it out! You will love how effective and intuitive this app is for making stickers.

You can add images of various formats and remove the background. If you want you can add texts too on your stickers. Add the emojis and funny decorations to make it more interesting. And if you still want something more then you can add borders too. Only one thing is left now and that is you have to share them with your friends.
8. Graphic design – sticker maker & logo design Android

If you are looking for an app that lets you create both stickers and logos easily then this free sticker maker app should be your first choice. You will be surprised to see it's intuitive designing effects for logo maker and sticker maker.

This app is indeed the easiest way to make logos and stickers. Additionally, you will be able to create funny emojis too for sharing them with your friends. It also provides many tools and features to make stickers and logos and many more fun stuff.
9. My sticker maker Android

My sticker maker is one of the leading sticker apps for android and it's is really interesting to use. You can add several backgrounds or remove background if you want.

Trace your pictures and add want what you want your sticker to be like and eliminate the parts which you don't want in your stickers. You can also add two stickers to make them funny. To explore many other options and features for sticker making you should download it now.

You can easily them on SD cards and share them via many social media platform like Facebook, Twitter, Instagram, etc.
10. Stickify: sticker maker for whatsApp Android

This free sticker making app for android is as interesting as its name says. You can do so many cool stuff and make the best stickers that anyone has ever seen.

You will simply love this app for its many different features which makes it best. So download this sticker making app now and surprise your friends with your cool and fun stickers.
Conclusion:

We have included best sticker making apps for Android and iPhone and we hope you find them helpful in making customized stickers and sharing them with your friends.