In this era of selfies, we need to always be prepared with a good pose, even skin tone, bright smiles and so much more to look good in the pictures. However, it's not always possible to look that good all the time that is where the invention of photo editing app took place. No matter what state you are in, whether you have just woken up or exhausted from a long day you will never have to comprise with a good picture. Check out the 8 best photo editing apps that will make sure you look graceful and elegant in every picture.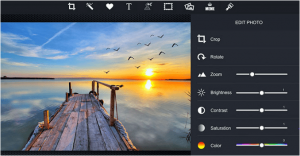 Best Photo Editing Apps
1. PicsArt Photo Editor: Pic, Video & Collage Maker Android / Iphone

This is one of the best photo editor app with over 500 million downloads. It has the most amazing tools and effects that will make you look beautiful and delightful. This photo editing app doesn't just offer to beautify your pics with cool effects and amazing tools it also offers to make collages, you that you can create memes or create a wonderful message for someone. It also has many stickers that will add some funny and adorable quality in your pics. It's drawing tools is amazing as ever where you get to draw in your pics and create doodles to make your pics funny. It has also introduced the face swap feature that is already in trend and loved by everyone. You can also make videos with the help of this photo editing app. It also has standard tools including crop, stretch, adjust curves, clones and add texts. It also allows you to make double exposures. You can also subscribe to its premium version where you get access to premium stickers, tools, masks and frames. Its collage maker provides you with hundreds of templates and some cool background that you can add go your pictures.
2. Adobe Photoshop Express:Photo Editor Collage Maker Android / Iphone

This is also a widely popular photo editing app that has over 100 million downloads. It also has some great effects that can fix and heal an image making it spotless and glorifying. From the basics to unique tool it has all of it. In the basics you get crop, rotate, flip and straighten your photos. It also has an auto-fix tool where you can adjust the white balance, contrast, and exposure with one touch. You can add texts from a vast choice of fonts and text styles with a certain effect. It's one-touch will remove all the dirt and spots from your pictures so that you look spotless. You don't have to worry about looking dull as its easy controls with one-touch will light up your selfie and enhance the clarity of the pictures. You can also control contrast, exposure, and temperature. It has amazing filters and you can add looks feature to make your selfie better. Also add customize watermark to your pictures. It is undoubtedly the best photo editing app for your android/ iOS smartphone.
You may not have heard of this photo editor app but has some cool and amazing features that make it unique and one of the best photo editor apps. You will be choosing your filters from 29 different filters and tools to make your pics better and lovely. One of its key features is, it will save your personal looks and apply them to new photos later. You can crop your picture freely and rotate your picture to 90 degrees. Control the white balance and contrast to make your picture more natural. Other cool features like healing, glamour glow, tonal contrast are also present which makes it the best photo editing app for android.
4. YouCam Perfect – Best Selfie Camera & Photo Editor Android / Iphone

It is also a top photo editor app for android and iOS. It is a lifesaver for every girl and for boys too! As its name says, it's every feature leads you to your perfect picture. It comes with hundreds of effects and filters each adds a significant quality to your picture. You can also make collages and add authentic frames to your pictures. It will ensure that your pictures are blemish-free and natural. It will provide you real-time face and skin-beautifying effects and filters, you also make videos through this photo editor app. If something in your picture is bothering you then you can use the cutout and object remover.
5. Photo Lab Picture Editor: face effects, art frames Android / Iphone

You will find every photo editing tool you will ever need in this photo editor app. Whether its photo frames, animated effects or adding funny photo effects it has all of it. It's neutral art styles will turn your pictures into an artwork. Its realistic effects are really hard to notice but makes your picture look natural and beautiful. Its face swap feature is really fun to use, where you can swap your face with your friend or make anyone face into a monster or anything you like. It is really cool and fun to editor app for android.
6. BeautyPlus – Easy Photo Editor & Selfie Camera Android / Iphone

It is a dream to have a perfect photo editing app, so we are introducing you to the most trusted and loved photo editing app. With just one tap you can change your entire look. You will be able to control your contracts and exposure and you can choose from a variety of filters and effects. From editing eye color go whiten your teeth this photo editor app has it all.
7. Photo Editor Collage Maker Pro: Filters & Stickers Android

It is also the best photo editor app that allows you to add filters, choose effects that can give you new and natural look, add background and sticker stickers and you can so much more with this app. You will have the best selfies with this photo editor app so don't wait to look flawless and flaunt your natural beauty.
8. Pixlr – Free Photo Editor Android / Iphone

Be as creative as you can with this photo editor app. You won't need to sing up or anything to use this app just download and start editing your pics. It is easy to use photo editor app that has very impressive filters and effects that will make your pictures more beautiful than ever.
Conclusion:

Everyone needs a little help when it comes to a perfect selfie, with the above list of best photo editor apps we hope you find that help. Keep clicking and shine in every picture.