If we talk about investing money then there are a number of ways which you can choose. But mutual funds have become one of the easiest and popular way of investment lately. That's what we are gonna talk about today in this article.
The best thing about mutual funds is that you can monitor them with your cellphone! Yes, you heard it right and we have bought the ten best mutual fund apps in India!
Mutual Fund Apps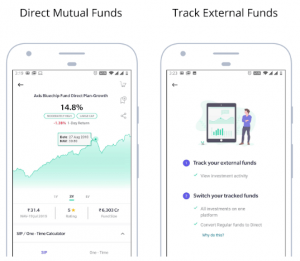 1. Mutual Fund app, Free direct funds, SIP – Groww Android / Iphone

Mutual fund app is here to make your investments simple and free. Don't be worried about heavy paperwork and long processes simply download Groww and invest in mutual funds. You will find all mutual funds at just one platform so that you can easily compare and invest. This app doesn't ask you for additional commission and that's why it is among the top mutual fund apps 2021.

You can easily sign up with its one time KYC process within the app. Here you will earn 1.5%+ returns at direct funds. You can easily buy and sell your mutual funds and the transactions will take place directly through your bank account.

If you're a beginner at investing in mutual funds then Groww can be a big help as you can learn easily how to do these kinds of stuff at a very low price. The data and analysis are also understandable with beautifully designed charts and graphs. You can easily calculate the returns through its inbuilt calculator! Its tracking system is too very advanced and you can easily analyze and track your total returns on your investments! Overall Groww can be a very helping app if you're thinking about investing in mutual funds.
2. Paytm money app: Mutual Funds and ELSS Investments Android / Iphone

Paytm money app to offers some good deals on mutual funds. Here you can get up to 1% returns via its direct investment schemes. You won't be asked to pay any hidden charges or commissions for buying and selling the mutual funds. Paytm Money App has all the leading mutual fund companies which you can trust.

If you are new to investing in mutual funds then don't worry, because you can easily find curated investment portfolios by some experts which will help you understand these things better. Easily track and analyze your investments and returns. You can also switch from regular to direct plans. Paytm Money app also allows you multiple payment methods as well!

Lastly, the app provides full security of your data and take care of your privacy so you need not worry about your personal details and sensitive data. It is a fully transparent app where your money will transfer directly from your bank account to mutual funds and vice versa!
5paisa too provides you a zero brokerage deal where you won't be needed to pay any commission and you will be able to do free trades. This is an all in one app where you can trade-in equity, derivatives, commodity and currency segments. 5paisa also provides you a feature of live tracking where you can easily get updates on stock prices and quotes from NSE, BSE and MCX.

You can also sync the app with your other devices and create a multi-asset watchlist. Its one of the tastest app too which allows you to trade with single clicks! There are a number of features too present like easy transfer of finds, understandable charts, full researches and tips and so on!
4. MyCAMS Mutual Fund Apps Android / Iphone

CAMS is an award-winning mutual fund app which naturally makes it one of the best mutual fund app! With CAMS you can access your investments across multiple mutual funds with a single gateway that means no more managing a number of PINs and login ids.

This is a simple app which makes your access to mutual funds easy. You can now add your most preferred transactions as my favorite, so ghat you easily use them in future two. Its schedules transaction feature is most impressive where you get to set up future transactions!
Over 5 million people are currently using ETMONEY APP, the best and most impressive thing about this app is its high tax-saving features where you can save your tax up to 78k! Invest in biggest mutual find companies for free and don't worry about paying additional charges!

You can easily track and analyze your investments via this app along with some external mutual fund investments too. Get up to 5% extra returns on your savings. With this app, you can also plan your retirement pensions (NPS) and create an NPS account without doing any paperwork.
6. SBI Mutual Fund – InvesTap Android / Iphone

To use InvesTap and invest in mutual funds all you need is your PAN card. This app has actually made investing in mutual funds pretty easy and simple with its multiple investment options, Online OTM registration and so on.

With SIP calculator you can easily calculate or estimate your investment plans and their returns. You will get detailed information for every mutual fund scheme so that you can make an informed decision!
7. Nippon India Mutual funds Android / Iphone

Nippon India is an official app for Nippon India mutual finds where users get to manage their Nippon India mutual fund account! You get more details for Nippon India mutual funds with a dedicated funds and performance section!

Transactions are super smooth with this app. You can now easily view account details and its statement. Overall this app is beneficial to those who have invested in Nippon India mutual funds!
If you want to do stress-free investments in mutual funds then Easy funds are where you can go! The app will help you to save your tax and easily invest in several mutual funds! Do 100 percent free investments in top mutual fund companies of India with minimal efforts!
9. KFinKart – Investor mutual funds Android / Iphone

KFinKart is one of the best and simplest mutual fund app that you can find. Easily log in with one click. Find your investment and transaction history so that you stay aware of your mutual fund statement.
This mutual fund app for India is bought you by ICICI is all you need to make your investments easy to monitor and manage. Get all the information that you would need before investing and make informed decisions. Its service help is available for you 24*7.
Conclusion

These are the best mutual funds apps that you need to know about. Download these apps and make your investments easy!