Cloning apps are the best invention for smartphones so far. With cloning apps, you can use the exact copies of the same apps and use them parallel. As it's clear that most of us have multiple social media accounts and that's where we need these clone apps, which will allow you to use the multiple instances of the same app!
Sure you can log out and log in your different social media account like Instagram (although it's too a bit of a headache) but what if you have to WhatsApp accounts? Sure you can't do the login and log out thing right? And that's where these clone apps come in handy. And some people will just need multiple gaming accounts or email accounts, in this case too you can rely on it.
In this article, we are gonna talk about the fifteen best clone apps and we can surely say that these are must-have app to have if you are using multiple social media accounts. So what are you waiting for?  read the article below to find out the best clone apps for Android and iPhone.
Clone Apps For Multiple Accounts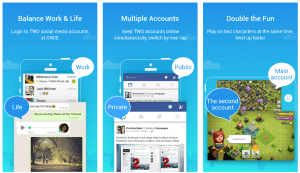 1. Clone app – app cloner & dual app Android

Clone app is one of the best choices for a clone app for iPhone and Android, as its name says it will provide you with parallel space and multiple space and run dual apps on your smartphone. It is very popular and you will just love it for its many features and on top of that, it's completely free to run on your smartphone.

If you have multiple WhatsApp accounts then doing you worry because clone app will handle it all. Some of it's many best features are:-

It will provide you additional magic stickers that will add fun go your chat and you can send each other stickers like flying tomato, nothing to do and so many more. It's one of the unique feature that this clone app have!

It will also provide you with multiple color modes like gold and blue mode that are impossible to find in any other clone app, apart from these you will be also able to access night mode and cyan mode theme.

Privacy icon is also present, with this you can actually customize the name of apps so that your privacy is protected.

It supports both 32 bit and 64-bit apps, and it's rare to find in any other clone apps.

What will impress you in this best clone apps is the fact that this app is absolutely ad-free and you won't see those annoying ads before you open your clone app!

With all these features it's safe to say that this one is the best app cloner WhatsApp that you can find for your smartphone!
2. Dual space – multiple accounts and app cloner  Android

Dual space is one of the popular clone apps for Android and iPhone that is present nowadays. You will be surprised by the fact that how amazingly it works. Where other cloning apps might give you some bugs and glitches while running the clone app for WhatsApp this app stands out on the top!

It is the best choice for running multiple accounts simultaneously and you will definitely like it's efficiency and you can easily use two clone apps without making them interfere with each other. Apart from these, your privacy will be super protected and you won't have to worry about it at all. It will make your account hidden and leave no trace in your phone system.

The speed is another factor why you should have a dual app as a clone app for your android and iPhone smartphone. You can instantly switch to your multiple accounts! It works on simple interference operation and you can double all of your apps. So it's clear that this is one of the best clone app to have in your smartphone.
3. Parallel Space – Multiple accounts and two face Android

Parallel space is one of the leading clone app with over a hundred million downloads. The reason why many people have chosen parallel space over other clone apps is its efficient way of working and the way it manage your multiple accounts with great ease.

It has many unique factors that will make you impress. For starters, parallel space supports more than 24 languages. Furthermore, it's privacy policy is also phenomenal as it automatically hide your clone apps with its incognito installation feature. It does not even collect any of your personal information to protect your privacy! It's powerful, it's easy and stable, what's not to love about a clone app like parallel space!
4. Multi parallel – multiple accounts & app clone Android

The next clone app for android on our list would be Multi Parallel, it's as good as any other clone app and even better in some cases! Here you can run clone of apps like WhatsApp, Line, Messenger, Instagram along with other social media apps and some games too!

People generally want to play their games with multiple accounts and that's where multi parallel mark it's eligibility as the best clone app. You can easily switch between two accounts be it a social media account or game account and that too with an impressive speed!

You can make as many accounts as you want and customize them according to you! The customization features involve adding icons and name as you want. And additionally, this clone app provides a privacy locker so that you can protect your privacy!
5. Clone app- run multiple accounts  Android

With some similar features that we have seen in the above clone apps for Android and iPhone, this one is also very efficient and effective in its own way. This app was designed for the sole purpose of providing a platform where you can manage your personal and professional life simultaneously!

As we all know many people keep different accounts for their personal and professional life while keeping two smartphones is a tiresome task, logging in and out don't really seem to be that convenient either! That is why the makers of Clone App has come up this it's best technology and user-friendly interface. This allows to easily manage your multiple accounts in just one device without keeping much space. Overall Clone app is really a good to keep up with your multiple accounts!
6. Multiple accounts: parallel app Android

Multiple account is also a great choice for a clone app for Android. The nest feature of this app is it provides perfect support for all the 64-bit apps including the latest version of WhatsApp and any other app. With this clone app, you can keep both your accounts active online at the same time without interfering with the other. Its technology also lets to keep all the accounts detail separate from each other and you won't have to worry about your privacy!

This clone app features simple and clean UI, and simple operation! All the clone apps will feature the exact same feature as the original one and you won't have to worry about taking the space by the parallel account!
7. Dr.Clone: parallel accounts, dual app, 2nd account Android

Dr. Clone is one best clone app to have on your smartphone. It will create a parallel space and lets you access with your multiple accounts simultaneously in one device. What's best about this app is, it will not show you any 3rd party advertisement which is a milestone because these days even some paid apps annoy us with those frustrating advertisements.

Dr. Clone also supports many games and you can run multiple game accounts too with greatest ease. You can easily block or allow notification from this clone app! Its surely a great clone app to have on your smartphone!
Dual apps are also a wonderful clone app for android that you can rely on for your multiple accounts on your smartphone. Balancing the two accounts was never this easy. It provides a parallel space that won't affect the speed of your smartphone at all.

This clone app itself won't take much space on your phone and that what makes it more convenient to have! Over five million people have trusted this app and you would definitely like it too with its smooth interface!
9. Matey – WhatsApp cloner and app cloner Android

Matey is another leading app when it comes to the best cloning app. Hundreds of Thousands of people are currently using this app and they all are pretty happy about it. Its a stable and high-quality clone app for Android and it is best known for providing parallel space for clone apps ghat you can run simultaneously!

Its no ad feature is also a good feature and the app itself will introduce you with leading clone apps! You can switch between your two accounts with just one click! And it is meant for global use as it supports 25 languages.
10. WA Clone app Android

WA clone is an easy app cloner WhatsApp which will help you to make a clone for your WhatsApp account that you can run on multiple devices. While other cloning apps provide features for running clone app withing the same smartphone to run multiple social accounts, this one will create the exact clone of your existing WhatsApp which you can run on another smartphone.

All this will be done by scanning your WhatsApp QR code and you will be able to get the account in your another device! Everything in your account will be synchronized, your chats, photos, videos, and even audios. You won't need any registration or login process!
2Accounts could be your solution for managing multiple accounts t the same time. This clone app is super fast and you can instantly receive all your messages just like you would receive from the original account.

Apart from social media, it also supports 99% of the games which you can run simultaneously in your smartphone. They have upgraded the UI for good and you will receive clear notifications which will help you communicate better.
12. Appcloner – clone app and double or multiple accounts Android

App cloner is clearly the best clone app and that's why we have put it on our list. What you will love about this clone app its clean and simple UI which will make you easily access multiple accounts by getting the exact copies of existing apps.

Its privacy and security policy is also really fine and you would definitely praise its small and low CPU consume.
Conclusion

So that's the end of our beat clone apps for android and iPhone. We hope you would find the best clone app for yourself and trust me it's gonna be big help managing your different social media accounts or gaming accounts.