If you are into share market business then you would know the importance of share market news. But it's not always easy to catch up share market news on tv because we live in busy lives were watching tv for news has become a luxury.
And that's where share market news apps come in handy. Luckily we have some good share market news app which we can rely on. So here we have picked up some of the best share market news apps for Android and iPhone. So take a look at our article and choose the best app which will always keep you updated with every new news about the share market!
Best Share Market News Apps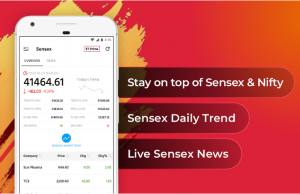 The Economic Times is all you need when it comes to know every detail about share market stocks, Sensex, NSE, and other financial news!

The economist also provides expert advice on investments, personal finance ideas etc and get live news updates, breaking news and so much more on just one platform.

People trust The Economist for all the latest news and trends in stocks, NSE India, Nifty and more. Different slide shows are present for different sectors like Automobiles, corporate industry, marketing, Entertainment, etc. So you never miss anything important in any sector.

The home screen widget is also available which will always keep you updated even if the app is closed! A personalized ET portfolio is also available from which you can easily track your investments in the stock market within a single click!
2. MoneyControl – Share Market, News, Portfolio Android / Iphone

Moneycontrol is another great app to have id you want to stay informed about every activity that takes place in the stock market. Keep an eye in everything from BSE, NSE, Nifty, mutual funds, currency exchange and so on. Another great feature of MoneyControl is that it streams live business news from the top news channels of CNBC (in many languages too).

Users can easily navigate through the app's portfolios, watchlist, Market Data, Stock Pin, along with the latest news. Voice-enabled search is also available which allows you to easy and instant search. The app also provides a paid pro version that cokes with many advanced features such as technical charts by financial experts, smart business calendar, Macro Meter and so on.
Bloomberg is a leading stock market news app for iPhone and Android. It is one the best as you will find so many advanced features, for starters, the app provides business articles written by some award-winning businessmen and leading journalists.

The app gives you up to date stock market news around the globe. You can customize the app to get alerts on global stock position and corporate news. No matter what you need, whether its a breaking news or full analysis of any financial news, Bloomberg is a great platform to go.

You can easily track your portfolio by adding security to your personal watchlist. It may be a global app but you can easily get the information of your region! The app provides a 30-day trial after that you can buy its subscription!
CNBC breaking business news app is a popular platform for getting all kinds of business-related news. There are a number of impressive features present on CNBC, for example, you can easily monitor real-time stock quotes. The app also shows interactive charts which will help you to better understand the stock market.

Users will also able to get live business news coverage since the app is a global platform so you can easily get the global business news! This app also allows you to customize features and that way you can customize your watch list to track the stocks and get real-time business news! This app will too give you alerts for breaking news in the business world even when the app is closed.
Stock Edge is too a great app to get Indian stock market news. It is fully focused on research and analysis through which you can get a basic idea about what happening in the business world. With StockEdge you will get daily updates for specific business sectors.

You will receive news related to NSE, BSE stock market and their corporate announcements, forthcoming events. Daily analyzed data for FII/FPI, opportunity scans, stock and sector research. There are a number of other features present too which will help you stay informed with everything g happening in the stock market!
6. ET Markets: NSE and BSE India Android / Iphone

ET Markets is one of the best app where you can get the business news in your preferred languages. Here you will get to stay on the top of the developments in stock markets, mutual funds, and money markets. Get updates about the Sensex, Nifty charts (which will be interactive and multiple chart type).

Follow stock quotes in real-time and get tips about stock futures, commodities, forex market and more! You will also get expert views and a unique comment/ conversation feature where you get to interact with several conversations. The app can be used offline as well!
7. Investing.com: Stocks, Finance, market and news Android / Iphone

With Investing.com you will be able to get real-time data on stock quotes and charts, trades over 70 global exchanges. You will also get an economic calendar. Its personalized portfolio with regular alerts and news analysis!

There are a number of financial tools available which will help you access some advanced charts and more. Its data include commodity prices and major stocks.
Financial express allows its users to save business news articles and you can read them offline too. There are a number of tools present from which you can easily customize the app according to your ease.
9. BSE, NSE, NIFTY, SENSEX – Share Market, Stock Trade Android

As the name suggests, this app too is a great platform to keep track of your stocks and investments. With this app, you will also be able to get to know the latest trends and alerts for market updates.
With JStock you get to manage your portfolio and dividends. The app also provides you a performance chart so you get to make informed decisions. Here you will also find the latest news about the stock market. Background stock alert is also available. Overall you can try this app and see what it has to offer!
Conclusion

These are our top picks for share market news apps and we hope you would like them since they are reliable and you can completely trust them to keep you up to date with financial news.