How many times did you have to type all the things which were written on a paper in the first place? Well, we all have experienced such things, whether it's a shopping list or an essay which have written on paper but you need to make a soft copy of it's to share it!
Writing the whole thing on your phone or laptop as a text can be overwhelming but we have something that can help you tackle this problem and that is handwriting to text app! Yes, now you can easily convert your handwritten notes into text on your phone and share it!
Sure there are a number of handwriting to text apps present but we have found you the 10 best handwriting to text apps. Check out our list of best handwriting to text apps for android and iPhone and pick the one which suits you the best!
Handwriting To Text Apps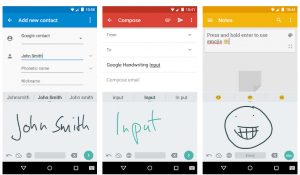 1. Pen to Print – convert handwriting to text Android / Iphone

Pen to print is one of the best handwriting to text app free to download, it is one of the popular app for the job! The app has many features that will make your process of converting handwritten notes to text! You can easily scan the handwritten notes and convert them to digital notes, and you can easily edit, search and store them in your phone's memory!

The app will be helpful to convert school notes, letters, meeting minutes, shopping list or anything else. If you are working as a paralegal or intern then this app can be very helpful for you and even for students who like to store their notes digitally. Although the app is free to download but you can buy its premium subscription to get advanced features.
PenReader doesn't actually covert your handwritten notes from a paper into text but you can write on this app as you write with a pen on a paper and it will recognize your handwriting and convert it into text notes. This app is known for its many great features.

The best feature of this app is, it supports multi-languages, for example, you can even write in Russian and the app will recognize it and convert it into the language which it was written in!

It is very accurate and takes less time to convert your handwriting into the texts. It also has a unique letter on letter mode, so even if you are overwriting it will recognize it! The app supports a total of 38 languages including Russian, Dutch, Polish and so on. You can easily save some words of yours and save it in your own dictionary!

You can even write an arithmetic problem and it will convert it as the text.
3. Google Handwriting Input Android / Iphone

Well, Google does it all, and now they have impressed us with this amazing handwriting to text apps for iPhone and Android. The best thing about Google handwriting Input is that you can now write in 100 languages and it will easily get your handwriting converted into a text.

 This handwriting to text app supports many writing styles too, so even if you are writing in cursive you won't have to worry about the app not recognizing your handwriting! The app can be used in tablets too. Apart from writing the app also recognize the emojis. Google frequently keeps adding new languages too. Overall it's a great app to convert your handwriting into text.
4. Penultimate Iphone

Penultimate is one of the best handwriting to text apps for iPhone and iPad. This app basically provides you to write in your handwriting on your iPhone or iPad. It just works as a paper and you can easily write anything you want. You can choose the color of your ink (digital pen) or just keep it black. Along with pen-style you can also choose from a number of paper style too.

The app provides you many features which you can use to personalize your handwritten notes on your iPhone or iPad. You can categorize them and find them whatever you are looking for to make your notes quickly. At last, the app can be synced with your Evernote account so that you can easily organize your notes.
Text scanner is also one of the best handwriting to text apps for Android which uses the OCR techniques. The app offers great quality and accuracy when converting any notes from paper to digital text!

You can easily access the URL or any phone number written on the texts as it's usually a tricky business to do so with the keyboard. Apart from that, the app supports more than 50 languages. It supports handwriting as well as any printed documents. You can easily share it with your Google Drive and save it!
6. INKredible – handwriting notes Android / iOS

INKredible is also a really great handwriting app. Here you will find a simple design and some easy to use technology through which you can easily write on your phone's screen just as you do with the pen and paper. It's a free handwriting to text app and it gives you a pretty great deal.
MyScript Nebo is also a great handwriting to text app free to download. You can write on the phone's screen and you would go with your notepad. The app also provides some of the great features that will help you make some customizable notes, like you can make charts or tables. Apart from writing simple notes, you can also solve equations using this app.
8. GoodNotes 4 iOS

GoodNotes 4 is also an amazing handwriting to text apps for iPhone. The app has many great features like OCR search, making handwritten notes on the phone or tablet and easily convert them into text too. You can also make pdf documents and share them with your friends. Overall it's a great app to have if you want handwritten notes on your smartphone or tablet.
9. Handwriting Notepad Android

You can write, you can draw, you can basically do anything you want with this handwriting to text app. It's easy to use and one the best app to have if you frequently like to take notes on your phone.
10. Handwriting Android

Handwriting notes on phone was never this easy as it is with the Handwriting app! Here you find a number of cool features that will help you make notes in your own handwriting!
Conclusion:

So these are the best handwriting to text apps that you should know about and we hope these apps will make your life easier!