Sharing jokes and making people around you laugh is not only a mere trend but this act is also proven to be helpful for other people. Reports have shown that many people find these jokes helpful in a stressful day. So if you are the person who loves sending jokes to your friends and family then you must know the importance of good and unique jokes and how rare they are to find or create. To help you make people smile we have picked the best jokes app in Hindi so check them out and make people laugh.
Best Funny Jokes Apps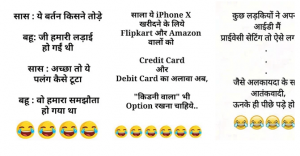 1. Hindi funny jokes 2021, Shayari, chutkule latest Android

If you wanna be the person who knows the best jokes and the first one to share a trending joke then this joke app is just made for you. It will show you all the trending jokes, chutkule, Shayari and many more stuff that you would definitely like to read and share!

Open this app every morning and you will get fresh jokes and contents much like a funny newspaper! The best thing about this app is it will also provide you with Shayari, so that you can enjoy and get appreciation by sharing with your friends and family.

Get the new stuff like memes (image jokes) for upcoming events like Diwali or Holi so that you can send the best wishes in the form of latest and unique content.

Get the jokes in both Hindi and English on hot topics for Indians such as Santa-Banta, or doctor jokes. You will get a huge range of jokes that will surely make your gang laugh!
2. Funny jokes pictures – new jokes – funny meme Android

There is nothing more pleasurable than sharing smiles, and with that vision, funny jokes app has bought you a wide collection of picture jokes that is more fun than ever.

Get the best jokes ever and we promise you will get the appreciation like never before for sharing these amazing jokes.

With the growing popularity of social media it is important that you do your part in sharing jokes perfectly, make your Facebook friends or Whatsapp group members your fan by sharing the best jokes. You can also choose the jokes in different languages for your regional friends to get more appreciation.

Get the trending WhatsApp status and Hindi Shayaris to read and share. Overall it is a great joke app.
3. Funny jokes – Hindi chutkule Android

Funny jokes are one of the best jokes app for unlimited jokes and it is fully offline. Get yourself, entertained even when you don't have a strong internet connection or you are in a remote area. It is always great to get a laugh as you are busy or somewhere alone.

The fact that this app is offline and offers you unlimited jokes is just a mere starting, you will also get funny WhatsApp jokes in many new categories. You can share these jokes on any platform from facebook to email and even send these through SMS.
4. Book of jokes Android

Book of jokes surely do justice with its name. Get the jokes from elite masters of laughter and entertainment and make your day better.

Its always better to start your day with a good joke and wake up with a smile. Get your daily dose of laughter with this amazing joke app and share these jokes if you find something worth sharing to make their day better too. Get over 500 thousand jokes in 100 categories, you won't get bore from this joke app so download it now and keep smiling!
5. 5000 hangamedar chutkule jokes Android

This joke app is as interesting and unique as its name. There are not enough jokes in the world so treat yourself with this amazing app for unlimited and funny jokes that will leave you laugh so hard that it will make your stomach ache.

Almost every person needs something that will cheer them up on a long and tiring day so make them smile and be the reason for their good mood by sharing funny and unique jokes.
6. Jokes book – 3000+ funny jokes in English Android

Finding a reason to smile or have a good laugh? Well download this best joke app and it will everything to make you laugh. And by everything we mean it will provide you the best range of jokes that are hard to find anywhere else.

Share the jokes with just one click and let your pals know how funny you are and your jokes collection is the best. It has an easy and intuitive interface that just makes it easier to read and share the jokes.

The different categories are animal, college, tech, insults, and so much more to keep you engaged with this app for hours at a time.
7. Hindi jokes Android

If you are finding the best Hindi jokes app to download then here your search ends. It is one of the best Hindi jokes that you can find. All of its users have recommended this app to their friends ( some of them didn't cause they wanted to be the one person who has the most funny songs).

It free, it's offline and it has the best categories for Hindi jokes, what more you can ask for?
8. Funny jokes – Hindi chutkule images Android

We have to admit that picture jokes are becoming a trend and why wouldn't they?  They are so cool and funny.

This app should be on your phone and you have to go use it for once and you will definitely like it. Be the reason of someone smile by sharing the best jokes through this joke app.
9. Haso hasao chutkule (jokes) Android

Yet again a Hindi joke app which has over a 5000 jokes collection and they are updating new jokes every now and then. Don't miss the crazy Hindi jokes and share them with the group (it will definitely make your image better among people).

Enjoy the jokes anywhere anytime as it offers offline support and we hope you also appreciate this Hindi joke app like other million people who have given their thumbs up to this app.
10. Hindi jokes latest Android

You can never be too busy to check out the latest jokes and do this now on the best Hindi joke app. No need to wander from site to site as you will find everything you are looking for in this great app for Hindi jokes.

This Hindi Jokes app is surely worth your time so download it now and all the latest jokes.
Conclusion:

Here is a list of top 10 jokes apps, we hope they bring a smile on your face.