These days it's really important that you know some good and genius quotes that you can use as a caption or share as your WhatsApp status or even quote them in general conversation with people.
Knowing some quotes will increase your speaking and communication skills, but knowing a perfect quote for a situation is not as easy as it seems so here I have picked up the top 11 quotes app that you can download in your cellphone and look for them anywhere anytime.
Best Quotes Apps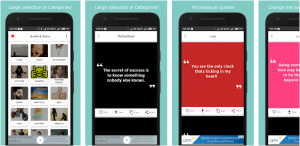 1. Best quotes and status Android

The first quote app in our list is Best Quote and Status, the reason behind it is it has a very large collection of quotes and status, and it works offline too so you don't need an internet connection when you have to look for a quote. If we talk about numbers than this app has over 85000 quotes and status which makes it one of the best quote app, as it is hard to find that kind of number in any other apps. It can be shared easily with it's easy to copy and paste functions.
2. Motivational quotes Android

Everyone wants to be motivated at some point in their life but the stress in today's life is just increasing day by day and there are great chances that you will feel the need for motivation. So we have the best quote app that has an impressive collection of motivational quotes.

Get yourself motivated or motivate others by sharing these motivational quotes.  It has over 50,000 motivational quotes that include inspirational quotes and success quotes. It also has wisdom quotes and fitness quotes among many other categories. So start your day with the best motivational quotes and keep everyone around you motivated by sharing them.
3. Yourquote – write quotes, poems, stories, and shayari Android / Iphone

Since we are talking about quotes it not necessary that you look for the quotes online but it can be possible that you too have a good sense of writing, with this thought we have brought you a quote app where you can post your quotes to make them google searchable! It may sound complex but you can do this on this platform where they help all the new and aspiring writers.

Write everyday and fine your writing skills. Connect with other inspirational writers and follow their writing and there quotes to get inspired. It is easy to get the new and original quotes and you can too post your work for the world.
4. The best life quotes Android

The best life quotes are also one of the best quotes apps and you can find many amazing quotes and get inspired. Whether you are looking for an encouraging quote or happiness-quote they have covered it all so you can definitely rely on this app.

Download this quote app and you will get many unique features including sharing the quotes with one click. Get the daily notifications for new quotes so that you never miss great quote. And last but not least you can share these quotes as pictures as well as texts. Keep your favorite quotes safe by marking them.
5. 50000 status quotes collection Android

As its name says, this quote app has over 50000 quotes and status collection which you can read and share with your friends and family. It is completely free and offline app that you can enjoy without worrying about your internet connection.

You can share its quotes as your status with direct status upload feature. Overall it's a simple yet great quote app.
6. Best quotes, status and sayings Android

It is also a great quote app for you where you can easily get access to some of the finest quotes and saying in the world. And that too offline and free. It has an easy interface that makes your reading easy. It also has an impressive navigation that displays 10 quotes at a time.

You will get the quotes from more 30 categories and they all are easy to copy and share. All the categories have some of the most beautiful quotes and saying that you can share with friends and family and make their day better.
7. 11000 quotes, saying and status – image collection Android

All the great quotes in this app comes with an inspirational and beautiful image that make it more impressive and meaningful. Get over 11000 inspirational and motivational quotes that you can share with other people and put a smile on their face.

Get advice quotes or happiness quotes that add meaning to your life and get you some clear ideas about yourself and your surroundings. It has wide categories to select a perfect quote for birthday, photo captions and many more.
8. Hindi motivational quotes – pic and text status Android

It is one of the best Hindi quote app where you will get heart touching and inspiring quotes in Hindi. If we talk about the diversity of the quotes then it covers more than 100 topics. Share these quotes on any chat apps including WhatsApp and Facebook, along with emails and texts.

You will get Hindi suvichar quotes, meditation quotes with amazing wallpapers and beautiful pictures that will make your day.
9. Best status quotes for 2021 Android

It is also an excellent quote app that provides you with some of the best motivational quotes. Its interface is impressive, intuitive and easy to read. The display of these quotes make you feel like you are reading some kind of old authentic book.

Choose the background for the quotes to post as  WhatsApp status. It also covers many different topics from good morning quotes to funny quotes. The daily update their database so you get all the fresh quotes in the morning!
10. Brilliant quotes: best photo quotes & top sayings Android

As we are moving to the end of our list of best quotes app, we have saved the best quote app for the last. If you are looking for a way and simple quote app then this should be your best choice. You will find some of the best quotes that you won't find anywhere else.

It's easy and user-friendly interface will make it elegantly beautiful. Not only just text quotes but you will get access to the photo quotes. They provide you quotes from 260 authors so you will get different perception each time.
11. Motivational quotes – daily quotes Android / Iphone

It is a classic quote app that will do whatever it takes to motivate you. All you need is to download this quote app and get yourself and people around you motivated.

It also uses inspiring and motivational pictures as their background that makes it more effective.
Conclusion:

Here our list of best motivational quotes ends and you will definitely love reading and sharing the quotes through these apps!