We actually are in a time where we can expect our phone to do everything! No matter if you wanna control the temperature of your AC even when you are not in your home well phone is here! Likewise, now you can use your phone as a digital scale! Yes you heard it right and it sounds unbelievable but again technology never fails to surprise us!
These digital scale apps use the acceleration of your phone to give you an approximation! So you can get the idea of weighing small things around you! Although it may or may not the accurate and you can't rely on them for everything.
There are truly hundreds of apps present which claim to give you the best digital scale via their app, but it's not always the case because only a few among them works. In this article, we have picked the 10 best digital scale apps for Android and iPhone that are free to use and a little bit better than others.
Digital Scale Apps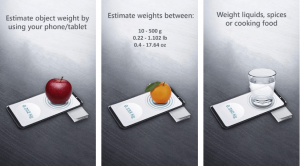 1. Weight Scale Estimator Android

Weight scale Estimator is our first pick and it's one of the best app that you can find to estimate an object's weight via your smartphone. The app uses various algorithms to give you an approx. weigh and it can be useful sometimes.

This digital weight scale app features three measurements, that include 10 to 500 grams, 0.022 to 1.1lbs (pounds) and 0.352 to 17. 64 oz (ounces). The app works on simple terms and you will need to follow simple instruction and if you are having trouble you can always watch its tutorial videos.

The app may not be very precise but it's the closest thing you can get to know the weight of small objects and it's pretty fun to use too.
2. Digital Scale FREE Android

The app is everything that its name is suggesting, it's a free digital scale app an it's pretty great too. We all need to weigh the small things in our daily life whether it's salt or any other ingredient, and it's great to have a tool that tells you the weigh with some accuracy and that's where Digital Scale FREE comes in handy!

You can with the small objects in grand or ounces whatever suits you the best! So go and download this app and worry less about the weigh scale of them! It's super easy to use too.
3. Digital Scale Simulator Android

Digital scale simulator is another best app to scale some of the small objects around you and it works pretty great too. You can easily use the app by following one or two simple methods and you will be ready to go.

Just put the object which you wanna scale and the app will get you an approx weight scale for the objects in grams. It's easy to use works and you will be amused by it. Although the app is still in the beta version but you can always take it's helpful when you need a digital scale!
4. Precision digital scale Android

Millions of people are currently using Precision digital scale for weighing small objects in their daily lives. Of course you can't weigh anything too big but for small quantity things the app works just fine.

The only rule you will have to follow when using the app is you will have to lay the objects as gently as possible, so that you get more accurate weigh scale! It's easy to use the app too where you will have to open the app and place the objects on it!
5. 3 Grams digital scales app with weigh converter Android

3 Grams digital scale app is one of the best digital scale app that you can find. It serves multiple purposes where you can do a lot of things in just one place. The app uses the phone sensors to give you a weigh similar to your kitchen scale. All you have to do is to put the objects on the screen of your phone and it will give you a number suggesting it's approx weight!

The app also works as visual scale apps which helps you know the weight of big objects which can't place on the screen. It takes the help of its camera sensors but here you will do some DIY things.

Once you have got the results you can convert the weight measurements in other units too. It will help you understand the weigh scale better. And that's why it is one of the best digital scale app for Android!
6. Weight scale simulator Prank Android

This app works two ways, you can know the weight of the object if your phone has a built-in pressure sensor, which helps you to calculate the weight of the respective object by projecting it's force of depression!

And if your phone doesn't have the pressure sensors then the app will automatically represents a kind of joke from which you can prank on your friends. Overall it's a great digital scale app to have!
7. Kitchen scales in grams joke Android

Kitchen scales in grams joke is exactly what you can guess from its name. You can easily use the app to make a joke on your friends. The app looks just like a real digital scales and it presents a very believable layout that can fool anyone. When you will place an object on the screen the app will show you some measurements and that's where the fun starts! Download this digital scale app now and come up with creative ways to make fool of your friends!
8. Sensoscale Lite Digital Scale Android

Sensocale is also an impressive digital scale app for Android and you will find it extremely easy to use. It's a serious application that might give you exact figures regarding the weigh scale of the objects. And it's the most reliable application in our list!
9. Working scale free Android

Working scale is also a great application to weigh and rely on. You will also find a number of tools to help you easy weighing and get accurate numbers regarding the masses. It's a great app to measure with from 10 to 100 grams!
10. Kitchen scale simulation pro Android

Kitchen scale simulation works best for Android devices and since its name suggests simulation you should know that it is designed for fun purposes. And it works just fine when it comes to getting you some fake masses weight number!
Conclusion:

So here are our top 10 picks for the best digital scale apps and we hope you will find what you were looking for from this list!