We all need a calendar to know about the date and day, but sometimes this basic info is not enough. We all go through busy days and live in a hustle so it's important to know about the present day and what we are supposed to do on this day! You will reminders and to-do lists with these calendars. Check out the best 15 calendar apps that will make your lives a bit easier.
Best Calendar Apps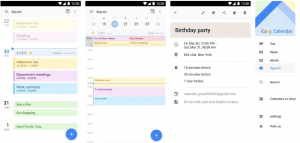 Google has never failed us with its revolutionary apps that make our lives easy and stress-free. As we all are already impressed with Google's other apps, you will definitely love this one too. If you are looking for a calendar app that will help you to make most out of a day then it should be your best choice! You will get many features and options so that you won't miss any day without planning.

You can change this calender app's view quickly from day to month or year. The best thing about it is your future events will be automatically added through your Gmail, whether it's your flight, concerts or any meetings you won't miss a thing. You may need a to-do list alongside your events, you will find many options that will let you create a to-do list for each day.

You can add goals for weeks and your Google calendar will get you a schedule. For example, if you need to exercise 3 times a week just leave it on your calendar app and it will make your plan for the week accordingly! It will work with your other calendar on your phone and provide you with a promising service. This is the best calendar app for android. You can run it both your phone and tablet.
2. DigiCal Calendar Agenda Android

If you are looking for a calendar, which you can customize according to your ease then this calendar would be the best choice for your android smartphone. You will get easy scheduling features to make your future events and meetings easy to remember. It is flexible and easy to use, it's multiple views of calendar will make scheduling easier. You can sync it with google calendar.

You can schedule events and meetings for the next week, month and next month with a full year view to see all the events for a year.

You will get 6 beautiful and customizable widgets. With 9 themes to give it a great feel. You will get an idea of your busy days with widgets.

If you are concerned about the daily weather reports then this calendar app is made for you, as you will get daily weather reports with detailed weather information about temperature, humidity and many more to make your planning of the day easier. Overall this is the best calendar app with amazing features that you can completely rely on.
3. Calendar Lite Android

This is the best calendar app for Android. It works as a daily planner, schedule your future events and agenda management. You can set up a reminder and it will notify you effectively so that you never forget about the important days. Its smooth interference will ensure that the calendar app works effectively and efficiently. You will be able to sync your events with other apps to plan your day and week.

Its clean interference will let you switch the views from days to weeks or months instantly. You will find your to-do list under agenda lists where you can add or delete events. Its event planning feature is great as it provides to fill out the details of events like event name, category, emails account along with date, time and location of event to make your planning a bit easier.

It's intuitive interfere and no ad policy makes it the best calendar app.
4. 2021 Calendar Android

As an Indian, we know how difficult is to find a Hindu calendar that provides all the information needed. You won't find any better calendar app for Hindus than this. It features all the festivals and holidays. It is not a basic planner calendar that provides the facility to plan your events with reminders but it solely represents all the Hindu festivals with panchang details and all the auspicious days from Navratri to Diwali and other Indian festivals that is being celebrated throughout the country. You will get high-quality images so that you can see every detail of the Hindu calendar easily. It is being updated year wide to keep you fully updated about the upcoming holy events of next year.
5. Calendar 2021 : Schedule Reminder, Agenda, To-Do Android

It is a free calendar app for android that you will find helpful once you have started using it. With many unique features of day planning, events managing and other things, it is easy to use and one of the professional calendar apps.

You can sync it with your Google Account and it will automatically transfer your future events and appointments with its details. Increase your productivity and performance by planning your week or month and achieve your every goal. It will display all the holidays and festivals. If you travel a lot across the world this calendar app would be your best choice as it planes your event and appoints through different time zones!
6. Hindi Calendar 2021 Android

Sure there is some time for new year's but they are ready with the Hindi calendar of 2021. If you are looking for the auspicious events, Hindu festivals of next year then you can thank us as we have found you the best calendar app for that. In Hindu rely on it is really important to do something or start something new according to 'Muhurat', that is why you should download the calendar app now and plan your events according to it. You will get all the information about new moons and full moons with exact and accurate details. It is available in offline mode so you doing have to worry about your connections while checking out calendar and important days and dates.
7. Hindu Calendar Android

Another Hindu calendar app but with a great difference, and that is it will provide you with Thithi, paksha, yoga, karana, nakshatra and vaar. You. Won't find that much detail in any other Hindu app. It also shows the zodiac of the moon and with.

If you are a little superstitious and want to do your work according to the nakshatra then this is the best calendar for you. With advance details, it also does the kundali readings and kundali matching. It is like you have a priest in your smartphone. If you think that's all a calendar app can do then you are wrong as it will also tell you about sunset and sunrise, moonset and moonrise according to your location. You won't be disappointed with this calendar app as it has all that is needed by a Hindu.
8. Simple Calendar Android

If you are looking for a simple and basic calendar then this calendar app is for you. With no extra or added feature to confuse you, you can see it in day, week, month view. You can add events and it will remind you. It has small size and made for those who have low space in their phones.
9. Hindi Calendar Android

Yet again a Hindu calendar that will provide you with all the information about the Hindu festivals and auspicious days. It has a high-quality images that you can zoom in and zoom out as much as you want to see everything clearly. It will provide you a list with all the Hindu festivals in the upcoming month.
10. Hindi Calendar 2021 Android

You will get both the present year's Hindi calendar along with next year's calendar. It provides you all the basic information about Indian festivals along with audacious days (shubh mahurat). With the next year's Hindi calendar you can see the important days and plan your events according to it.
11. Bengali Calendar (India) Android / Iphone

We have listed many Hindu calendar here we are introducing you to one of the best Bengali calendars. You won't find a better Bong calendar than this, it has all the information about Bengali festivals and rituals. This is one of the best calendar apps for android (Bengali calendar).
12. Telugu Calendar 2021 Android

If you are looking for Telugu calendars then you are at the right place. This Telugu calendar for your android device will make sure that you have all the information about Telugu festivals and important days in Telugu community. It has both the present and upcoming year's calendar (2021).
13. Calendar 2021 – Diary, Holidays and Reminders Android

As its name suggests you will be able to make plans in your diary and updated for the upcoming holidays. It has the most colorful designs to keep you productive while you set reminders for future events and plans. It also has a checklist to ensure that you do your to-do list and check it. You will be informed about the weather predictions so that you plan your day wisely.
14. Indian Holiday Calendar 2021 Android

If you are looking for a calendar that lets you know about the Indian holidays then you can definitely rely on this calendar. You will get the calendar for 2021 year in upcoming updates.
15. Business Calendar 2 – Agenda, Planner & Organizer Android

This calendar app has a blessing for those who needs an organizer for their professional life. You will get 6 main views including day, week, month, tasks, agenda and year. This works as your agenda and task organizer to make your professional life easier and less stressful.
Conclusion:

We have listed 15 best calendar apps for android and iOS devices. No matter if you are looking for an organizer, a festival reminder or just a simple basic calendar you find all of it here.