Being an artist is a tough job, where you have to put your ideas into the most beautiful form on a canvas. It is not easy to make your imaginations alive for the world to discover and appreciate that. You may have to work hard to get your work done but with some help you can surely make it an easy process. We have picked some of the best drawing apps that will assist you in every step. Check these free drawing apps and see what difference they make.
Best Drawing Apps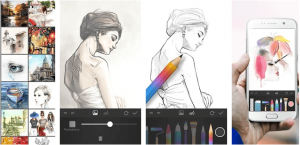 1. SketchBook – Draw And Paint Android / Iphone

With over 10 million downloads and a rating of 4.2, we can say that this one of the best drawing app for you. You do so much in just one app. As its name suggests, it is a sketchbook that is made for everyone. No matter where you are and what time it is, if an idea is poped into your head you can instantly go to this drawing and sketching apps. You can have an idea anytime and for that, you may need a specific tool that cooperates with your idea to make it into a full artwork. You will find many amazing tools to help you to put your thoughts into a fine artwork. So if you are looking for an app that has every essential tool that will be needed in the process of your creative work then this should be your first choice.
2. PaperColor: Paint Draw SketchBook And PaperDraw Android

If you are learning drawing then you should take a look at this drawing app. Its paintbrush feels like a real one. You can paint, draw doodles, create graffiti, and do everything that you are capable of doing on a real drawing canvas. It has easy features that will help you learn better and be better at drawing. You will get many sizes and shapes of paintbrush and they will be as good as they are in real life. You will get a huge color library from where you can pick any share of a color you want and use them as you like. You will able to create a perfect drawing as you want and make yourself proud by enhancing your drawing skills with the best drawing app that you can find. Either you are at home, outside or in-plane looking for something to create a piece of art paper draw will be there for you! It has many amazing features like handwriting signature in pen at the end of the drawing to make you feel like a famous artist. You can mark pictures and draw on them, you will get the best drawing tools.
3. Drawing Desk Draw Paint Color Doodles & Sketch Pad Android / Iphone

You will enjoy every feature of this drawing app for android/ios. It is made for both adults and kids. You kids will enjoy their drawing time through this drawing app for kids, it has pictures of animals, flowers, fruits, vegetables, toys, vehicles and more to help them learn better and in fun ways. You can do drawing, sketching and doodling now! Coloring and drawing is an art that has been proven to lower stress and make you more creative and productive, with this vision they have provided this drawing app with creative and stunning features that will make drawing and coloring more interesting than ever. It also has some coloring games for kids that don't need a wifi connection. It has many doodle pens for doodling, all the sketching tools like pencils, pen, watercolor, and many more.
4. Hand Drawing Android

If you like to do hand drawing and sketching then this the best drawing app for android. All you will need if your fingers to draw your heart out on its canvas. You can make notes and draw sketches with your free hands. You can easily save your files in your file manager without using keyboards through its default function. It's a simple and easy to use drawing app for making notes and drawing.
It is downloaded by 10 million people who have appreciated it and given their positive response. It is one of the popular drawing app that is known for its versatility and unique drawing feature. It has over 2500 materials, more than 700 fonts along with 312 brushes, 51 filters, 46 screen tones and so much more that you need to create a perfect piece of art. It is used and recommended by many professionals as it has all the highly functioned and advanced features. One of the best features is that you can record your drawing process as a video. You will have access to unlimited layers that you can add as many times as you want. You will have a smooth and nice experience with this drawing app for android and iOS.
This is the best drawing app for kids! If you want your children to practice drawing and learn art than this should be your best choice. You can draw anything you want and do all the creative stuff. Either you wanna make sketches or edit photos this drawing app is here for you. It supports multi-touchdown several kids can draw at once. This app is loved by kids and adult with its fun and cool feature that suits both.
7. ArtFlow: Paint Draw Sketchbook Android

This is a free drawing app for all the artists no matter what age group they belong to. It has over 80 paint brushes, smudge, fill and eraser tools that will help you to become a master of drawing. Be as creative as you can and make your imagination alive with its fast and intuitive painting application. It is as real as canvas with its pressure-sensitive pens. It has a high-performance paint engine ( GPU accelerated), it also has 50 layers of canvas. With over 100 brushes and tools. You can also create custom brushes for images. So many more features are also present to give you a perfect feel of real canvas.
8. Medibang Paint – Make Art! Android / Iphone

If you are into comics loves to draw comic characters and comic books then this drawing app for android and iOS would be your best pick. It is made especially for the comic artists and provided you with the necessary tools. Paint and make comics in your smartphone with its easy interface. You can change colors in HSV mode. You will get free access to 850 tomes and texture. It premade background of city scenes and vehicles will be of great help for comic artists. Background and atmosphere will be changed accordingly with the fonts. You can create comic panels easily to enhance your comic effects. Editing for the comic was never this easy.
9. Artecture Draw, Sketch, Paint Android

Draw your creations on the digital canvas just like you do on a real one. It's a great drawing app for androids where you can do sketching, drawing and painting with an all-new experience. With over 30 unique tools you can make sure you are drawing and sketching in your own style and explore your creative abilities. It is simple and easy to use drawing app free with no ads. You can do all from taking notes to draw architecture sketches and cartoons.
10. Learn To Draw Android

It is a great app for kids and beginners who want to learn drawing and sketching. It has an easy step by step instructions that will make you and pro at drawing really soon. So if you want your kid to learn drawing and sketching this would be your best choice. It is a tutorial app that has a simple drawing to make and some are not so simple to boost your drawing skills. You will definitely enjoy this drawing app.
11. PicsArt Color Paint Android / Iphone

If you are searching for a drawing app that will make your photos more fun and larger than life by drawing your creations on them then you are at the right place. You will feel like a pro once you have started using the functions and tools of this app. It has many layers to add, a color mixer that has color combinations that you have never imagined of. You can customize your paintbrushes according to your needs. Doodle on your selfies and make another world that is beyond everyone's imagination. From a complicated task like creating an illusion to simple tasks like coloring, you will find it all in one place. Symmetric drawings, textured paintbrushes and blending mode are some of its beat feature you will find many more once you have download this drawing app.
12. Sand Draw Sketch Drawing Pad: Creative Doodle Art Android / Iphone

Who doesn't love to play and draw on the beach? Well, your wish has just come true, with this drawing app you can draw on real beach sand and let fulfill all your desires.  You will get many features to explore the sand artist in you. Don't waste your time to go on a beach get all the fun when you can simply just download this drawing app and bring sand in your smartphone.
13. Drawing & Painting Android

It is a drawing tutorial app that is proven to be very useful for those who have just started learning drawing. You will get many drawing and sketching lessons along with spray art lessons and techniques. You will also learn how to paint with oil paints and acrylic and their techniques and explanation.
As its name says, it is a really simple yet interesting drawing app that has the most realistic canvas ever. You can try it if you just want to explore your drawing skills.
15. Paint Free – Drawing Fun Android

It is a free Drawing app for Android where you can paint, sketch, draw and so much more with its cool and unique tools that will help you with every step of your process.
Conclusion:

So these were the best drawing apps for android and ios that will provide you with every tool that you will need to make sure you never run out of ideas and you have an app where you can draw whenever an idea pops in your head.