Are you one of those persons who are just curious about everything? How many times it happened to you that you wanted to know the distance or height of a particular thing but you had no one to tell you or no tools to measure that? I guess a lot of times right? And that is why you are here looking for apps which would precisely measure the distance and height!
Well frankly there are like hundreds of apps present which claims to measure the height and distance for you but do they all work? I don't think so, and that is why we have looked into some distance measurement apps which works just fine and you will definitely like them!
So let's not waste any more time and head to the list of best measurements for Android and iPhone 2021 that you can find!
Distance Measurement Apps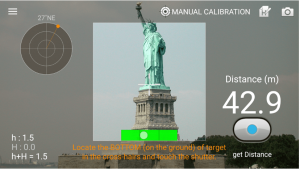 1. Smart measure Android

The first pick for our list of best measurement apps for Android would be none other than Smart Measure. The app has been used by more than 10 million people and it has got a rating of 3.6.

Smart measure is a multi-purpose app where you can not only know the distance but height too. It's rangefinder measures the disgrace and height of the target by using trigonometry. You can know the height and distance in meters and feet! Its material design is easy to understand too

The app is free to use with some pro features and that includes it's no ad policy. The app has three tools that are smart ruler, smart measure, and smart distance. The app is most accurate if you follow the instructions right!
2. GPS Fields Area Measure Android / Iphone

GPS Fields Area Measure is also a great app to measure distance. It is very popular among people who want to measure distance or an area of particular field or perimeter measurements.

It is a user-friendly app that is really simple to use and you can know the distance or measurements. The app is really useful when you need to mark some points on your field and which needs to be perfectly measured.

The app has got many great features which will make sure you never go wrong with distance measurements. It's smart marker mode for very accurate pin placement. You can not only easily measure the distance but you can save them for later use and share with your friends. The app also features an auto measure feature which will help you measure the distance while you walk or drive around specific boundaries.
3. GPS Speedometer, Distance Meter Android

GPS Speedometer and Distance Meter truly deserves a place among the best distance measurement apps for Android. What will impress you in this app is its beautiful and stylish design which gives you a professional tool feel.

As its name suggests, this app is not only used for measuring distance but you can also use it for measuring your speed while you walk, jog, or drive. The app has a feature which makes your phone vibrate if your speed exceeds the limit! After you have done with your walking or jogging or even driving the app will show you the distance that you have covered in between!
4. Land Area Calculator – Distance Calculator Map Android

Land Area Calculator is a very useful distance measurement app which will allow you to know the distance of your target area. You can get the idea from its name that the app also works as a navigating tool as it shows a map. And whenever you want to know the distance from one place to another this app can help you.

It's an easy to use app, just open the map and click on two points and you will know the distance between those two points. This distance measurement app also shows magnetic strength, altitude speed, and so on.
5. Map Distance Calculator Android

Map Distance Calculator is another map-based distance measurement app for android. Its intuitive interface makes sure it's users get a great experience on the app. As you can guess, this app will allow you to measure the distance between two points on the map!

You can also see the distance along with your preferred route on the map by drawing the line between the points. Additionally, users can measure the distance in many units such as meters, kilometers, miles, feet, nautical miles and so on! Overall it's a great app to measure distance and you would surely like it!
6. Distance meter Android

If you are looking for the best distance measure app that measures both distance and height of an object then Distance Metre is the best choice for you. This app works through the camera where you will only have to aim at the bottom of the object to know the distance.

To measure the height of the object you will need to aim at the top of the object. Keep in mind that the app will only get you approx distance and most of the time it's accurate.
Easy measures use the Dynamic photo feature which allows it to analyze and adapt measurements through the photos which you have taken. It accurately measures both the distance and height of the targeted object. This app for measure distance uses a 3D engine to it becomes easy to understand the results!
8. Maps Measure Android

Map measure will allow it's users to measure distance, area, and elevations. The app shows a hybrid satellite and terrain view. You select two points on the map or even select a route to know the distance. It's easy to use app which will help you in navigation.
9. AndMeasure (area & distance) Android

AndMeasure is also a map-based distance measurement app that helps its users to easily navigate and know the distance between points in an area. You can easily use it when you need to measure the area for multiple purposes like lawn care, water line, etc.
10. Auto Distance Android

Auto Distance is popularly used by people to measure distance and height of any object. You can know the height and distance of a building, tree or any other object! You will find different measuring units too, such as millimeter, centimeter, meter, kilometer, etc.
Conclusion

These are our top pick for distance measurement apps, and we hope you would like them as well. So the next time you are looking at a thing or even a person and want to know the distance or height then you know which app to use!