Our phone is the one thing we can't live without! We keep checking our phone for every minute whether there is a notification or not and that does apply for nights too! But the problem with checking our phone at night is the brightness of our phone and sometimes it can lead to some bad effects to our eyes!
Not just checking out our Instagram but some people to use their phone at night for various things like reading an ebook or creating a document and that time we do need to adjust our phone's brightness!
That's where screen dimmer apps come in handy. Since you can't lower the brightness of your phone's from its default brightness settings, and even if you can the settings may or may not set according to your preferences. With these screen dimmer apps you can easily adjust the scene brightness and the effect on it's on your eye!
Screen Dimmer Apps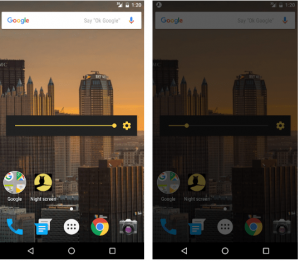 1. Dimly – Screen Dimmer Android

Dimly is one of the most famous screen dimer app that you can find. It has a number of smart features that will make sure you never get your eyes tired while working on your phone!

The app is absolutely free to use and no ad policy is too impressive where you won't have to see those annoying ads whenever you open the app! The app has an auto-timer start so you can adjust the settings according to the time.

The app displays the backlight dimming, and you can easily customize the minimum and maximum brightness level in your phone. Its blue light filtering features is another amazing feature. The app has a very intuitive and user-friendly interface and here you can restore the brightness just by shaking it!
2. Night Screen Android

Night screen is another easy to use screen dimmer app for android. Over 5 million people are currently using the app and they have left their positive reviews for the app. The app surely makes your eyes less tired as it too has some amazing features.

It's easy to use and you can easily set the default brightness to the minimum. Its blue light filter feature is quite impressive which makes you easily sleep at the night. Here you can easily restore the default brightness by stopping the app. By using this app you will be avoiding a great chance of having a headache and tired eyes! So download this app now so that you can safely use your smartphone at night!
3. Screen filter Android

Most people stay under impression that they can't go beyond the limit of brightness scale which is provided as default in their phone and that's where Screen Filters do wonders. No matter you are a person who likes to play games all night or do some browsing research, Screen Filter is all you need for the job.

This screen dimmer app has marked its place among the top screen dimmer apps for android as they have some smart features like it has a widget feature from which you can have full access to preset the brightness level. You can easily set the brightness level according to place and time. Keep the app's icon on the home screen to easily toggle off or on!
4. Night Owl – Screen Dimmer and Night Mode Android

Night owl is one the best screen dimmer app for the people who are literally the night owls and doesn't believe in sleeping early and definitely don't believe in using their phone in right light. But here is the thing, maybe you are too lazy to switch one the light for every time you use the phone at night but you can easily use the app so that you don't get headaches and pain in the eye!

It's an easy to use and lightweight app and you are gonna love it after seeing the difference in your phone's brightness level.
5. Darker (screen filter) Android

Darker is another great screen dimmer app 2021 and you will definitely like to use it. The app is available for free to download but you can buy its advance version if you want the advanced features.

The app has a custom color filter mode which makes it more perfect and suitable for your eyes. The apps advanced feature includes, starting at boot, darken navigation bar, quick toggles and so on!
6. Screen Dimmer Android

Screen Dimmer has gained itself a reputation for one of the best screen dimmer apps for android. What you will love in this app is its ability to easily customize and you will also love the way it adjust color and opacity in your phone.

Its scheduler features will automatically sets the screen dimmer. If you need to urgently turn off the dimmer then you can just shake your phone and the brightness level will be restored to its default! The best thing about this app is it easily dim the notifications too (not like other apps which only focus to dim the screen!)
7. Screen Dimmer Android

Screen Dimmer allows you to set the lowest brightness level in your phone and you can also save your battery too as the screen is consuming less battery of your phone now. The app won't demand any permission and you can have to worry about the space as this screen dimmer is one of the lightest weight apps!
8. Night Mode Screen Dimmer Android

Night Mode should be your best pick if you want to protect your eye! The app does all the usual things and you will be able to save your phone's battery too.
Dimmer is also a simple app which may like. This screen dimmer app to have some impressive features like auto turn settings, the app also allows you to hide the settings. You can easily open the app from the notification bar and adjust the brightness!
Lastly, we have bought you Screen Brightness which too will impress you. Here you can find five-level buttons from min to max brightness. It will automatically start after boot time. The unique feature which this screen dimmer app has is that you can now adjust brightness with the volume button.
Conclusion

So here we have listed out the best screen dimmer that we think you must need if you are one of those people who likes to sneak your phone at 2 am make documents or simply just read your favorite book on your smartphone. Download one of these best screen dimmer apps and protect your eye!