Have you bought  Samsung tv recently? Well, congratulations on the brand new shiny Samsung tv. But are you planning to watch just news via cable on this tv? Well, it will just be a waste of this incredible tv set. As you know nowadays tv are just meant to watch movies and news via cable, they can do so much more than that. And Samsung tv is made to serve more.
We have tv on our phone just like that we have got internet on tv so make the most use of by installing some of the best smart tv apps on your Samsung tv. Since your Samsung tv is so incredible you will surely wanna choose the perfect smart apps in it, and to save you the trouble of searching different Samsung smart tv apps, we have listed some of the best Samsung smart tv apps so take a look and make your Samsung tv smarter than ever!
Samsung Smart TV Apps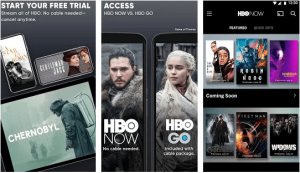 We are starting v our list of best Samsung smart tv apps with Vudu on the ten tenth spot. If you haven't heard of this app then let me tell you why it's important to have on your Samsung smart tv.

Vudu is a rental service where you can rent the movies and watch it when you want to. Although its collection is not that big but you still wanna have on your samsung smart tv!
Now, who doesn't love music? We all do right and that's why Spotify is next on our list of best Samsung smart tv apps. We don't need you to tell you the feature of Spotify since there are great chances that you own this app on your smartphone or laptop and now its time too introducing this great music app to your Samsung smart tv so ghat you can listen to your favorite song anytime.
The next must-have app on our Samsung smart tv apps list is youtube. Sure you must have youtube on your phone but don't forget the fact that you own a big screen tv where everything looks 10 times greater!

We all know youtube for some funny videos or music videos but nowadays youtube too coming up with some of the greatest content that will surely impress you.
When we mention HBO the only thing comes in our mind is the epic show Game Of Thrones, which has won millions of hearts. And to enjoy these shows to the fullest download this Samsung smart tv app and enjoy some of the greatest show that is streaming on HBO.
PLEX is among those apps which you must have on your smart tv if you wanna play your local pre-downloaded media in your phone or in other device.

PLEX is the best Samsung smart tv app through which you can enjoy your phone gallery on the big screen of your tv. On top of that its basic version is absolutely free.
5. All 4 (UK only)

If you are a fan of content from channel 4, E4, and more 4 than here is the good news for you, you can have all these shows on your Samsung smart tv via this app. It's a perfect choice to sit on your couch and enjoy all the episodes on any show that has been ever released on these channels.

Enjoy its wide collection of movies and an impressive selection of web series and enjoy them on your Samsung smart tv. Download this app for Samsung smart tv and you won't regret your decision after getting such an impressive content through it.
Samsung tv owner are the lucky ones as they can find BBC app that can get access you to the some of the greatest tv shows including killing eve, doctor who, and many more via iPlayer app.

What makes BBC unique is they only broadcast their shows for 30 days after its release which makes it impossible to watch all the episodes of a particular season together but here is the good news for Samsung smart tv owners, they can download this app on their Samsung smart tv and watch their favorite episode of almost any show whenever they want.

To sum up we can only say that you really don't wanna miss out on this Samsung smart tv app!
Although people prefer Netflix and prime when it comes to video or movie streaming app for Samsung smart tv but let me tell you Hulu app is as good as any other streaming app. Though you will find many options in its subscriptions and you can choose whichever suits you.

The cheaper one subscription has a limited movie or web series collection and it will also show the ads in between. Another one is the premium one where you will get an expanded collection of movies but the ads will be still present (although less than the cheaper ones). it will provide you some of the best shows like The Mindy Project and many more amazing shows.

You can also get Hulu with Live tv bundle that will provide you on-demand content along with a few live tv channels. Overall it's a great Samsung smart tv app to download.
Another must video streaming app for Samsung smart tv. Although it has been launched just a few years ago but it sure as impressed us with its phenomenal content and some of the best web series that you can just find here.

You will find an impressive collection of movies that you just can't resist to watch on a lazy Sunday afternoon. It has really cool features and one which is you can first see the content it is gonna provide you and then subscribe to it.

It had gained massive popularity for Samsung smart tv app and almost every other Samsung tv owner has prime on their tv.
It's clear that most of your time on your Samsung smart tv is gonna spend streaming videos and movies and what's a better choice for that than Netflix? Netflix has been launched nearly a decade ago and since then it is a favorite choice for streaming movies and shows on tv.

Are you the king why Netflix is first on our Samsung smart tv apps list? Well, it should be pretty clear by now that the kind of content Netflix has provided over the years it's nearly impossible to match its standards for any other apps.

You will find it's original shows like stranger things, black mirror and many more that you just can't find anywhere else. Give a treat yourself by installing Netflix on your Samsung smart tv.
Conclusion

So these were the best Samsung smart tv app that you must have on your Samsung smart tv. Sure you don't wanna kill the spirit of your brand new Samsung smart tv by downloading some random apps or just watching the regular live tv on it.

So the best thing you can do to make the most use of your Samsung tv is to install these apps. We hope you liked our article on Samsung smart tv apps list.