Suppose something great or extraordinary is gonna happen in your life and you just keep checking the days, hours or minutes left to that, but how about keeping a countdown app that will remind you how much time is left for the big event in your life? It will be so cool and interesting, no? Most of the people just cross mark the days on a calendar but since everything has become digitalized and virtual, how can we leave you with old countdown methods.
Keeping your excitement in mind we have bought you the best countdown apps for Android and iPhone. So take a look at the list of best countdown apps and pick up the one that suits your personality!
Countdown Apps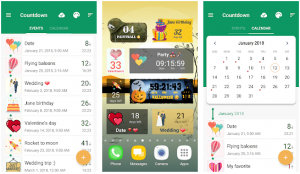 1. Countdown app – death? There's an app for that Android / Iphone

We are sorry that we are starting our list with this app, but it's really interesting. Though it is not made for the sole purpose of count down but it can surely add some weird fun in your life. What you can do with this app is, download it and it will tell you how many days are left for your life.

Why it is fun? Well, you can prank on someone, since this app is based on a movie namely COUNTDOWN in which a nurse finds out she only has 3 days left before she dies so she does whatever it takes to save her life. It will be fun you and your friends use this app on a get-together and have a laugh about the results!

Note: don't take the results seriously this app is made for entertainment purposes.
2. Countdown days – app and widget Android

Countdown days is one of the best countdown apps for Android and iPhone and you can definitely choose this one if you have something big coming. It has many great features that make it the best countdown app that you can find online.

One of the best features of this countdown app is you can set count down's for different events in a single view so that you don't miss any big event coming in your life. You can customize each countdown with deciding colors and fonts for different events. You can also import events from your calendar and share them with your friends. So if you are looking for the best countdown app this might be it!
3. Countdown widget Android

Okay, this countdown app is specially made for those who want something extraordinary and doesn't go in normal ways, this countdown app will tell you the time left in your heartbeats! Confused? For example, if you have set the countdown for your wedding day then it will tell you the time left "in 1720000 heartbeats" isn't it crazy. You will get the value of each heartbeat it will surely make your wait worthing!

But if you want you can set it for months, days, hours, minute or in seconds too. It will show you the countdown in amazing widgets. You will find many other interesting features in this countdown app!
4. Final countdown – widget Android

It's also a fun way to get your countdown started for the big events. It's is simply awesome as it is an app as well as a widget. You can easily resize the widget and place it anywhere on your home screen. This countdown app is best for both android and iPhone and you can easily sync it with many of your devices.

You can easily customize the widgets according to your taste. There are lots of cool background available in this countdown app. You can also share some of your customized countdown apps across all the platforms.
5. Days left countdown timer Android

Days left is among one of the best countdown apps for Android and this one makes sure that you never miss an important event. You can easily make a widget of it's and add to your home screen. It is so easy to use and does get you any complex features that can confuse you.

Just add the widget to your home screen and keep the track of time left for your meetings, birthdays, etc. Its design and layout is also very simple and yet very impressive.
6. Time until beautiful countdowns Android

Its also an amazing countdown app to have on your smartphone and you will be super impressed with this one. Just set the timer to know how much time actually left for any event, meeting, birthday, etc. You can see the remaining time in months, days, hours, minutes or even in seconds so that you can get the complete idea about the time that is been actually left!

And if you think countdown apps are just a burden on your phone's storage then you deny have words because this countdown app comes in surprisingly small size and has all the cool features that you can look for in a countdown app. So if you wanna set a countdown then download time until!
7. Countdown time – event countdown and big days widget Android

You won't find a better countdown app than countdown time, if you just need a countdown app for all the bog events coming in upcoming days then this should be your first choice.

It will track as many events as you want, that is, it supports multiple countdowns for different events at a time. You can absolutely customize the widget with its many themes options and hundreds of background. Its design is very sleek and impressive. You can also personalize it by headings and display modes.
8. Countdown days app and widget Android

Countdown days app and widgets is one of the best countdown app that you can find. Have multiple event coming? No worries, add countdown for different events and keep track of every one of them so that you don't miss out on any event.

Is anyone's birthday coming? how about setting a countdown widget with their photo, sure it will be cool and you can do this on this countdown app.
9. Countdown timer Android

If we talk about this countdown app and what makes this popular then the answer will be its super awesome design and ability to create a countdown in a stunning way. It is one of the simplest countdown app for android that you can have on your phone.

You can simply set a timer or start/stop timer. If you want you can also go back to the initial value. You will see some of the best ways of display with its animated counter wheels.
10. Countdown by time and date Android / Iphone

Hundreds of thousands of thousands of people have chosen this countdown app for keeping track of their upcoming big events. Add the location and date of the event and this app will keep you updated about how much time you actually have left for the event.

Its design is unique and pretty amazing so you will enjoy the countdown. You can also choose your own photos for the countdown.
11. Countdown for events Android

Countdown for events is one of the countdown app for android to keep track of the time for any of your upcoming event that you don't wanna forget. You can set unlimited countdowns in this app and you can count the days in the status bar.

You can customize the alarm settings with its many great functions. Download this countdown app and you won't get disappointed.
12. Big days – events countdown Android / Iphone

Big days are usually known for its stylish design that one just can't resist to look and appreciate. You will be thankful to us that we have introduced you to this countdown app because it is that good.

You can customize it by choosing a picture from the gallery for saving any event. It will create a notification for every individual event so that you can enjoy the journey to the event. You can list all events and add unlimited events in this countdown app. You really don't have to give this countdown app a second thought just download it and make your wait worthy.
13. Minimalistic countdown timer Android / Iphone

This one also a great countdown app to have in your smartphone. You will never know when can you need this kind of app so download it and when you see an important thing coming in days just set the countdown for that and don't live room for forgetting or missing that event.

You will get many optional sounds that you can set for the countdown ring loudly when the event is near). It is very easy to use and its intuitive design will simply impress you. You can choose any unit for the event count down.
14. Vacation countdown app Android / Iphone

This countdown app is specially made for those who love to travel. We all make crosses in our calendar when we are waiting for that big a trip but now you can just set the timer on your phone and plan your trip accordingly.

You will get many features to customize the countdown app according to your taste.
15. Countdown+ widgets calendar lite Android / Iphone

Create your personalized countdown widget with this app and add as many events as you want. This also a very popular countdown app.

You can sync this countdown app with your Facebook. It will also give you many cool features. So head to the play store and download this amazing countdown app.
Conclusion

So these were the 15 best countdown apps for android and iPhone which will make sure you never miss an event in your life. We hope you find this article helpful.