We all need an app that can tell us about the room temperature that we are in. Although it is necessary to have built-in thermo sensor in a phone to know the temperature of surrounding air but if you don't have one you don't need to worry about it because there are few apps present that can function as a real thermometer and can tell you the exact temperature of your surrounding.
Here are some of the best thermometer app that can lend your phone a thermal sensor ability and you can easily get the right temperature.
Best Thermometer Apps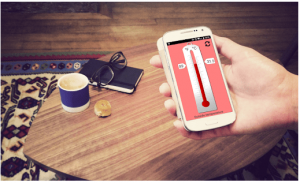 1. Thermometer Android

It is one of the best thermometer apps for Android and iPhone and you will find many great features from this app. It's really great how you can know the temperature of your surroundings by just installing a third-party app on your phone.

It has over 5 million downloads and they all are super happy with its service many have claimed that it works just like the real thermometer. The features you will find in this thermometer app are as follows.

1. Real thermometer look. It will just file like you have a real thermometer in your hand while you use it.

2. Analog and digital readout. You can set the readout either in an analog way or in digital form, whatever suits you.

3. Celsius and Fahrenheit scale. You will get both the Celsius and Fahrenheit scale so that you can choose whatever you like.

4. Indoor and outdoor options. Set the thermometer on indoor or outdoor option so that it can show you better results according to your surroundings.

5. Weather background. You can choose a background from many choices and if will give you a realistic feel. There are a total of 9 different background.

6. Animated liquid. It looks like actual mercury liquid in thermometer. And you can choose a customized liquid from 4 liquids.

7. It's completely free and you won't find annoying full-screen ads on this thermometer app.

So its basically clear that you can easily rely on it and download this thermometer app in your android or iPhone smartphone.
2. Digital thermometer free Android

As its name suggests this is a free digital thermometer app that shows the temperature of your surroundings. You can set the unit according to your comfort, both Celsius and Fahrenheit temperature units are present.

But it is much more than just a thermometer app that displays much information like longitude and latitude of your location, wind speed in your region, humidity and altitude. It can be useful if you are outside the city and want to know your surrounding. Overall it's a great choice for a thermometer app.
Thermometer++ is undoubtedly the best thermometer app with some smart features. It has over 5 million users all around the world and they all have considered it as one of the fastest and accurate thermometer app.

It will show you the current outdoor temperature along with other information like humidity, pressure etc. All these are done by the location of your phone. It gets its weather data by the nearby weather station. You can choose a location on the map and change the temperature unit (Fahrenheit and Celsius). It's an easy to use app and it has a very pretty design.
4. Thermometer Android

Another temperature app with different functions. You will get the outside temperature of your location so you can plan your day according to that. This thermometer app works on wifi and it will get you all the information regarding the temperature. But it is not a thermal sensor app and doesn't use a GPS location to get you the temperature information.

It is pretty accurate and reliable when compared to other thermometer apps. And it is definitely a great thermometer app to download on your smartphone. It has a very realistic display.
5. Thermometer free Android

Thermometer free is one of the simplest thermometer apps for android and you will definitely love it at just your first use. You can easily measure the temperature of indoor and outdoor. Although you will need to enable the network connection and location of your phone to get the temperature of your surroundings but its totally okay considering how accurate and reliable this thermometer app is.

It will also show you the temperature forecast for the next 7 days. The default unit of this app is Celsius but you can easily change it to Fahrenheit from the settings.
Smart thermometer is a must-have thermometer app in your smartphone.it has many cool features that make it best and on number 6 on our spot. You will be impressed by it in just one sight. It will use the temperature sensors in your phone and tell you the surrounding temperature of your phone. It's and very simple and easy to use. And once you will download it, it will be your default temperature app.

You can get the temperature of your surrounding area instantly and accurately. It also has an intuitive design from which you can't take your eyes off. So head to the play store and download temperature app for your android smartphone. If you don't have a temperature sensor in your smartphone then this app will show you the temperature from the web.
7. Room temperature Android

If you are conscience about the temperature of your room and always wanna know the accurate temperature of your room then this should be your first choice to download a thermometer app.

It's really easy to use to, you will just have to open the app and wait for a couple of seconds and you will get the temperature of the place where you are in Celsius or Fahrenheit. Its a really reliable thermometer tool for those who wanna know the precise room temperature.
Real thermometer is also a great thermometer app to have in your smartphone app. You will be surprised to know that this is one of the best thermometer app for android and iPhone and you will definitely get an accurate temperature with its cool thermal sensors.

But if you don't have the built-in thermal sensor in your phone then you don't have to worry, just leave the app on standby and it will collect the information from the web and show you the accurate temperature. You will need an internet connection to get the information about the temperature of your surrounding place.
9. Thermometer Android

This thermometer app not just for providing merely temperature information instead it works like a mini weather app that can tell you about all the information of your day's weather and its temperature so that you can know what should you wear for the day.

You will be definitely get impressed by its attractive design and the way it displays the temperature information. No special permission is needed and it totally works on the sensors of your phone.it is best suited for indoor temperature and it will also give you information about the humidity, pressure, with a detailed weather forecast.
10. Thermometer Android

It is also a popular thermometer app and you will simply love it. If you just wanna have an app that tells you the accurate room temperature without any additional information then this thermometer app should be your first choice.

Its really simple and easy to use and its layout design is also great. It will indicate the weather conditions as icons.
11. Thermometer for room Android

Thermometer for room is the best choice to have on your smartphone if you wanna know about the temperature of your room. This thermometer app for android users the built-in sensors that can tell you the exact temperature of your room and its designs is also very intuitive and easy to understand.
12. The bouncing thermometer Android

If your smartphone is equipped with thermal sensors then you can't find a better thermometer app than this one. You will definitely find it helpful when it comes to know the room temperature. It shows the outside temperature based on your location and you can choose any location from the world to know the temperature.

Just like the real thermometer watch its mercury level rise and fall. This thermometer app is made for all devices with or without the inbuilt sensors.
13. Electronic thermometer HD Android

You won't find a better thermometer app than this one, it shows a precise temperature of air surrounding the phone which is considered as one of the best features of this app. For the device which don't have a built-in sensors app, it uses the battery based data and tells you the temperature. Although such temperature can vary from actual temperature but you will get a rough idea about the temperature.

You can place it directly on your home screen as a widget or a wallpaper. Overall you can give a try to this thermometer app.
This thermometer app for android and iPhone has over 10 million downloads which tells you how great this app actually is and you definitely rely on this app to get an accurate temperature.

It's really quick and very easy to use so if you are looking for the best thermometer app to download then this can be it.
15. Classic thermometer Android

If you like to have a thermometer app that's shows temperature in digital style then this would be a perfect choice for you!

Download this thermometer and be updated with the room temperature.!
Conclusion:

So these were the best thermometer app that you can download on your phone.