If you are reading this article then you must be a book worm, and we know how important is to find a great reading app that gives you the best reading experience. It is surprising how quickly these reading apps have replaced traditional printed books and the way we used to read our books. The great thing about reading ebooks through reading apps is that you get a lot of features that are just made for you and personalize your way of reading. Check out these best reading apps for iPhone and Android.
Best Reading Apps For Android & Iphone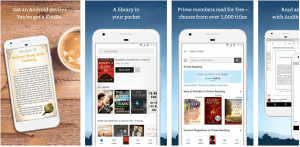 It is the best reading app that you can find. It has over 100 million downloads and 4.2 rating. People have downloaded it and people have loved it! It is specially built for book lovers and you can find millions of books, magazines, newspapers and even comics at your fingertips.

One of its great features is it has audible narrations, if you feel like not reading but listen to some of the great books then it is a great place for you. You can find your next read in seconds. You can find new releases, best sellers and explore new titles across many genres like science fiction, romance, religion, self-help, children's books and many more.

If you are an Amazon Prime member then you will get over 1000 books, magazines, comics and so much more to read and listen. You can subscribe to kindle unlimited to get access to millions of books, comics, etc. And you can also subscribe to current magazines for $9.99/month.

They took its customization features to the next level! You can set the font type, text size, text alignment, margins, and orientation just the way you want. Adjust the brightness and background colors and get different experience for day and night. You can look up to different words and find about the people, and place you are reading about. Overall this a great reading app for android and iPhone. It is surely worth a try!!
2. Wattpad – where stories live Android / Iphone

This reading app is also a great choice as it has 100 million downloads and a slightly higher rating of 4.2 (more than kindle). This app is made for those who want to relieve the stories through books. Discover the best platform for social storytelling. If you want to connect to the other readers and writers community this is the best platform for that. You can too start writing and reading here.

You will be a member of the international community of story lovers, you can follow their work and get inspired. You will find the widen genres like LGBT drama, cyber fairy tales, techno-thrillers and so much more that you won't find anywhere else. And the best thing about this is they will provide you original contents. Inspire yourself and keep reading all the amazing work with this free reading app.
3. Google play books – eBooks, audiobooks and comics Android / Iphone

There isn't anything you can't find through google apps! Find all the bestsellers on this reading app for Android and iOS devices. It has over a billion users worldwide and it has a good rating of 4.2. No matter what you are looking for, from audiobooks to comics you will find all of it here. Choose from millions of books, magazines, and other stuff to read and just download them to read or listen anytime anywhere you want.

You won't need a subscription for using the reading app and you can just buy your favorite books and comics right away and read them anytime. You can get free preview samples of audiobooks and millions of catalog of famous books before you buy them. You can read textbooks on android, iOS, or web browsers and you can pick up the books where you had left. You can read them offline too.

It's night light settings will automatically adjust your brightness.

Read them and share them with your friends and treat the reader in yourself through this best reading app.
4. eReader prestigio: book reader Android

If you are looking for a reading app that supports many languages then you are at the right place. Its intuitive interface supports over 25 languages. Its in-app library has over 50000 texts for both adults and children. So it will be a great reading apps for kids too. You can find books to read and listen and enjoy them just the way you want.

It supports many book formats like EPUB, PDF, HTML, TXT, MOBI, etc. You can synchronization your book files through Google drive, one drive and Dropbox and you can read the books from where you have left them from many devices. You can easily scan your library to find any texts and books.

There are many books available for download for free and you can buy many books though its vouchers. It's customization features include changing text size, font type, adjust margins and text alignment. Night mode is also available so that you can easily read the books in dark.

Create your wish list and find every book you need through this reading app for kids and adults.
5. Moon reader Android

It is one of the most innovative and powerful reading app available for Android. You can find tonnes of local books and lots of original and innovative content through this free reading app. You will also get choice from thousands of ebooks to read from.

It supports many book formats including CBZ, CBR, UMD, DOCX, ODT, MOBI, PDF, HTML, etc. You will get 10 built-in themes including day and night mode to engage your reading experience and 24 customization tools. They do provide you the backup/restore option via Dropbox/web save and you can also sync your books with other apps and devices.

You get its pro version If you want some advanced features like ad-free, shake the phone to speak and so on. Try out this reading app for android now.
6. Rivet: better reading practice for kids Android / Iphone

This is the best reading app for kids. Help your kid to practice reading with over 3500 free books. Make the reading journey for your kid easier with its right level and books that are specially made for kids. A reading support is available on every page where four kids can get any help he wants with reading and it will boost his confidence to read.

There are 8 reading levels present so that your kid will learn faster and easier. Its interface is kid-friendly and engaging. They can tap on any difficult word and know what it's mean. Track your kids reading practice and progress. You can search for any book by category and find the perfect book you are looking for. You can play the audiobooks which will make your kid learn and understand better.
7. Voice aloud reader (TTS reader) Android

This reading app will read all your long texts, long emails and read them allowed for you. It also supports many text formats and even recognize the Chinese and Japanese text.

Read the ebooks in all the formats and start listening to the audios when your eyes hurt but either way this app will make sure you never miss out on your favorite books. You can use your headphones to listen to the ebooks and of the screen if you want. Overall it is a great free reading app.
8. Free books – read & listen Android / Iphone

You will be thankful to us as we have found you the best free reading app that will provide you thousand of free books free of cost! Yes you heard it right as a reader there is no specific number books he/she can read, we just wanna read them all no matter what so give yourself a treat and download this free reading app now and get lost in the book world. Browse through the apps handpicked collection and get surprised at what they have to offer.

It is easy to use and incredibly designed reading app so don't miss out on this.
9. Inkitt – free fiction, books, novels & stories Android / Iphone

Again a free reading app for android and iOS where you will get the books of all the genres whether its science fiction, drama, romance, fantasy, thriller novels, mystery or even horrors.

Get the handpicked collection of novels and inspire yourself with some fine works out there. You will get a personalized reading recommendations based on your favorite genres.
10. ReadEra – book reader pdf, epub, word Android

We have a reason to call it the best reading app. It is an ad-free app, we all know how annoying those ads an be when we are so into the story and a pop-up ad ruins everything for us! And above that, you won't be asked for internal purchases.

You won't have to register, as it is a fast and reliable reader app where you can read unlimited books for free and that too offline. Manage your book library and get whatever you are looking for with just simple searching options.
Find your favorite books through its easy scanning methods. This reading app for android is just like a paradise for book lovers you can find, read and share whatever you like and see something inspiring.

Scan book covers and read reviews to get an idea about the novels or books. Best thing about this reading app is you can buy and even borrow books from convenient links that will be provided for you. After finishing a book you too can rate and give your reviews to help other readers. Discuss the books with other book lovers through messages and be a part of several groups.
12. Free stories, audio stories and books- pratilipi Android

It is a simple and free reading app with all the features that you can find. Read over 800000 ebooks, stories, poems, and novels for free. Connect with your favorite writers and share your views with other communities of readers.

You will find works of over 100,000 writers in 9 languages who have published over eight hundred thousand stories in different genres that you will simply love. The languages that you can find in this reading app are Hindi, Tamil, Marathi, Gujarati, Kannada, Telugu, Malayalam, and English.
13. Ebook reader Android

It is among the top reading apps for android. It also a free reading app and it has a user-created collection for sorting your books.  You can read your books in both landscape and portrait mode and lock the screen if you want. Turn your pages with easy swipes or tap. You will find easy navigation and easy search for texts inside the books. Shop for books within the apps. Get free classic books at your fingertips and read them.
14. Amazon kindle lite – 2mb. read millions of ebooks Android

We have already discussed about amazon kindle reading app for Android and iPhones but if you have space issues in your phone then you must try its lite version. It is a lightweight app and will only take 2mb space in your phone. It has all the features of the amazon kindle app and you can definitely rely on this lite version of its. It will also work on 2G network so that you won't have to worry about network connection to read your favorite books.
15. Ebook reader & pdf reader Android

If you wanna read your pdf or EPUB documents then you can definitely rely on this reading app. This reading app is specially optimized for Android smartphones. It has all the basic features and tools that will help you enhance your reading experience. It has a bookshelf view and find recent books instantly.
If you are a fan of fantasy and romance novels than download this reading app for free and get into the heaven of fancy novels. Get yourself in the mysterious world and live your fantasies through one of the best fantasy novels. Don't wait and download it now and trust me you won't regret your decision.
Conclusion:

So these were the best 16 reading apps for free to download and you will enjoy your reading experience through them. Not only you will enhance your reading experience but you will be saving a lot of trees by switching to ebooks.