Do you know that you should 8 to 10 glass of water? Well, we all know that but the point is how many glasses of water do you drink in a whole day? We won't get surprised if you say you barely drink 2 or 3 glasses of water per day. We all have a busy day and drinking water has become a big task! The thing is we don't even remember drinking water until we get thirsty! And that's where water drinking apps jump to our help.
Not getting enough water would lead to your poor health and it would affect your overall body health. So if you are trying to drink enough water then these water reminder apps would be a big health! But there are tons of water reminder apps present but we have picked up the 10 best app that you would serve the best purpose!
Drink Water Reminder Apps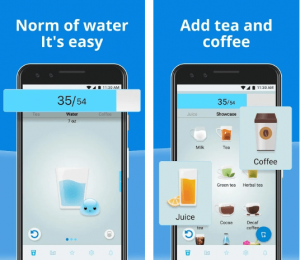 1. Water Drink Reminder Android

Water Drink Reminder is a leading app with more than 10 million downloads. It is one of the best app that will remind you to drink water throughout the day and manage your water drinking habits! The app has many amazing features such you can customize cup and set a standard measurement unit oz or ml!

You can easily set the start and end time to drink water each day. The app is synced with Google fit which shows you the graph and logs of your schedule. You can also backup and restore the water drink data easily.

The design is simple and it has an intuitive interface which makes it easy to use. So you check it out if you are looking for an easy to use water reminder app for Android or iPhone!
2. Water Reminder – Remind Drink Water Android

Water Reminder is also a great app to have if you are trying to stay hydrated. There are a number of advanced features present in the app which makes it one of the top water reminder app in our list. For starters, the app works on a gender basis and it will tell you according to your body type about how much water you need to drink throughout the day.

The app's graphics and tracker system are too pretty high which makes it easier to understand how much water you should actually drink. You can choose the water amount for every drink or you can adjust the amount of water for your past drink to manage it.

The app works pretty great to help you achieve the daily water goals and keep you hydrated and fit throughout the day. It also has a health chart from which you can understand about your health better.
3. Water Time Pro Drink Tracker and Reminder Android / Iphone

Water time pro is one the best water reminder app which you can find. What will mainly impress you in this app is the fact that it also tracks your caffeine intake and it also features caffeine rules.

The app will track your water intake throughout the day as well as the dairy intake. It will remind you to drink water with an alarm. Users will also get a free drink constructor. It will be easy to maintain your level of hydration with this app and keep your metabolism under control.
4. Drink Water Reminder – hydration and water tracker Android

Drink Water Reminder is a great app that you will wanna use for its simplicity and effective features which will make you drink water throughout the day. Customizable units are present so that you can manage your water intakes and keep track.

The app features statics of your water intake and you can easily find the amount of water you have a drink and how much you need to drink more. Its unique feature includes a water calculator too. Overall it's a good app on which you can rely on for your water drinking water!
5. Drink Water Reminder: hydration App Android

Another app with the same name but this drink water reminder app do vary a little bit when it comes to the functions. You can set your own water drinking goal and the app will help you to achieve them by reminding you via alarm. People love the app for its easy and intuitive interface. You can easily get the records of your water intake and know how much you need to drink more. The app also lets you choose from different types of cups.
6. Drink Water Reminder app Android

Drink Water Reminder app comes with a smart reminder which won't disturb you at night. Here too you can set the water goals for yourself. The app has an advanced feature that lets you track your weight loss so that you can keep track of your health. There are a number of other features too present like customization do cups and set the units. You can also set the target for the day.

It is synced with google fit and S Health and you won't have to worry about losing your data as the app keeps the backup and you can easily restore the data.
7. Drink water Reminder and Water Tracker – Hydro Coach Android

Hydro coach is the ultimate solution for getting your water drinking habit in order. It has a smart reminder which reminds you to drink water at regular intervals. There are 80 different vessels from which you can customize your cup! It also has a daily/weekly/monthly analysis.
8. Water Drinking Reminder – Drink water Reminder app Android

Drink Water Reminder App will let you track your daily water intake in different units. Here you will receive the water drinking reminder at some intervals throughout the day so you won't forget to drink enough water.
9. Drink Water Reminder – Water Tracker and Alarm Android

Water tracker and alarm is synced with google fit and it helps you to keep track of your water intake and helps you to get fit and lose weight. You will find a number of statics and analysis for the water intake throughout the day.
If you wanna get a customizable reminder for drinking water then you can download BeWet. It's an easy to use app that has pretty great features which will help you to drink water regularly throughout the day. You can also add your own customizable drinks!
Conclusion

So these are the best apps that you can rely on getting enough water for a whole day. Choose the app that served your needs better from the above list. Stay hydrated and stay healthy!