Booking tickets can be a headache as going to bus booking agents or buying last-minute bus ticket at the bus station can be a lot of work too as well as expensive. Since everything is happening online, we are here to talk about the best bus apps that you can find in India!
These apps will make your ticket booking process a lot easier as well as cheaper in some cases. You can easily compare the prices of buses in these apps and book before days! So let's not waste any more time and take a look at the list of best online bus ticket booking apps!
Bus Ticket Booking Apps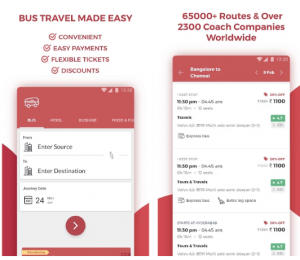 Over ten million people in India are currently using redBus app for booking bus tickets. If you quickly wanna book the bus ticket then it is the best bus ticket booking app as it provides an instant and safer way to book tickets! You will find a number of filters to choose your bus, for example, you can look for a specific departure time, any bus operator, prices and reviews. You can also look for pick up and drop points and that's one the best feature of this app.

The app also provides a simple, secure and one-tap payment option where you save the card details for future use too. You can easily cancel your ticket too on this app. Other than this, you will also find a live tracking so that you can easily track your bus!
AbhiBus is also a very popular app for booking bus tickets. The app is best known for providing the cheapest bus tickets as you can always compare the prices of different buses on this app and apart from this, the app gives many in-app offers for booking tickets! The app provides a number of filters so that you can find what you have been looking for, for example, you can sort out buses as AC, Non-Ac, sleeper, seater etc.

The app also provides an easy cancellation process and it has a very secure payment options too. The payment options include debit card, credit card, net banking, UPI, and other payment wallets! And just like the name of the app suggests you can also book hotels too from this app. its hotel booking service to provide you many filters to make your booking process easy!
MakeMyTrip is a leading app that is used for booking bus tickets. Over 50 million people are using this bus ticket booking app in India and it is unarguably one of the most popular app for the job. What you will find here is an easy way to book your bus tickets and you can easily search for the bus that you would prefer. You can easily search for AC buses, Non-Ac buses and book sleeper or seater tickets as you would prefer.

You can easily make an informed decision by looking at the ratings and reviews of buses. So make your trip easy by using this bus booking app!
Goibibo is also one of the top online bus ticket booking app that you can find. There are a number of features available which will make your trip easy or at least worrying about ticket booking is not gonna be a headache.

The app provides real-time bus tracking features and you can easily travel using your m-tickets. All the major bus operators are present on this app so you will find the best bus service. Apart from this you can easily search for a bus which you would like to travel in. The app accepts almost all kinds of payment options. Goibibo also offers other services such as booking for flight tickets, bus tickets, cabs and booking hotels, so its kind of a whole package.
Yatra is also an emerging bus ticket booking app. Just like the above-mentioned apps, here too you can easily find filtres to where you can book your preferred buses. No matter if you are looking for an AC bus or Non-AC bus you can find all in here. Search for the bus that departures at time which is most suitable for you. Yatra provides buses for over 1500 routes across the country.

If you are going on a business trip then its hotel booking service will be helpful for you, where you can easily search for hotels and book a room for yourself. Other than these you can book tickets for trains and flights too. The app frequently gives extra discounts and you will happy to know that you can earn some in-app currencies which can be redeemed when you book your next bus ticket!
Ixigo is a popular app that is known for booking flight tickets but little did people know, you can also book bus tickets from this app too. it's easy to use app that provides a great service when you are booking a bus ticket.

Ixigo is a complete package where you can not only book bus tickets but you can also manage your whole trip as it also includes hotel booking and cab booking via this app. The app offers you a great deal on bus tickets that way you can save yourself some money!
7. RTC bus, private bus booking by confirmTKT Android

Unlike other apps on this list, RTC is solely made for booking bus tickets! Here you will be able to find a suitable bus for you and book the tickets for it. The app covers 100,000 routes and it has over 200 operators.
8. Online Bus ticket booking all in one Android

Just as its name suggests this one is too a pretty great bus ticket booking app in India. Here you can to find all the services and features like searching for ac or non-ac bus and booking via the app.
9. KSRTC AWATAR NEW Mobile App Iphone / Android

This one is also a great app to book bus tickets. Here you can easily book your tickets as well as cancel them. What people have liked most about this app is that it provides PNR queries too!
10. IntrCity smartBus app Android

IntrCity smart bus app is also a great online bus booking app that provides you a number of unique features of a smart bus and they include washrooms in bus, blankets, clean sheets etc. If you wanna travel in luxury buses with all the facilities this app might help you!
Conclusion

So these are the best bus tickets booking apps that you and we hope you have a great traveling experience with these apps!