Gone are the days when we have to wait on a taxi stand to wait for the taxi when we have to go somewhere, nowadays just book a cab from your smartphone and the cab will be at your doorstep to receive you and drop you wherever you want. We know you might know a couple of cab booking apps but there are plenty of them and each gives you a different service, so here we have picked up the 10 best cab booking apps for Android and iPhone, which works efficiently and you will never be late just because you didn't get a taxi at the right time.
Cab Booking Apps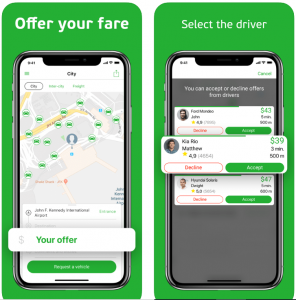 1. inDriver – better than a taxi Android / Iphone

Most of you must not have heard about inDriver but it is one of the best cab booking app for android and ios. This cab booking app is available in more than 29 countries where it provides you can booking service where you can save up to 30 percent on your cab fare.

Download this cab booking app and easily book a cab with simpler steps. The app works for you, you will choose the fare and further the driver. Go through driver's ratings, arrival time and many other things and then choose your driver. It's easy to use and definitely worth a try to get cheaper rides!
The Uber lite app is a smaller version of the Uber app and its one of the best cab booking app out there. There are plenty of great features available in this cab booking app for iPhone and Android. Firstly you don't need a strong internet connection to book a cab. Secondly, they have kept the security of its riders in mind as you can easily track the location of your cab and share the trip with your friends.

You can choose the price which fits your budget and above all you can choose the vehicle of your cab too. So have a happy, comfortable and efficient ride with Uber lite!
Over a hundred million people are currently using Ola, making it one of the best cab booking app in India! The app has a lot of features that makes it among the top can booking app.

Not only you can book a cab but you can book an auto too, furthermore you can share your cab with another person to save up to 50%. You can book whatever vehicle you want to ride on from autos to luxury sedan. Ola also offers multiple ways to pay that is via card, cash or UPI.
4. Taxi Booking – Cab booking app Android

Taxi booking is also a leading cab booking app for android and iPhone in 2021 and you will find plenty of great features that will make your ride easy. The thing with this cab booking app is that it provides all the leading cab booking apps like, Ola, Uber, Meru etc at one place and you can choose the one that suits your needs the most!

Ride with full safety as you can locate the cab on your phone and share your location with your friends. Choose the payment option you prefer. You will find everything in one place, what can be better than this?
Another emerging cab booking app is Meru cab which servers you with plenty of convenient features. This cab booking app is known for its SUVs like sedan, hatchback and so on which will make your ride convenient and comfortable.

They accept multiple payment methods like cards, cash, UPI or in-app wallet. So you can get a cashless ride in all the big cities of India. Another best thing about this app is you can book a cab days before, say you need a cab at the airport after 2 days then you can go for a "book later" option in this cab booking app.
If you wanna get some affordable rides then Jugnoo is the best cab booking app for you. The app has many advanced features such as, the app will use the GPS to track your location and you can request for a cab after it is confirmed by the driver, he will reach to your location within a few minutes.

You can easily track the location of your cab on the map. This cab booking app for Android and iPhone also accepts multiple payment methods. The app offers free rides when you refer it to your friend.
Red taxi is also an amazing cab booking app to download and you can completely rely on it for a convenient ride! This cab booking app features two kinds of vehicles that is sedan and Hatchback. It is easy to use and you can save your home and office address for future uses. Easily track your cab and share the location with your friends and family.
8. Rapido – Bike taxi Android / iOS

If you're looking for a cab booking app where you can get affordable and tastes rides then Rapido is the best app for you. It actually is known for bike taxi, where you get bike rides which are significantly faster in traffic than cars. It's one of the best emerging cab booking and app and you can totally rely on this one if you are in a hurry to get somewhere!
Enjoy the lowest price cabs with pride. You can book the cab for your whole group or book for yourself only. The can will get you some of the best features and you will love the app for its instant service and comfortable and safe rides.
10. Fasttrack cabs Android / iOS

The name says it all, FastTrack cabs is best known for its instant service. This cab booking app will definitely impress you with its service so next time you are looking for a cab booking app you know where to find it!
Conclusion

So these are the best cab booking apps which will ensure you a convenient and safe ride!