We all love watching movies. whether we are sad, happy or just bored a good movie is always there to save our day or make it better. Although it is hard to decide which movie you wanna watch but what's harder is where to watch! It can be a toughie to find a free site or app that lets you stream your favorite movies for free. We have bought you a list of top movie apps for Android and iOS that will keep you entertained with all of your favorite movies.
Best Movie Apps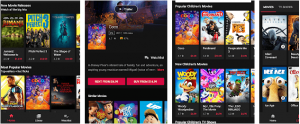 You must have a YouTube app on your phone and you see funny videos, songs, and so many other things but do you know you can find good movies too? Yes, you heard it right worlds best video streaming app is also a great movie app where you can find your favorite movies in good quality. We strongly recommend you to search for the movies you are looking for in the YouTube app, there are great chances that you will find the movie in high quality. You will be shocked to know that a lot of production companies officially upload their movies on this platform to earn some extra money (they are generally free to watch and earn from ads). It is one of the best app to watch movies as the movies will be available in HD that too on less data usage and slower connection. As you already know YouTube is available for both Android and iOS it is a great choice of app to watch movies for free.
2. Google Play Movies & TV Android / Iphone

Not many people know about the great services offered by Google play movies and TV. It is the best movie app as you can rent or buy your favorite movies, but many times Google offers free rental of movies and services, just keep checking the app of these limited rental offers and grab the opportunities as soon as possible. Google play movies and TV also offers some surveys where you can win rewards points which will ultimately be used to buy or rent the movies and the surveys will only take a few minutes. Overall you can find free movies and TV shows to watch and this is a top movie app for Android and iOS that offers high-quality movies legally and officially. You can also download your rental movies to watch it later. If you wanna watch the movies and can't find where it is available then you can search the movies in this app and it will find your streaming app on which it is available.
3. Tubi – Free Movies & TV Shows Android / Iphone

It is a free movies app for android and iOS. If you are a movie fan then this is the best movie app for you, one of the best thing about this app is you will never run out of movies as they always update new movies pretty much every week. The movies on this app are absolutely free to watch and you won't need to spend even a single penny to watch your favorite movies as their source of income are ads. The movies are categorized in genres like drama, action, comedy or horror to make your search easy. You can also watch documentaries, Korean movies and many more on this free movie app.
4. SnagFilms – Watch Free Movies Android / Iphone

This free movie download app is absolutely free and legal with over 5000 movies to watch! Yeah, they have over 5000 movies from different genres like action that will give you a good adrenaline rush and comedy that will make you laugh till your stomach hurt! You can find many critically acclaimed movies and documentaries to watch. It is legal and free of cost movie app for Android and iOS. If you have a smart tv then you can watch movies on your tv using android tv. It updates new content and movies every month so that you will always have something fresh to watch.
5. Viewster – Anime & Fandom TV Android / Iphone

If you are sick of getting subscription and paying for movie apps then we have a solution for you. Download this free movie app and enjoy all the favorite movies for free of cost. You will find everything from sci-fi fiction to popular anime shows, they have a superb collection of amazing movies that are fans favorite. They picked the movies that are loved by everyone and being appreciated by every age group. You just need to download this free movie up and you will be angle to watch movies for free without a signup. Its newsfeed styled homepage will help you to find recently added movies and tv shows, you can personalize your newsfeed too. You can watch later your movies with this free movie download app.
6. Popcornflix – Movies and TV Iphone

This movies app is as interesting as its name. Grab your popcorns and watch your favorite movies in your bedroom comfortably. There is nothing better than a good movie to relaxed it will be more amazing if it's free, no? You will be thankful that we have introduced to this best movie app for android and ios. There are 700 elite movies available for you to choose from. You can select the movies by their genre and watch them whenever you want. You may see a lot of ads because that's the source of its income.
7. Sony Crackle Iphone

One of the best movie app is now available for both android and iPhone. You can download this app and stream lots of movies that have been loved by people. You can also watch some of the crackle's original content as they release them every now and then. New movies are constantly added for your unlimited entertainment. You can subscribe to it by signing up to get its premium features like watch the last played movie or playlist, in case you switch devices you will still be able to get your personalized playlist of movies.
If you love movies other than topical Hollywood movies then this is the best movie app for you. There are thousands of foreign films, documentaries and lots of amazing content that you will simply love are present to keep you entertained. There are lots of unique content films from different genres present. You don't have to worry about complicated fee structure or payment method as they are absolutely free to watch. Although there is an option present to buy its premium subscription that will get you access to its full catalog. This free movie app is available for Android and ios devices.
This is one of the best movie app specially made for anime lovers. If you do enjoy anime shows then you should download this app now and we bet you will be super impressed with it. It will provide you 25000 episodes or the latest anime that will keep you engaged with it for more than 15000 hours!! It is like a paradise for anime lovers. Some of the best anime are demon slayer, one-piece, naruto along with many more. It is a free app but you can try its 14-day premium subscription for free that contains no add policy and the episodes will be airing after an hour releasing in Japan. It is available for Android, ios, Xbox one console, play store, etc.
This movie app for Android and ios will also provide you some free movies and tv shows. You can watch your favorite movies and TV shows in many languages. You can watch blockbuster Hollywood and Bollywood movies without any trouble. It's premium subscription will get you hotstar originals and HBO content like game of thrones! You can watch many shows from big bang theory to greys anatomy.
It is a part of jio series of apps, where you will get many Bollywood and Hollywood movies for free. If you have a jio id you can watch the contents without paying a single penny. You will be amazed to go know that they provide thousands of movies and TV shows that has been loved by many people and picked from fans' choice. You will get many genres to choose from and you can watch these movies on android, ios devices or even on the web.
12. Airtel Xstream (Airtel TV): Live TV, Movies, Shows Android / Iphone

This free movie app is provided by airtel for its users. If you are an Airtel user then this is the best movie app for you. It is available for both android and ios devices. You will find a vast variety of movies where you can watch all the latest movies. All you need is to buy a specific data plan from the company and you can stream movies of your choice for free.
13. Movie box

It is a top movie app for iOS devices. It works really well and lets you stream the latest movies and tv shows for free. It has a large collection of movies that you will simply love and it daily updated new movies.
14. Popcorn time

This is the best movie downloading app for android and you can even stream on your android tv and windows. It streams movies directly from the torrents and you can save yourself from the trouble of downloading movies and shows from torrents and save some time. It is a great way to download the latest movies as its download speed is significantly fast.
15. Terrarium TV

It should be the best choice for free movie downloading apps, as it will allow you to go download as many movies as you want so that you can watch it later. It is among the best movie apps for android. Its layout is very organized and you find what you are looking for straight away. Overall this movie app definitely worth a try.
Conclusion:

So these were the best free movie apps for Android and iOS. No matter where you are and what are you doing there is always room for a good movie that can lift your mood and make you feel better. Download these movie apps now and enjoy yourself. We assure you, you won't be disappointed with these apps.