When we are traveling on the train there are times when we need some help like where is the train or book tickets for trains and platforms. The best thing about train apps is that you get to know where is your train because half of the time we are clueless.
We have bought you the 10 best Indian railway apps for Android. These will assist you in your train journeys and tell you everything you need to know about trains or book tickets. Make your train journey easier with these Indian railway apps.
Indian Railway Apps For Android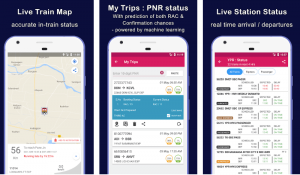 1. Indian Railway Train Status: Where is My Train Android

We have placed it on number one because Indian Railway Train Status has become everyone 's priority when they need to travel via train. You can do the planet of things with this Indian railway app for android. The app will give you a quick result about where your train is and you can ask all kinds of quires via this app.

You can get line train status, time tables, PNR enquiry (along with predictions). You will be always aware of your train status, whether you are running late or early or on time, your exact locations and nearby stations. Not only you can get the information but you can also share them with your friends and family and they will know your location too. It got plenty of other features too, so you can definitely rely on this Indian railway app for Android.
2. IRCTC train PNR status, NTES rail running status Android

IRCTC train PNR status is an official IRCTC partner and that is why it's one of the best Indian railway app for android. It's accurate and you are gonna love it. With this app you can easily book the train tickets and know it's location on your android smartphone.

The best thing about this Indian railway app is you can easily know the running status of your train even if you don't have an internet connection and that makes it best because half of the time when you are traveling on train your network will be gone. It won't change any service charge so you can book your tickets without any additional fees.

Additionally, you can also book bus and flight tickets and nearby hotels too. So it's a great app for Indian railway and you can perform multi-task with it!
3. Where is my Train: Indian Railway status Android

Where my train is another best Indian railway all for Android 2021 and it's a must-have if you are frequently traveling via trains. It has a very intuitive interface which shows you live and exact location of your train with a full schedule. It won't need an internet connection as it works perfectly offline.

Its additional features include destination alarm so that you can easily know that your destination has arrived. It also has a speedometer. Not only you can know about the train location but you can easily know about the location of your coach and it will also give you berth layout before you board the train.

You can easily check the availability of the train and PNR status and it's battery friendly so it won't drain your whole battery. Its no ad policy is the best. From all these features we can sum up that this one is indeed the best Indian railway app for android!
4. Indian Railway: IRCTC PNR status, where is my train Android

Indian railway is definitely among the top Indian railway apps for Android and here you can instantly know everything you need to know about your train location! Get the full schedule and time table for your train and be informed by all the updates. You can do plenty of things on this Indian railway app for android, for example, you can easily book your tickets and know your live status while you are traveling in the train.

It will also provide the PNR status check and seat availability. Set your alarm for the destination to be aware of your location. Apart from this you can know the station status. And you can do enquiry via this app too whether it's about fare or time table of the train!
5. Indian Rail train Info Android

Indian rain train info is used by millions of people in India and they all have appreciated it for it's quick and easy response. You will find everything in here, for example, PNR status check, find trains, train schedule, seat availability, train live status, information about arrival and departure, easy location sharing with your friends and family and it also show you the seat or beth map so that you can find your seat easily!

Do all kinds of inquiry and always be updated with every detail of your train via this Indian railway app for android 2021. It's super easy to use with user-friendly interface.
6. Indian Railways@etrain.info Android

Indian railway@etrain.info is also a leading Indian railway app for android and it can assist you with your every train journey too! No matter where you are going or what type of information you need while you are traveling on train just download this app and you will get all the answers.

You will about the train routes and train between stations so that you will know where exactly you are. If you are back g any problems with your train availability of also shows alternative routes with seat suggestions. It's definitely a great help for anyone who is traveling via train.
NTES is also becoming a very popular Indian railway app for android these days and it has everything you can look for in a train app. It shows all the train information and it also comes with a save feature which will automatically save all the information about your train.

Be updated with canceled trains, rescheduled trains, and diverted trains so that you can plan your trip ahead!
8. IRCTC Rail Connect Android

IRCTC rail connect has become one of the leading Indian railway app for android 2021 as it is so easy to use and simple to understand. Just swipe, shuffle, select and book, yes it's that easy!

With easy registration, all the new users can easily use the app and get the required information about the train. Its security features are also very great and you will be safe with your privacy. Check your PNR status and know your location. It supports various quotas while booking the ticket!
9. Live train & Indian rail staus – locate my train Android

Live train and Indian rail status can be a big help for every trip via train. The best thing about the Indian railway app is that you won't need an internet connection to know your location and stuff.

Easily start the app and know everything about your train (its status, schedule and time table etc).
10. Indian Railways, IRCTC train inquiry, and PNR status Android

With all the basic features Indian railway app has become one of the best Indian railway app 2021. You will get every little information about your train including the train status and live location.

So download this Indian railway app and make your train journey easy!
Conclusion

Here we have listed all the top 10 Indian railway apps for android and we hope you will the apps!