Getting a tattoo is the biggest commitment for millennials, we have to actually give it thought and decide what we really want and what will actually look good. It's not like you go in there get anything you point at because it gonna be there for a really long time.
It's obvious you can't get a tattoo from a mobile app but you surely can get an idea about what kind of a tattoo design you would want and what will look good on you. Here we have picked the best tattoo design apps for iPhone and Android which you can trust!
Tattoo Design Maker Apps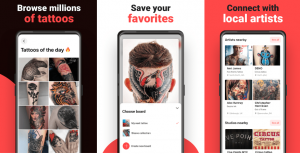 1. Tattoo maker Android

There is nothing better than getting designs from which you can select but you know what's even better? Designing a tattoo yourself! Yes and now you can do that with tattoo maker and this is indeed one of the best tattoo maker app 2020 you can find!

No matter what you want for a tattoo, you can draw whatever you want to draw or make with it's awesome collection of tools. You can easily make a tattoo design with your name or make painting tattoos with this app. The app is also popular among various tattoo artists as they can explore their creative sides and always come up with something new!

This tattoo design app includes various kinds and styles of tattoos including love, dragon, butterfly and so much more. So you will never be out of design and ideas if you are using Tattoo Maker!
2. Inked: Tattoo My Photo Iphone / Android

If you are looking for a professional tattoo editor app then Inked is would be your perfect choice. This tattoo design editor app for android is becoming very popular among youth who are highly interested in tattoos. This tattoo app is one of the best tattoo app where you can actually get to edit your photos by inserting various kinds of tattoos so that you will get a basic idea about how it will actually look!

This app is a great help for those who are deciding what should they get for their tattoo and how it will look. Besides getting your ideas the app also helps to get you shapes and color that suits your skin and looks realistic!

The app has a wide collection of more than 500 tattoo stickers, more than 250 piercing styles and 25 font styles! So you will have a great deal of choice. You can easily get tattoos on your photos via its specialized tools and then you can save and share them with your friends to show off your tattoos. Overall the app would be a great help if you are thinking of getting a tattoo or you can just have fun by adding different kinds of tattoos to your pictures only!
3. Tattoo Name On My Photo Editor Android / Iphone

Tattoo Name On My Photo Editor is exactly what its name suggests, with hundreds of cool ideas and tattoo designs the app is becoming popular among tattoo lovers who whats to experience how it will feel to have a tattoo.

This is one of the best tattoo design editing app which have a very wide range of tattoo design. Although the app is best known for "name" tattoos where you can have a name on your photos and see how it will actually look. The app has over a hundred fonts so that you can have a tattoo with different styles and see which will look the best.

It's easy to use where you will have to simply choose a photo, and then choose the designs and font of tattoo. You can easily resize and reshape the tattoos according to your preferences. To sum up this, we can only say the app truly deserves a shot if you are thinking a lot a getting a tattoo but cont decide the style!
4. Tattoo Name on My Photo Editor: Tattoo Editor Android

Another app with a similar name but it is slightly different than it's rivals. For starters, this tattoo design app for iPhone and Android has over a thousand tattoo styles to choose from, along with hundreds of font styles.

The best thing about this app is that it features 3D styles, which you can use on your photos and enjoy how it will look. Apart from this, the app is full of colorful tattoos which are otherwise hard to find on any other tattoo maker app! It's easy to use and definitely one of the best choice for a tattoo design app. You can directly share your photos on different platforms like Facebook, Instagram etc.
5. Tattoo for photo Android

Tattoo for photo is also a popular tattoo design app for android. You will be impressed by it's stunning and extraordinary designs. The app is best known for providing high definition tattoo design on your photos which will look realistic.

This tattoo design editing app will provide you a number of filters and effects which will add a significant touch you your photos. You can find a number of different designs from love tattoos to fierce dragon tattoos. And there are over 500 tattoo stickers. You will be pretty impressed by its service and you can rely on this app. And the best thing is the app doesn't add those annoying watermarks which ruins the whole picture!
6. Tattoo designs Android

Tattoo design is undoubtedly the best tattoo design app on our list. And the reason why we are calling it the best one is because the app has all kinds of tattoos. No matter you want a tattoo on your arm or neck, no matter if you want a big or small tattoo, you will find every tattoo design which you can look for.

The app is become g everyone's favorite because of its designs. What has impressed me in this tattoo design app is its large collection of small tattoos which most people want to get. The app also gets you designs of Leo or Scorpio or any other Zodiac based designs along with small flowers, butterfly, birds and more!
7. Tattoo for boys Images Android

This tattoo design editing app is perfect for those who have a love for big body tattoos. Don't go by its name, the app has a vast collection of girls tattoos too. What you will find here is the big, massive body painting tattoos. The tattoos are from all kinds of styles, that include sexy tattoos, arm tattoos, and even some small tattoos. The app also features a great deal of women tattoos and you can actually place them on your photos to get a clear idea about how they will look.

It's easy to use and has an intuitive interface and that what makes it people's favorite tattoo design app. And if you are looking for name designed that are different from what you have seen now, then it's also a perfect place for that too. You will also get to a lot of stuff and you will definitely have fun using the app so go ahead and express your tattoo love through this tattoo design app.
Now this one is a pretty different app than other, with How to Draw tattoos you explore your creative side as a tattoo designer. This is one of the best tattoo maker app where you get to draw a unique tattoo design for yourself!

The app features a step by step guide through which you can easily make what is in your mind. It's a great platform to learn how to draw a tattoo. You will find some basic designs such as flower, Leo, heart, butterfly and so much more.

This tattoo maker app is exactly what you need if you are an artist and always try to come up with something new. The great thing about the app is it can even use by children as if they are interested in art. Download the app now cause you are gonna love it!
9. +3500 Tattoo designs Android

+3500 Tattoo Designs is exactly what its name suggest and it's one the leading tattoo design app for Android nowadays. The app basically features photos of famous and some popular designs so that you get to pick a design.

Although it's a simple app that features photos of tattoos but it can be a great help to find a perfect tattoo design for yourself. The app has sorted out a number of categories to choose from, for example, if you are looking for a flower tattoo you can go in the flower category were as if wanna see tattoo design of an animal than you can look in the animal category too. It's that simple and easy to use and you should totally check this one out.
10. Simple Tribal Tattoo ideas Android

If you wanna get a simple tribal tattoo then this tattoo design app is all you need to have. It features all the classic tattoo designs and what you will find here is some iconic and popular designs for yourself.

If you have a design in your mind but having a second thought then simply go to this app and it will show you a number of tribal tattoo designs and that will help you to make a decision!
11. Tattoo my photo with my name for boys and girls Android

This one is also an interesting tattoo design app where you can have fun with tattoo design by placing them on your photos. The app shows tattoos for both girls and boys and you can easily find them in its well-organized categories.

You will find everything you can imagine here and that's why the app is placed in our best tattoo designs app list. Simply select a picture or click one and then edit it with a number of filters and effects along with tattoos of course. make your photos 10 times attractive by putting a tattoo design on it!
Tattoo my photo is popular for its various photo editing tools by which you can get a tattoo on your photo and it will look realistic as if you have actually gotten the tattoo. The app features a number of tattoos, that includes black tattoos, glitter tattoos, Metalic Tattoos, and even color tattoos.

The app has some additional tools like blend and multi-touch, which will make your tattoo a realistic one. So get this tattoo maker app and find yourself the best tattoo and flaunt it in front of your friends!
13. Tattoo on my photo Android

If you want some extraordinary tattoos then this tattoo design editing app is what you need to use. This app has a unique collection of tattoos including love, quotes, tribal, dragon and so much more. The best thing about this app is you can get a tattoo which covers a larger area of your body and see how it makes you look.

Millions of people are currently using this tattoo design app and they find it pretty amazing! No matter what kind of tattoo design you are looking for you will find them here!
14. Tattoo design apps Android

Tattoo design apps is also a great platform to explore various kinds of tattoos from some famous artist. The app is basically meant for boys and that is why you will find a number of tattoos for boys. They feature some of the fierce tattoo designs and that is why you should get this app.
15. Tattoodo – Tattoo design Android / Iphone

Over five million apps are connected with tattoo because it gets you the best tattoos that you can find. This is a kind of app which you should totally check before you actually get a tattoo as it will help you make a wise decision with its thousands of authentic tattoo designs.
Conclusion:

The above-mentioned tattoo designs apps are the best apps for you guys and we hope you will find them helpful.