Joyce Meyer is a popular American author and motivational speaker. She has written a number of self-help books in her career and she has also been listed in most influential people list of 2005 by Time Magazine. Apart from being an author, she is a minister in St. Louis, Missouri. She also runs a radio show called Enjoying Everyday Life which is very popular in the country. She has written over 100 books in her writing career. Her books have sold around 30 million copies worldwide and she has also given some bestselling books as well.
Over the past years, Joyce Meyer's book has helped a number of people and that's why she is called one of the best influential writers. And if you are looking for her books then you are in the right place. Here we are naming all her books in their publishing order so that you can easily find the book you were looking for.
So let's start the list of Joyce Meyer books and find you some good ones!
Joyce Meyer books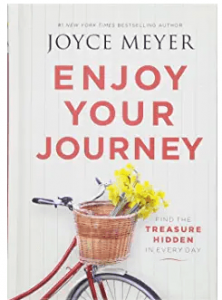 The Love Revolution is a book about giving hope and inspiring us to do better in life and help others. The author tells us the misery of humans and how we are unable to help each other. She tells us that we need to become revolutionary and practice love every day.

The book tells us to be kinder and more helpful towards others. We need to spread more love and become a selfless person. The book published a long time ago and it majorly talks about how Christians should be more giving and how one should spread love and positivity around them. The author also talks about the work her military does to help others and what challenges humanity is facing each and every day.

The book is a decent read for the people who get inspired by the good work a person does in his lifetime and this one also gives some statics about the major issues like hunger, poverty, sex trafficking, etc (although the numbers are outdated for today's world). Overall the book focuses on personal behavior and how we can bring a change on a local scale.
The book talks about the love of God for a person. We often believe that we are not loved and that God has no love for us. In this book, we find out how we are getting the love of God and how we are important to him.

The book teaches us how God's will change you forever and how his love affects us all. The author has also described how we can find the love of God even in difficult and painful situations. It's a classic book that helps us to feel motivated and get inspired by the love of God. The book also inspires us to get out the difficult situations. Here you might find some bitter truths about yourself, which often try to ignore.
Everyone is afraid of rejection and at some point in our life, we all have backed off from a situation because we were afraid of rejections. The book tells us that no one is ever escaped the rejection and we all will face the damage of it at someday or another.

The book has been written in the classical Joyce style where she is as direct and honest as ever. The book encourages us to do better in life and not be afraid of rejections. It is one of the popular books by Joyce Meyer that is worth reading.

It might be a quick read but holds a significant lesson for our life. So we would advise you to go through it and take inspiration form the book. You won't be disappointed by this one!
This book is a spiritual uplifting guide that might help us to heal from emotional wounds. The book got very good reviews from the readers as well as critics and it was also a popular Joyce Meyer book that you wanna read.

Everyone looks fine from the outside but we all know that there is a constant emotional turmoil going on in us. Here the books talk about the emotional wounds of a person and how can they heal from that. People are troubled with our pasts and somehow it's hurting us. The book describes us how to heal with the help of God and how God is always with us.

In this book, Joyce Meyer talks about how she was a victim of sexual abuse in her childhood and how she healed from this past. The book is inspiring and teaches us how to deal with emotional pain and other related topics as well which are somehow related to emotional abuse and helps the victims of it.
What we think has a lot of impact on what we become as a person and what we invite in our life. It's a well-known fact that our mind is our worst enemy and its one of the most dangerous thoughts, actions and words come out of it.

In this award-winning book, Joyce Meyer tells us that we have to change our negative thoughts and shift to the positive ones if we want to change our lives and bring positivity to it. The book tells us what negative thoughts are capable of doing in our lives and why we should avoid them.

As the book's name suggests, it helps us to change the way we think and how we can bring positivity to our lives. It is one of the must-reads a book by Joyce Meyer which is too good to be missed.
This is another leading book by Joyce Meyer that one should read. The book talks about troubled relationships and how strife is responsible for that. For a long time now, strife and contention are responsible for destroying relationships, marriages, friendships, churches, and the personal relationship that we share with God.

The book uses some Bible sayings which teach us how strife shouldn't be destroying our relationships with the normal people. The books also tell us how our spiritual power can save our relationships with people and God. The book also talks about the understanding of different things that can affect our lives and the show can we bring peace and harmony in our lives and the lives of others.
Joyce Meyer continues to bring the power of God in our lives and how can we accept all that comes in our way with grace. In her signature style, Joyce uses the Bible to make her point. The book tells us about the undeserved grace of God and how we should stop blaming our past and ourselves for the mistake we have ever made.

The book covers the topic such as what grace is and the power of grace. The bool also teaches us how we can stay free from frustration and all the worries that trouble us. Here you will learn how to have faith over God. If you are familiar with the Bible then you might find the book easy to read.
The book is an overview of the weapons God has provided us to defeat the weapon. It is yet again a Christian inspired book that talks about the power of God and Satan. You will learn many facts about the war with Satan and how much blood has been shed in the fight.

The book is  I less than a spiritual walk with Christ and the book does a pretty great job in awakening your spiritual beliefs as well as increasing your spiritual knowledge over the subject.
Sometimes we just can't stop complaining about life and it seems that our mouth has no control over the things it says. The book talks about how we can have to control our mouths and how we have said things that help us accomplish our life goals.

The book greatly talks about the effect of words have on our lives and how they can determine our fate as well. Here too the author uses the reference of God and relates it with the things we speak often. It says that we have to eliminate everything that offends God and make an agreement with God over the things we say in general.

In short, the book helps us to avoid negative language and be more positive through our words. Overall you would like the books if you are having trouble with saying positive words.
This is another highly rated book by Joyce Meyer that you would enjoy reading. We all are struggling in our life and having a rush in our life but are we actually enjoying our life? Are we thankful for every day that we live and be happy about it? I guess not. And that's why this book can help us. Here Joyce teaches us how we can enjoy our life and find the hidden treasures of our life. The book tells us how we can find joy during difficult times and enjoy where we are and what we are doing.
Conclusion

Here are all the Joyce Meyer books that you wanted to know about. We are glad that we could help you and we hope you found one or two books by Joyce Meyer that you wanna read next. She is one of the best authors we have when it comes to inspirational and motivational writings.

So thank you for being with us and we hope you liked the article. You can also check other articles about several other authors as well.