When it comes to thriller books no one can stand a chance against James Patterson. This American author has written over a hundred books (with co-authors too). Although he has written some other genre books too but he is most famous for his investigative/thriller genre books.
He has written some famous books that are too good to be missed and that's why we have bought this guide that features his 10 best books of all the time which should definitely read!
Best James Patterson Books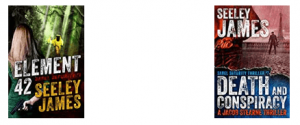 If you are a fan of James Patterson then you will be definitely a fan of Alex Cross! He is the most popular character created by James Patterson via his popular thriller novels!

In this novel, Alex Has found himself on the wrong side of the law! He has been charged for murder, he has been portrayed as a trigger happy cops who thinks himself as above the law! The trial has been taking so long while he is waiting to prove himself as he knows his crime was an act of self-defense! But even if he is on trial for a murder, he couldn't keep himself away from investing when a young blonde girls go missing. He has to solve the mystery of missing girl as well as save himself!

The book is worth reading and if you are a thriller genre fan you will love every minute of reading this book!
Along Came A Spider is one of the Best James Patterson book that you will ever read! Here what you will find is mystery, drama and of course the thrill all in one book which has been beautifully narrated by the author.

The main antagonist of the book, Gary Soneji, is at the best of his game, he has already gained the reputation of the serial killer and he has outsmarted the intelligence agency. But now he has come face to face with Alex Cross.

The book not only gives attention to the lead's relationship with the villain but also with his family and a loved one. The interesting part is obviously the chase between Cross and Soneji, who is equally smart and makes things more interesting by his smart moves. And it's time for Alex to outsmart the most dangerous serial killer he has seen!

If you haven't read any of the James Patterson books, we would recommend you to start with this one, although you should know that the book series is quite long and you can't resist yourself from reading all the books of the series!
The books are co-written by James Patterson and Marshall Karp. And they have bought you an elite special task force and how they try to save the wealthiest personalities of the city.

The mayor has ordered the force to investigate the case of the world's famous producer Sydney Ruth, who has been murdered by poisoning. The novel features the character of detective Zach and detective Kylie, who is his ex-girlfriend, and they both are working on this case and finding out the mystery behind the murder.

Although the case has proven to be more difficult than they have imagined but for you, it's gonna be the best thriller experience! The book is currently at its 5th installment and soon it's gonna release the 6th one! So you might wanna try it!
Hunted another great piece of art by James Patterson and it is co-written with Andrew Holmes!

The book is about former SAS Agent David Shelly who is looking for his old friend only to find him dead! And now its time to find out about the truth behind his friend's death but at what cost? If Shelly wants to find out the truth then he must put him into the same dangers which killed his friend. Will he do that? Only to find out is to read this masterpiece!
The book features one of the most challenging cases of detective Micheal Bennett's career where the funeral of a formal first lady has turned to a hostage-taking situation, putting the lives of most prominent people of the country at risk!

While he is tacking the case, he also finds out his wife, who is suffering from cancer is counting her days! How he tackles his professional and personal life is where the story becomes interesting!

The strong character with suspense and emotions is all this book is about and you will definitely love the book!
Animals have suddenly started to attack humans and no one has a clue why! And that's where a young biologist, Jackson Oz, has decided to quit the college and find out more about the attacks.

The story is surely unusual than other James Patterson books, and it has less thrill too, but if you loved the concept you should definitely go for it!
After studying the high profile case of a politician' murder, journalist Ochs Jones has found something unusual. He has gone through some other cases and find out they have something in common! He is determined to find the killer. This thriller book is surely is a must-read!
After listening about the lover affair of her husband, the first lady has gone missing. But detective Sally things its more than that and he is about to solve some mysterious.

The book is a classic thriller as you can expect from James Patterson and that's why it had made a place in our list!
James Patterson and Candice Fox has reunited and written a great book that is The Inn!

The story follows the character of Bill, who has just lost his wife, and the villain, Mitchell Cline, a drug lord! The book has surely given us some fresh characters and a changed style of James Patterson, which makes it a perfect t pick for your next thriller novel by James Patterson!
This stand-alone novel by James Patterson and David Ellis is definitely something you wanna read. The story takes you to the multi-millionaire house at Hamptons and the series of murder that has been happening there. It is a highly recommended novel which has a lot of great mysteries which would love to read!
Conclusion

So these are the best James Patterson novels that you should read ASAP! We hope you liked our article and you have found the next James Patterson book that you wanna read! Thank you for visiting our page.