If we ask you which is your favorite genre for novels then most of you will say thriller! Thriller is one of the most loved genres yet it's difficult to find good novels for this genre because not all the thriller writers can impress the readers. There are a few writers who have made their mark in thriller writings and one such name is David Baldacci!
You must be aware of his name if you have gone to the thriller section of novels. He is an American novelist who is popularly known for his several series such as Amos Decker, Sean King, Mitchell Maxwell, and so on. You will also be impressed by his notable standalone novels which are popular among the people who just want to read one book rather than investing their time in the whole series.
David Baldacci has started his career in 1996 with his debutant novel Absolute Power! And after then he has written around 30 novels and about 7 novels for a younger audience as well. He has been appreciated for his unique writing style and his ability to keep the reader interested in the book till the last, and not to forget a thrilling experience that comes with the novels.
In this article, we have listed all the Baldacci Books in Order so that the people who haven't read any of his books yet will be able to pick the perfect book for themselves. Start with a standalone or pick up a series the choice is yours! We have written a description for the first 10 novels by him so that you know a little bit about his plot and his writing style. Let's start the list and introduce you to the Baldacci books!
David Baldacci books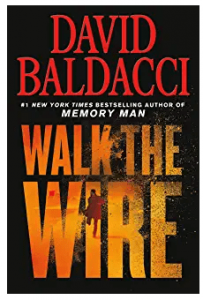 This was the first book written by David Baldacci and Ky was released in 1996! The book is no less than a high octane thriller drama which you can expect on tv. The book features the character of Luther Whitney who is an experienced burglar!

He breaks in a billionaire's house with the intention of robbing it! But it soon turns out to be a nightmare for him when he finds himself trapped behind a two-way mirror. But it wasn't the worst thing that happened to him. Soon he sees some of the unimaginable things which make him lose his faith in justice and humanity.

The horror doesn't leave him even when he escapes the house because his presence in the house has been traced and he is blamed for what happened in the house while he was present there. Now how will he proves innocent and will anyone believe that a burglar can be innocent? It's something you will be interested till the last page!
The Total Control is the next Baldacci book in order and it was released in 1997! This crime novel was too popularised during that time and it's still considered as a good read for all the crime/thriller genre lovers.

The book follows the character of Jason Archer who is a young executive at Triton Global which is the world's leading technology conglomerate. All he wanted to do was to provide his family with a good future and the best of everything. But at what cost? His efforts to make everything fast and achieve the best, he ends up entering a deadly game.

He may manage to disappear but left a question about his fate on the plane. Now his wife is struggling to unfold the lies and the FBI and an accident team are involved in the matter too.
The Winner was the third book by Baldacci in order and was released in 1998. You will be introduced to the character of LuAnn Tyler, who is a single mother and currently living in a trailer park. She is a sweet lady who is making sure she provides a good life to her infant daughter.

For someone who is struggling this hard, $100 million seems to a be life-changing amount. This is offered by a scammer named Jackson. She can have this price but only on one condition, she will have to leave the U.S and change her identity. What seems like a dream soon turns into a nightmare. And she is struggling to get out of it. She will have to do come up with some extraordinary measures to get out of all this and live an ordinary life again!
The Simple Truth is the next novel by David Baldacci which was also released in the year 1998 (same as The Winner). The story is can make you complete the book in one sitting because it's that interesting.

It starts with Rufus Hams, who is convicted for murder two decades ago. He himself believed that he committed the crime until the day when his memory is jogged and he can finally put the pieces together and say he is not guilty! He instantly wrote an appeal to the Supreme Court but everyone who sees his appeal mysteriously dies and this suggests it's much more complex than he has thought.

He is struggling to get out and make the law to listen to him. He is running out of time. He must escape from there and uncover the real truth but how? The answer can be only found in the book!!
The story of Saving Faith revolves around the character named Faith! Faith is currently facing threats and is experiencing various attempts by unknown forces to harm her. There are basically three parties who are more than willing to know what is going on in her life, that includes the FBI, CIA, and her boss. Things got that bad with her that she is now unable to trust anyone but her own self. She is even doubting the man who has saved her life. What's going on with faith? And gonna happen with her? And why she is the target? All the questions have some unimaginable answers that you can only find in this thriller novel!
This book has introduced us to the different writing styles of Davide Baldacci who have until now focused on a political thriller. The story revolves around the character Luisa Mae Cardinal who is just 12 years old and living in New York City of the 1940s! Everything was going well until a tragedy strikes on her family and she is forced to live with her grandma on the farms. The journey seems magical when she explores a totally different and exciting life.
The name might suggest a little bit about the book, the story features the character of Web London who is a part of the FBI's super-elite Hostage Rescue Team. They have planned a surprise attack on a drug dealer's place. Unfortunately, he is the sole survivor of the attack but he has no idea what happened there. He surely needs some professional help and there comes the character of a psychiatrist, Claire Daniels. All he wants is to find some answers and know what really happened with him and others. But is he ready to hear the answers?
It's too a different novel by David Baldacci. This is more of a fiction story than being a thriller. So if you want to have a break from all the thrillers, then this should be your first choice.

The story follows the character of Tom Langdon who is a disillusioned journalist. Its the time of Christmas and he must get from Washington to Los Angeles in time. He is forced to take a train since he ran out of other options, but the journey is going to be an unforgettable one.
Split Second is another crime thriller novel by David Baldacci and its also the first installment of King and Maxwell series. The story introduces us to the characters of King and Maxwell who are former secret service agents and now forced to change their lives. They are now working as a private investigator in Virginia! The series talks about the new adventures in their life!
Hour Game is the 2nd novel in the King and Maxwell series. They found a dead body in the woods. This seems to be a simple case at first but now it has been turned a nightmare for them.
Conclusion

So we have completed the list of Baldacci books in order. Just pick the book you liked and welcome yourself in the Baldacci world! We are pretty sure by the time you complete the first book, you will be a fan of his writings! So don't stop yourself from buying a couple of Baldacci books and go ahead. We hope our article was helpful and you can also check out our other articles for many other famous authors. Thanks for visiting and keep coming to our page.