You must be aware of this name, because of the popular TV series Game of Thrones. If you are not aware of the fact them let us tell you, he is the man behind one of the most-watched tv series. Although people often consider him just the author of the books "A Song of Fire and Ice" but he is much more than that.
George RR Martin was an American author who has been writing since the 1970s! He debuted with his book Dying of the Light in 1977. He has also written several plays and stories for tv series which wasn't enough to pay his bills. George RR Martin is popularly known for fantasy, horror, and science fiction genres. His writing style can be distinguished with a complex storyline, amazing characters, and great dialogue with perfect pacing.
Being a short story writer, a screenwriter, and novelist, he has mastered his writing skills and we can only expect the perfect writings from him. So we can say that it's pretty easy to become his fan. Since you are are aware of his popular book series that is A Song of Fire and Ice, we have decided to introduce you with his other notable work.
This article is for those who want to explore his writings and read more and more books of George RR Martin. We have listed his books in chronological order (by their published years) that you can get an idea of what kinda book he has written. And it will be easy for you to pick up any of his books to read. Take a look at the following list of George RR Martin books and know what's there for you.
George rr martin books in order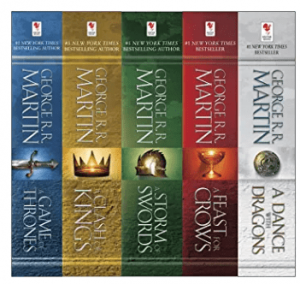 With Morning Comes Mistfall is a science fiction story by George RR Martin. It was first published in Analog Science Fiction and Fact magazine in 1973.

The plot of the story revolves around a barren and nearly inhabitable planet, Wraithworld. The planet has some unusual weather conditions including yhe the presence of permanent mist that covers most of the planet.

The minimum population of the planet is due to the popular belief that the mist contains the "Wraith". And this myth is also a reason for yhe the tourist attraction of the planet. Some reporters are exploring the planet in the belief that they will either find the Wraith or proof that they are no more than a myth!

The story has been told in the first person and generally features the conflict between two beliefs. This mysterious and sci-fi novel will definitely give you a good reading experience.
2. FTA

FTA is the story of a scientist who believes that there will be a need for hyperspace in order to transport the Earth's growing population. But the problem is, he is not able to convince anyone that he has discovered the hyperspace and can't get the funding as no one believes him. This short story which was released way back in 1974 was popularized and George RR Martin had made his mark with his sci-fi writings. Overall it would be fun to read if you are into sci-fi stuff.
A Song Of Lya is a sci-fi based novella which has not only impressed the readers but also won the award for the Best Novella in 1975. The story features two telepaths, Robb and Lyanna. They frequently visit an alien planet where people worship a mold-like parasitic organism. Their curiosity with this ritual rises and this led to some drastic steps taken by them. Overall the story is quite impressive and you will find it amusing too, so if you get time please read it!
This another short story of an underground city on a dying planet. The story has several elements that will make you jump out of your chair. And sometimes it can be more than you can imagine. The story explores some ugly truths about the place and mythic white worm. Martin's writing reflects in war scenarios as well as faceless enemies.
This one is the first full-fledged novel written by George RR Martin. Dying of The Light is a science fiction which takes place on the planet of Worlorn (which is a dying world!). The story features the character of Dirk who has been summoned to Worlorn and a love he thinks he has lost.

As soon as he arrived at the planet he realizes that Worlorn is nothing like he had imagined and the love of his life is a different person now. She is trapped and needs the protection of Dirk. The dying planet is testing him at every step and he couldn't even distinguish between his allies and enemies. It's pretty clear that something big will happen, but will he survive and protect his love?.
The Songs of Stars and Shadows is another novel by George RR Martine which was released in 1977. The book has a total of nine short stories, namely,

 The Tower and Ashes

Patrick, Henry, Jupiter, and little Red Brick Spaceship

Men of Greywater Station

The Lonely Songs of Laren Dorr

Night of the Vampyres

The Runners

Night Shift

..For a Single Yesterday

And Seven Times Never Kill Man

These are a perfect representation of how amazing writer George RR Martin is!
Next in the order of George RR Martin's book is Sandkings. This time you will take a trip to the planet Baldur when the main character Simon Kress returned to his home planet. He was amused to see how the tank of Earth Piranhas has cannibalized themselves to extinction. There he goes to find new lifeforms to satisfy his cruel pursuit of amusement. In summary of the book, we can only say you will be introduced to a number of unimaginable lifeforms and see what they are capable of doing. You will also find a number of short stories.
Hunter's Run is the next George RR Martin book in order. It was co-authored by Daniel Abraham and Gardner Dozois. This is another science fiction that introduces the alien installation in the north.

The story revolves around the character Ramon Espejo who killed a man and now running away to hide. It's when he discovers the aliens. The story features advanced technologies, features the betrayals and strategic planning of the character. So overall you will get the classic George RR Martin's writing style.
Songs of The Dying Earth is co-authored by George RR Martin and Gardner Dozois. It's actually a collection of short fiction and short essays which is written in honor of Jack Vance, who is a popular science fiction and fantasy writer.

If you are a fan of the Dying Earth series by Jack Vance then this book should be your pick. You will definitely appreciate the writing of different authors and their different approaches. It's overall fun to read a book for sci-fi fans.
10. Aces High

Aces High is another renowned book by George RR Martin that is too good to be missed. The science fiction and fantasy fiction genre of the story is just so good and has the ability to keep you interested in the book from the first page until you finish the book.

The story of the book began in 1946 when a gene-altering virus is spread all over New York City. The virus created several disfigured and bizarre jokers as well as super-powered aces. They do fight to each other often but they must unite for a force that is going to destroy them. The story unleashes various aspects of betrayal, allies, and of course the war!
Conclusion

So these are the George RR Martin Books in order so it will be easy for you to understand how he evolved as a writer and which kind of book you want to read by him. We have described a number of his books so you can get an idea about the plot of the book. By this, you will have a better understanding of George RR Martin's writing style.

Thank you for visiting the page and we are more than happy to help you. You can also check out other articles related to some of the best authors and their popular books.