You must have heard about Brad Thor and his amazing thriller books. There are a few thriller writers who have made a special place for themselves and he was one of them. We may or may not have read one of Brad Thor books but you must have heard about the popular character Scot Harvath. His story mostly revolves around him and his adventures.
He has written about 22 novels and all of them were among the best selling books. In this article, we are gonna introduce to his books in order, so it becomes easy for you which book to read first.
He has done other notable work. He has appeared in a number of television programs such as his debate on terrorism as well as contributed to politics too. He has also received a nomination for Best Thriller of the year and his book, Blowback was voted as one of the "100 Best Ever" killer thrillers.
Let's not waste anymore of your time and introduce you to Brad Thor books in order. We have given a quick summary of his first 10 books and written the name of the rest of them so that you can understand his writing and plots of the books.
Brad Thor Books In Order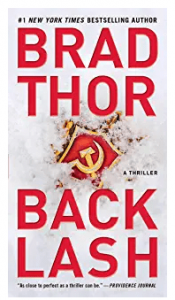 Thirty top secret service agents have been executed and the president of the United States of America has been kidnapped. By whom? The most lethal terrorist organization- the dreaded Fatah is behind all this.

Meanwhile, Scot Harvath is convinced that the organization isn't behind all this. He is already known for his intelligence and bravery and now he is looking in the matter by taking the law in his own hands. In order to do that he put his own life in jeopardy.

He is charged for various crimes and current on the run. And now he is exploring the beautiful mountains of Switzerland but it's not a vacation because he is still looking for answers. He takes the help of some of the highest-ranking officials and figures out who can be behind all this and why.
After he has rescued the president, Scot Havarth, the navy SEAL turned Secret Service Agent is now on a mission to find out who was behind all these. He is putting his hundred percent effort and power to find out who is responsible for the chaos. And after doing some research and finding a number of clues, he found his number one suspect that is Hashim Nidal. He is no ordinary man or even gangster, he is the world's most feared and most ruthless terrorist.
He has even established a group or organization, and his motive is to topple both America and Israel. And now that their intention is clear, Scot Harvath must reach to Nidal before it's too late and things go out of hands.

But things won't be that easy as they don't have any idea how the man looks like and how they are gonna reach him. The journey of Harvath is going to last long, he will have to catch him and in order to do that there will be lots of adventures and mini-missions which he needs to complete.
This one is the 3rd Brad Thor book in order. America's worst nightmare came true when they realize one of their old enemy which they thought is dead has now come back. America has not left out of all the options to tackle this dangerous enemy and they have now decided to take help of one and only Scot Harvath.

The story revolves around two powerful nations and their numerous subjects of tensions. He has decided to find the reason behind all these and of course to find out who is behind all this. But he is not alone in this fight as he is accompanied by beautiful Russian intelligence agent Alexandra Ivanova and a highly trained CIA paramilitary detachment.

Just like his previous novels, Brad Thor makes sure the lead character of the book roam all around the world and explore some of the beautiful cities of the world. But again not for one and looking for clues to find out a responsible person.

The book is fun as you develop a better understanding of Brad Thor's writing and for the lead character. You will love the adventure and thrill of the boom and you might be in love with Brad Thor's book as well!!
Blowback is one of the most appreciated books from Brad Thor and it has been even voted as one of the 100 Best-Ever Killer Thriller.

The book starts with Scot Harvath as his counterterrorism career is just crashed and burned. And all these happen because of a ruthless senator with her sights set on White House. But it's Scot Harvath and he can't stay away from adventure and thrill. So when a terror threat arises on States, the president has no choice but to call Scot Harvath back.

The story takes a shocking twist when they find out an ancient weapon which has been designed to decimate the Roman Empire has been now unearthed and that too from deep beneath the Alpine Glacier. Now the weapon might be used against America by a terrorist organization and Scot Harvath must do something to stop them.
Everything has been normal for a while now as there are no reports of terrorist activity and terror attacks on America. But will this piece last or it's just a message of something big is gonna happen? Well, something has happened and that too on the 4th of July.

The perfectly executed attack has lead to the destruction of all the bridges and tunnels in Manhattan. And there comes Scot Harvath who is making his way through the burning streets of Manhattan only to find out about the man who according to the United States of America doesn't even exist. What's going on and why all these things are happening and who is behind all these, you can only find the answers in the book.
Next in Brad Thor Books in order is The First Commandment. This time the victim of terror groups isn't states of America but Scot Harvath himself. One day he wakes up and found out that's his world has turned upside down! As he learns some of his closest people are falling victim to a sadistic assassin with a personal vendetta.

He tries to connect the dots and finally realize that it surely has something to do with the fact that five of the most dangerous detainees in the war has been set free five months ago.

President has ordered Scot Harvath to stay out of the investigation but as we already know he is known to take matters in his own hands. The book has described the betrayed, revenge, and helplessness of the character at some point very beautifully. This book will not be less than a treat for those who loved action-adventure stuff.
The Last Patriot is an example of stunning writing by Brad Thor and the book features a thrilling experience for readers. The story features the events that happen in 632 A.D when prophet Muhammed shares with his closest companions a final and startling revelation and within days he died. You will also find the incident of 1789 where the world is introduced with a shocking discovery that changes the relationship of Islam with the world.

On the present day, Scot Harvath is determined to uncover a powerful secret that can defeat militant Islam forever. But some powerful men is trying to keep the secret hidden from the world. This story is worth reading you would wanna finish it in one sitting, yes it's that amazing.
Scot Harvath is again jobless thanks to his new administration and a new approach to dealing with America's enemies. But we all know that sooner or later, the states of America will need the help of Scot Harvath. And the time has come when an American doctor, Julia Gallo has been kidnapped in Afghanistan. And the ransom asked by the kidnappers has left the president with only one option that is, to get Scot Harvath back and assign him the mission.

When Harvath arrives at Afghanistan he learns there is more to the kidnapping than one can imagine. And this is one of the times when the credibility of Scot Harvath is tested. Will be able to save her and make things all right? Or he will make it worse with his actions?
The book starts with the making of yet another top-secret spy agency that reports only to the military insiders. Its only job is to target America's enemies.

Scot Harvath has been returned from an assignment where some American students have been killed in a bomb attack in Rome. The evidence points to a dangerous colleague from Harvath's past. There are going to be plenty of thrilling elements and adventures. And it will keep you thrilled from page one till the last page.
The book features a revolutionary plot where you will find another counterterrorism unit that has been set up and the amusing thing is it is lead by only female personals. The story highlights the fierce nature of women of this elite counterterrorism organization and how they are able to fight against some of the most dangerous terrorist groups in the world. It's definitely a book that should be applauded for its revolutionary plot and amazing writing by Brad Thor.
Conclusion

So these are the Brad Thor books in order that you needed to know about. Our list was supposed to help with his books and how to read them in order. So if you are a beginner and haven't read any of Brad Thor books then you must follow this list.

We hope our article has helped you to understand the Brad Thor books better and help you decide where to start. Thank you for visiting our page and you can also search other articles related to other authors and their best books.