If we ask you which is your favorite novel genre, we are sure many of you will say the mystery genre. And since you are here, we can assume it's surely one of your favorite genres. You must have read some thriller/mystery genre novels since there are many popular authors writes some incredible mystery novels. Well, let's get to the point, here we are going to speak about one of the most loved legal thriller/mystery novel series that is the Bosch series by Michael Connelly!
Michael Connelly is a well known legal mystery writer who has written many amazing novel series as well as a few standalone. He was born in Philadelphia, PA, and then persuaded his higher education in Florida. He did his major in journalism and minor in creative writing. We knew from an early age that he wanted to persuade his career as a mystery writer. Although he did work at various newspapers as a journalist and he usually wrote about the crimes. And that's where he got the inspiration for his crime novels. He debuted with his first novel in January 1992, with the first book The Black Echo, it was also the first book to feature Harry Bosch. After that, he was unstoppable and wrote many books and is still giving us some great novels. He has won many awards as well as his Bosch series has been adopted as a TV series.
Now let's talk about the Bosch series. The series is entirely based on the character of Harry Bosch, who is a war veteran and an LAPD detective. His personal life has been rough with his mother being murder when he was just 11 years old. He lived his life as an orphan and grew up as a loner. Although he does have a half brother, Mickey Haller who is a Los Angeles attorney, his relationship with him is also interesting. He comes along with many unusual cases and he is the kinda person who believes in justice no matter what.
In this article, we have written all the books of the Bosch series in order so it would help those who have never read the series and don't know where to start from. Although you can pick any book as a standalone. But if you are willing to invest your time in the whole series you should read in chronological order.
Harry Bosch Books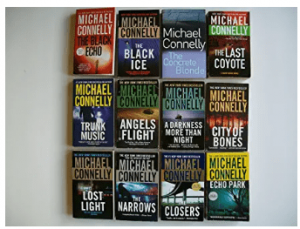 Micheal Connelly's writing career started with this book and it's also the first book in the Harry Bosch series! It was published in the year 1992 and it made its mark by winning the Edgar Award for the best first novel.

We first meet the character of Harry Bosch in the series, who is an LAPD homicide detective. The story starts with a dead body that is found in the drainpipe but this isn't the normal case for Bosch as the body belongs to his fellow colleague in the veteran war and his name is Billy Meadows. The case is surely much more than it seems and the case is connected with a robbery that brings the FBI in the picture. It will test the survival instincts of Harry Bosch.
The Black Ice features the case of a narcotics officer Calexico Moore who has been found dead in a Hollywood motel on Christmas Eve. Although the body is found with a suicide note, when Harry Bosch approached for this case, he is sure that it's not as simple as it seems.

His conclusion may be based on the fact that the officer was looking in a drug-related killing. Harry Bosch makes further connections and connects dots which more or less put his life in jeopardy. But one thing is clear the case might have bigger roots than anyone can imagine.
The third book in the series features a more serious and chilling crime as the story revolves around a dollmaker who was a serial killer. He was shot and killed by Bosch himself and he thought he is done with the case! But is he? Death has been reported which features the same kinda killing pattern as the dollmaker serial killer. Now Bosch is fact g the biggest horror of his life as he is starting to doubt himself for killing the wrong guy. But regretting what he had done in the past isn't an option because the killer is at his work and Bosch has to stop him before it's too late.
The fourth Bosch book in order starts on a bad note for Harry Bosch. He is single, without a home, and currently out of his job since he has been suspended from the force indefinitely! He is also refusing the psychiatrist evolution which is required for LAPD.

Although he does realizes that there is something troubling him for a long time now and he must fix it before it's too late. He opens up her mother's case and sees what happened to her and how the case was mishandled. Now it would be interesting to see what happens to him and how he handles his past.
Harry Bosch who is currently suspended form LAPD, has taken up a new case and it's from Hollywood! A body has been found in a trunk of a car and it happens to be of Hollywood producer. The person has been shot twice in the head at a close range which looks like trunk music or a mafia hit!

As soon as he digs a little bit more in the case it gets more complex and he realizes there is something really wrong happening. Some clues indicate a trail of gambling debts in Las Vegas. He again somehow manages to put himself in danger and that's where the story takes several twists and turns!
This book features an unusual case which no police officers want to take, why? Because the case involves the death of a high profile black lawyer, Howard Elias. He generally takes up cases of racism and police brutality. So no policeman wanted to take his case and that's where the case falls into the laps of Harry Bosch!

He was killed right before his trial for suing LAPD, which makes everyone associated with LAPD a suspect. And now that Harry Bosch is on the other side you will soon discover new turns in his life and the surrounding people.
Yet again Harry Bosch is in charge of a high profile case it revolves around a Hollywood actress. She has been shot by a director who is portraying the incident as a suicide. A star witness is finally found in the case which can make a lead. Here comes the entry of a former FBI agent Terry McCaleb who comes out of retirement to work on his second case. It doesn't take long to understand that cases are related to each other and both the characters (Harry and Terry ) found each other at odds.
It's the life of Harry Bosch and he can't catch a break even on New Year's Eve! Although he is kinda happy to work. He receives a phone call on New Year's Day which says that a dog has found a bone that belongs to a human. When they investigate it, they found its the case of a murder which took place twenty years ago.

It's obvious that its a cold case and harry finds himself struggling with his old memories. As the cases further take place, there comes the character of a rookie cop Julia Brasher.
It's been a long time and Harry Bosch starting to feels that LAPD isn't the place he thought it was and there is no place for justice. Even though he took the retirement but he is not able to have civilian life. The good thing is when he left the service he took a case file with him.

Four years ago a robbery tool place and a production assistant was killed by the robbers. Everyone was more concerned about the money than providing justice to the victim. And now the matter is in the hands of Harry Bosch and he will do everything in his power to provide justice to the forgotten victim. The investigation is unofficial and puts Harry at the odds but he must solve the case!
The Narrows is also a sequel to The Poet,  which was the first book of Connelly's Jack McEvoy series. Here the FBI agent Rachel Walling was a part of the investigation where they were trying to hunt down a serial killer, The Poet. Meanwhile, Harry Bosch is taking up an investigation which is about one of his old friend's murder.

He soon realizes that his friend's death has something to do with the case of The Poet and that's where he needs to make sure he works with Wallings and investigate the matter thoroughly to uncover the truth about his friend's death and catch the serial killer.
It's been three years since he left the job at LAPD and now it's time to return. But things are not quite similar as he left them. He is now a part of an elite Open/Unsolved Unit. Here the detectives solve the cases that have been abandoned, stalled, and flawed.

Harry has picked up the case of a teenager who has been murdered on Oat Mountain. He has found DNA from the murder weapon. The case is surely challenging because it's from the year 1988 and there will be a number of challenges for Harry to adjust with the new system!
Being a part of the Open/Unsolved Unit, Harry founds a silver lining, as he can now take up an old case from his own file which he was unable to solve at that time. The case is from the year 1993 and it was about a woman named Marie Gesto who went missing. Since the case went to the homicide unit he wasn't able to find the woman or solve the case. The investigation of the case leads them to a man who has been charged for multiple murders and has confessed the murder to avoid the death penalty.
Harry Bosch is again back in Special Homicide Squad. His first case is about a doctor who has been murdered. The doctor has access to Cesium which is a radioactive substance. The case is also suspicious as a large amount of Cesium is missing around the time of the killing. Is there anything big? Well, it suggests that the case has a terrorist agenda. This time ticking case is a challenge for Bosch because he will have to solve the case before it's too late.
This time Harry Bosch has taken the case of a Chinese businessman who has been murdered. He has to work with an Asian Crime Unit to find the compelling suspect. Meanwhile, he gets a call from a member of Hong Kong Triad, whose daughter is missing! Are the two cases related?
The Drop features an unusual case where a DNA test for rape and murder case from 1989 has been committed by an eight-year-old! This can't be true! And that's where Harry Bosch finds himself in a dilemma and has to put all his efforts to find the truth about the DNA testing results as well as the culprit of the rape and murder case!
Conclusion

So these are the Bosch books in order that you needed to know about. We hope the article has helped you and you know how to read the series with books in chronological order.

We have also written other articles as well for many other authors so you can check them out too. Thank you for visiting our page and keep coming for more such content.