You must have heard about Kathy Reichs who is popular for her crime writings. She is an anthropologist and academic. She has written almost 30 novels in her novelist career. People who are into the crime drama has loved her writings. Nobody writes more imaginative thrillers than Kathy Reichs and the statement is all you need to learn to start a Kathy Reichs book.
She got popular because of her Temperance Brennan series. There are 20 books in this series and all of them have more potential to keep you entertained. The series follows the character of Temperance 'Tempe' Brennan who is also a forensic anthropologist. She has also written several short stories as well.
This article will introduce to all the Kathy Reichs books in order. We have written the article to help those who are about to start Kathy Reich's books. We have described the plot of the few books and named all of them so that you have a brief idea of what to expect from her novels and her writings. Take a look at the list and start exploring the kinda books she wrote since her debut years.
Kathy Reichs Books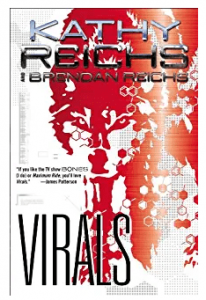 Kathy Reichs's career started with Deja Dead in 1997. This is also the first installment of the Temperance Brennan series. In this book, you will be introduced to the main character of the series, Temperance Brennan who is also a forensic anthropologist by profession. The series revolves around her character and her work life where she witnesses a number of adventures.

Her forensic expertise is needed in several cases and she also helps in the investigation and sometimes also leads to crucial evidence. The story of Deja Dead starts with a dismembered body of women which is discovered in an abandoned monastery in Canada. The body is so ruined that an autopsy won't help, and that's where they go to Temperance for help. She examined the body and suggest that a serial killer is up to kill more people. At first, the investigation officer doesn't believe her but soon they know she is right when the death counts rise.

The book has bee appreciated for intelligent writing and people who are fond of the crime genre have found a new series to follow.
Death du Jour is the second book by Kathy Reichs which is also the second installment of the Temperance Brennan series. If you have read the first book you already know what kinda person Temperance is and what kinda capabilities she holds. She has already won everyone's heart with her first appearance and now she is back to work on the next unimaginable case.

The story starts in Montreal, Quebec, Canada where they find the remains of a nun who was proposed to sainthood in the ground of the church. But these cold nights have many more things to unleash, so hours later Tempe is called to the horrific scene where a young family has perished.

The case seems clueless because there is not the motive and no witness to investigate the case hence they can't reach any explanation. Brennan's forensic expertise, as well as her survival instincts, have been tested throughout the book and it's entertaining enough to keep you glued till the very last page of the book!
Temperance Brennan has been teaching at FBI academy in Quantico but she has been called back to Montreal, Quebec, Canada when a biker gang war turns violent. When they were excavating the biker clubhouse they found the bones of a little girl from South Carolina. She has been assigned this case as it involves multi jurisdictions task force to investigate the biker gangs in the province.

She has a hard time while investigating the case due to the lack of support from Sergeant Detective Luc Claudel. There is so much going on and there are definitely more questions then she can answer. It will be a present reading experience since the book follows a straightforward approach yet the complexity of the cases keeps you interested.
Fatal Voyage is the next book in the Temperance Brennan series and forth Kathy Reichs's book in order. This time they are on a mission to solve the case of a plane crash that happened in North Carolina. What leads to the involvement of Temperance, in this case, is the appearance of an unidentified foot found in the vicinity. She is accompanied by her would-be lover Andrew Ryan. They are here to investigate a mysterious cult that holds the answer for the plan crash and other mysterious activities.
Grave Secrets is the fifth Kathy Reichs book in order that you need to know about and its the next installment of the Temperance Brennan series as well. This time Brennan is searching the human remains in mass graves in Guatemala. She has been asked by Sergeant detective Bartolome Galiano to help him with identifying the remains found in the septic tank which is just behind the run down hotel in the city.

The case is also important because of the daughter of a Canadian ambassador is also missing and they are suspecting that one of the body remains is hers! But things aren't as easy as you would think because according to Brennan someone is stopping her in finding the truth behind the body remains.
The story starts with Brennan hoping to get a few days off and going to the beach to spend time with detective Andrew Ryan. But the reality was the total opposite of what she had supposed! First, they investigated the skeleton of a newly born baby found in the woods. Then someone found a pile of bones which was part of humans and partly animals.

Now the question arises if the headless body found in South Carolina linked to that of her other cases. Meanwhile, Brennan is getting threatening emails that suggest her to back off the case. Soon she discovers that everything might be interconnected from the bones of birds and mammals and drug runners. How will she solve such a complex case? And will she able to find answers about the person who is sending her those emails and why?
Looks like the skeleton of people find a way to Brennan and that's what happened in this Kathy Reichs's book. Taking forward the story of Temperance Brennan, this book revolves around the three skeletons of young girls which are found in a pizza parlor basement in Montreal, Quebec.

She and Sergeant Luc Claude again have a difference of opinion about the skeleton as Brennan believes that the people we're buried after 1955 but Luc Claude believes they are of pre-1955! As her frustration grows with Luc Claude, she decided to take the matter in her own hands and start doing the investigation by herself. What she found is unbelievable and horrific!
This time her investigation has taken Brennan all the way to Israel. All this begins when they found a body of Avram Faris who is an antique dealer and an orthodox Jew. She is accompanied by Andrew and her colleagues Jack Drum. But soon they discover that this investigation might be riskier then they have imagined. All three of them are receiving death threats by radical Orthodox sects and some other unknown people. The book creates suspense with its crime drama and readers will definitely enjoy it till the very last.
This book isn't the part of Temperance Brennan series but it still features the lead character, Brennan. The book is based on a TV series which itself based on a book series. The book explores several elements in Brennan's life and how she manages to work with this many people around her (some of them think they are better!). If you haven't read any of Kathy Reichs's series novels than this might be a good start!
This time Brennan is with her students and they are working on a pre-historic gravesite but as you can expect, there they found a decomposing body uncovered in a shallow Grave Off beach. But there is much more to your shock. Soon there will be more bodies and everyone is in the dilemma of what they should do and from where these bodies are coming.

The story features many new characters and their new storylines. It would be interesting to see how Kathy Reichs has written the plots and criminal investigations.
Conclusion

The article was supposed to help the beginners to pick their favorite book and the pros who have read only one of the series and trying to find the next book by Kathy Reichs. We hope the article has helped to decide which book/series you wanna start by Kathy Reichs. Thank you for visiting our page and you check out the similar information about other popular authors as well.